I had never heard of Wayanad before I arrived in India! So, I was excited to explore this untouched beauty in the north of Kerala. Although it was a short time, we discovered 6 best places to visit in wayanad in two days!
If you are new here, I was one of the winners for Kerala Blog Express Season 5 and was exploring Kerala with Kerala Tourism and 28 other bloggers.
Wayanad does not only have the relaxing calmness of green beauty; but also amazing treks in the mountains to safaris in Wildlife Parks, there's some adventure in every activity Wayanad offers. This the green paradise is nestled among the mountains and is home to some of the friendliest people I met during my India trip. Though there are many adventure activities that one must try while in Wayanad, here are a few that I would personally recommend.
1. Bamboo Rafting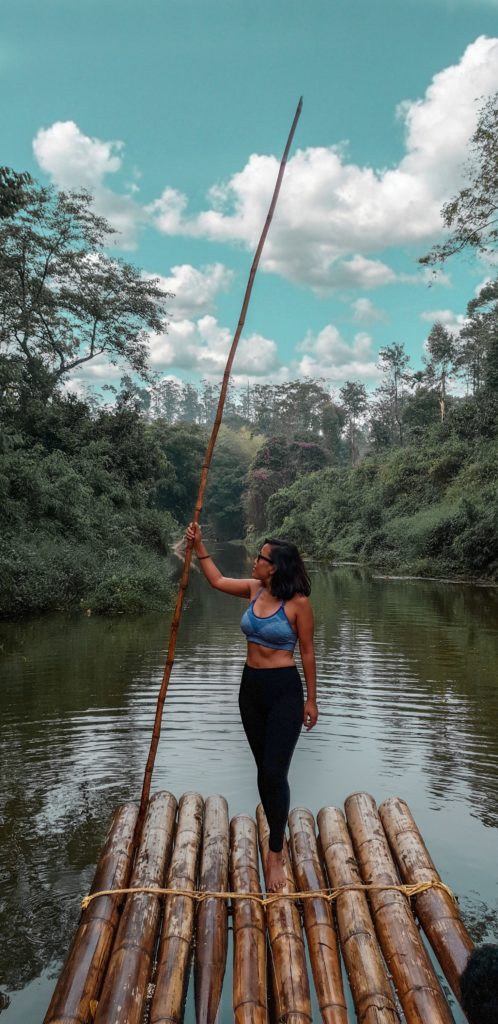 For someone with the fear of deep water, I was not feeling safe going on a bamboo raft tied with ropes! I was terrified but the adventurer in me was like go-go-go. In the end, it was all, okay. It was my first-time bamboo rafting and amazed to see that long stick was all the guidance needed to maneuver bamboo raft. We also took turns to give it a go, was fun, glad I participated.

You can do it in Kuruva Island or Pozhuthana River in Kerala. During the rafting experience, you can even try your hands in steering the bamboo raft with the help of the rafting guide.
2. Hiking and trekking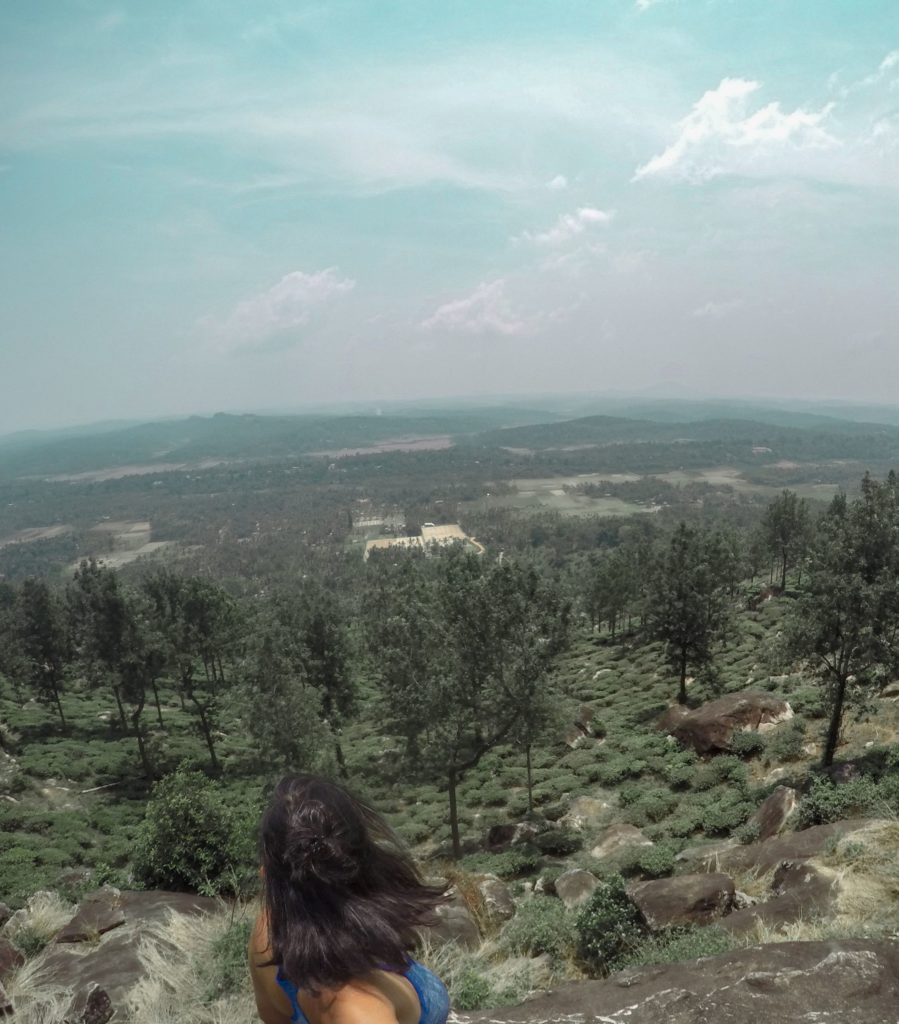 If you know me, I am a hiker in the heart. Whether I am traveling or at home, I go hiking at least once a month. I love the fitness aspect of it and also the view from the top. So, when the opportunity came around to go hiking with Kerala tourism I was thrilled. Although it was a short hike, the view didn't disappoint.
However, if you are big into the trekking, you can do Chembra Peak Trek. 2100 meters above sea level, Chembra is the highest peak in Wayanad. It is a challenging mountaineering endeavor and would take a full day. The scenic beauty of Wayanad, which is visible from the top of Chembra, is very exhilarating. The surrounding areas offer exceptional photo opportunities and camping at the peak is an unforgettable experience. You can also hire guides, sleeping bags, canvases, huts, and trekking things.
3.

Rappelling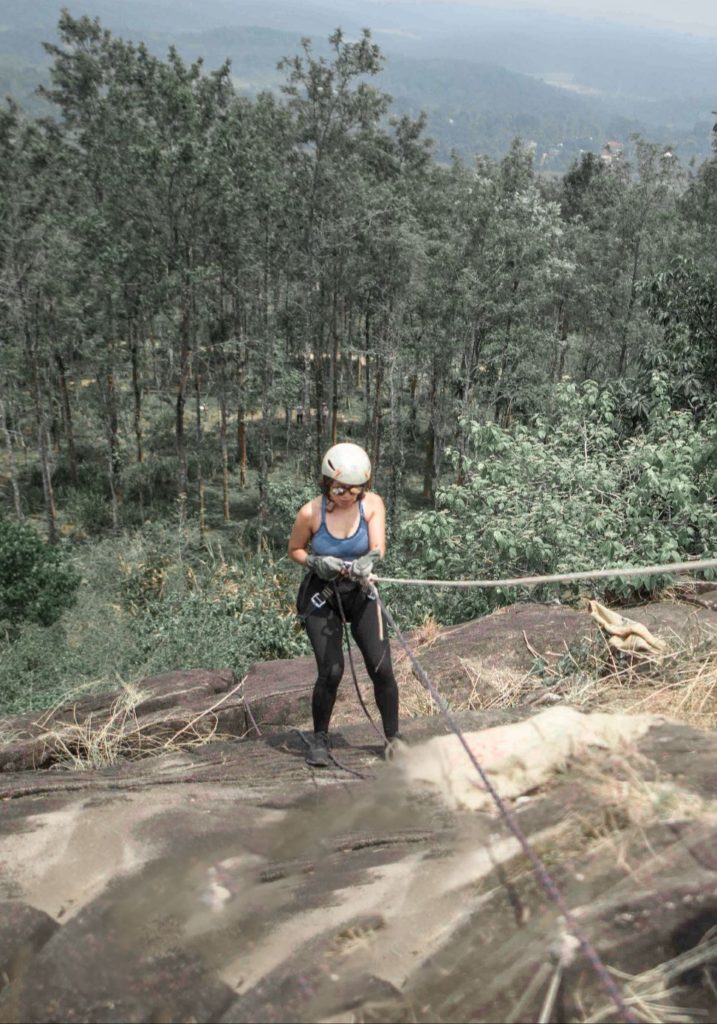 This is another adventure activity I recommend in Wayanad. My first abseiling and rock climbing experience was in the Blue Mountains in Sydney back in 2012, followed by one Saree Beach in Thailand back in 2014.
Besides that, I used to love going to an indoor climbing scene in Sydney. So, yes I love this sport and totally enjoy it even though it does scare me a little bit. Basically, I climbed down a vertical rock face while being securely tied to a rope and passing over a big rock. If taken adequate precautions, rock (or waterfall) rappelling is a safe and extremely thrilling adventure.
4. Exploring Tea Plantation Estate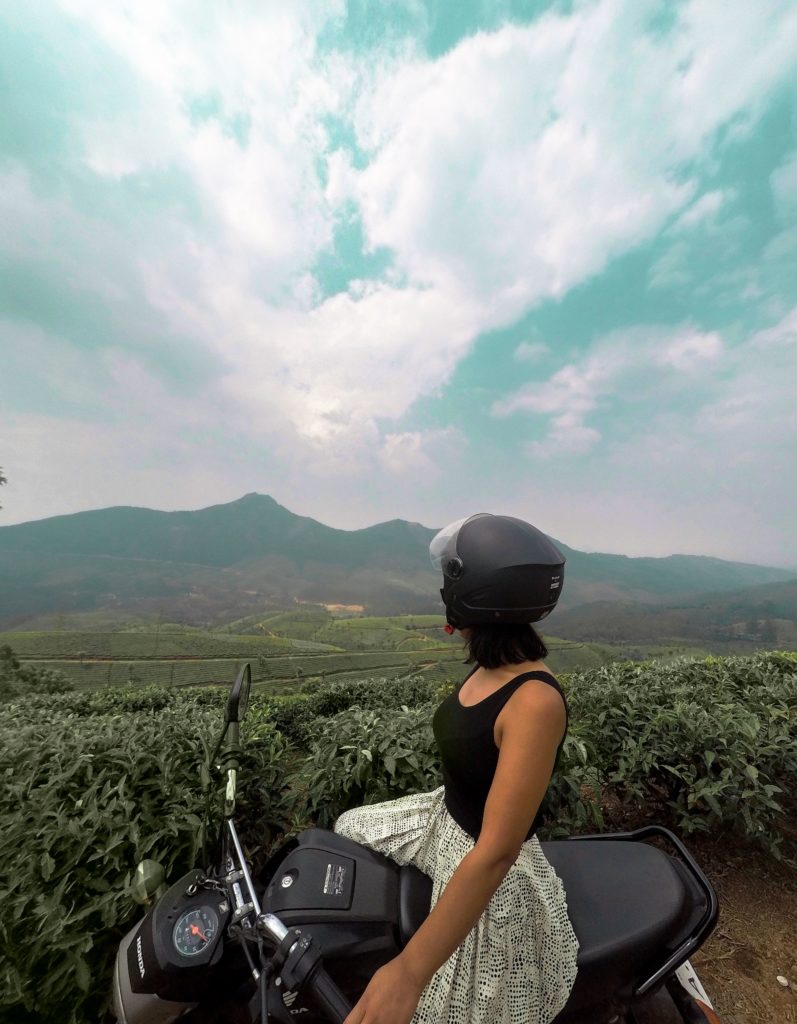 Although I had seen it online before, this was my first tea plantation experience in Munnar. The name Munnar is pronounced "Moon-aar" meaning "Three rivers" which is derived so, as it lies in the confluence of three mountain rivers Mudrapuzha, Nallathanni, and Kundala. There are waterfalls en-route along with beautiful greenery all along the way. I was also pleased to be there because I love tea and what great place to learn more about tea than tea estate in India!
There are 15 factories and tea leaves are usually handpicked by women. They pick approximately 100-120 kg a day. 100 kg picked tea leaves to yield down to 25 kg of finished tea. Then after leaves are picked, they are taken to the factory for withering, rolling. fermentation, drying, sorting and packing. The high-quality tea is always hand-picked, and the medium quality tea is picked with a tool. While there I also discovered a premium tea called "white -tea" and from the first sip I was a fan. So, I bought two big packets which I am drinking as I'm writing this blog. Good memories! PS: Munnar in Kerala is preparing to welcome the 'Neelakurinji blooming season' in 2018 after waiting for 12 long years.
5.

Ezhuthapara Caves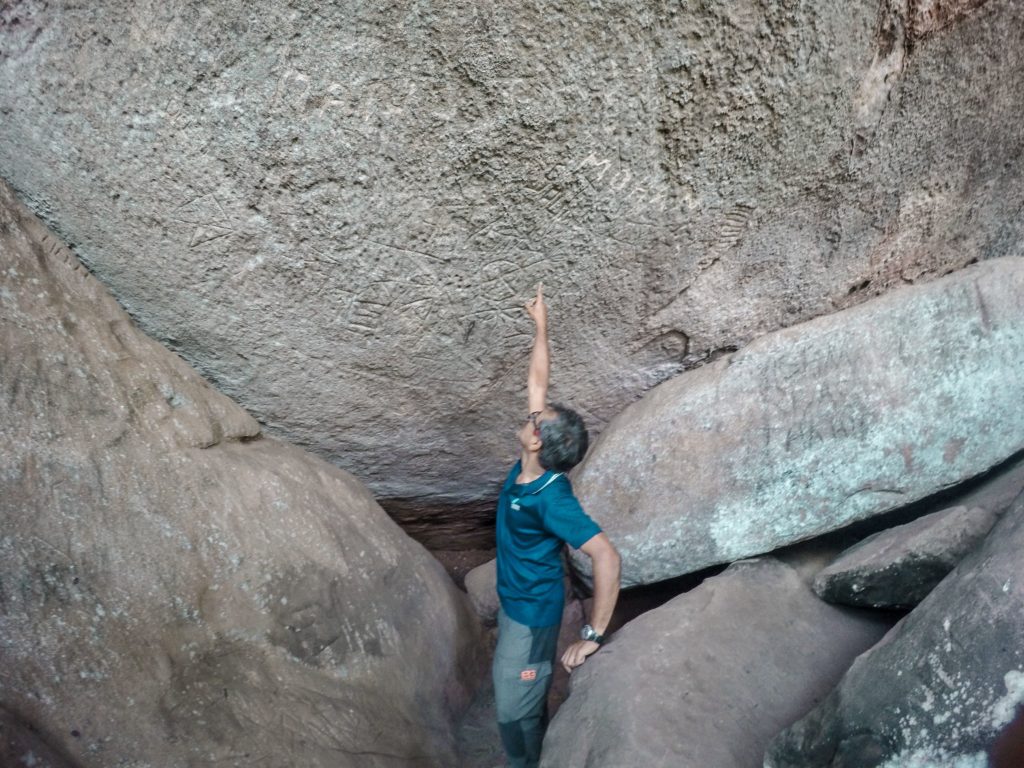 Although I was expecting a tiring hike, it was 10 minutes steep downhill hike to get to Ezhuthapara Caves. Despite the name, the Edakkal Caves are not actually caves. They are part of a prehistoric rock shelter, formed naturally. It is among the oldest human settlements ever discovered.
Inside the caves are pictorial drawings and engravings that indicate the presence of ancient human settlements in the region. Such as Stone Age rock engravings of human figures, animals, tools, vehicles, day-to-day occurrences and more. You can make it a day of exploring Ezhuthapara Caves, short hike and surrounding areas in a day. Above is our guide showing us some unusual engravings.
6. Waterfalls, Zip-lining & Kayaking
Lastly, one of the places to visit in wayanad in two days is visiting Meenmutty waterfalls. It is the second largest in the State and nestled in the greenery of the Mepadi forest range, the waterfalls are breathtaking! Adventure-seekers and nature lovers are absolutely in love with the locale and the sight.
You can also contact MuddyBoots, one of the longest operators in the Kerala state, who can help you organize activities like Zip lining, Kayaking, and Quad-biking or I assume your hotel manager would be able to sort it out for you as well. One of the other travelers I met, also mentioned you can do the cliff jump around the area but please do your research first.
If you are not into hardcore adventure, I suggest exploring the Wayanad Heritage Museum and the beautiful nature of Wayanad.
Something worth mentioning is, you can take a bus or a car from Wayanad and you can get to the Taj Mahal in a day! Now, that would be a great side trip to add if you have time in your Wayanad trip.
I hope you make it to these 6 best places to visit in wayanad in two days!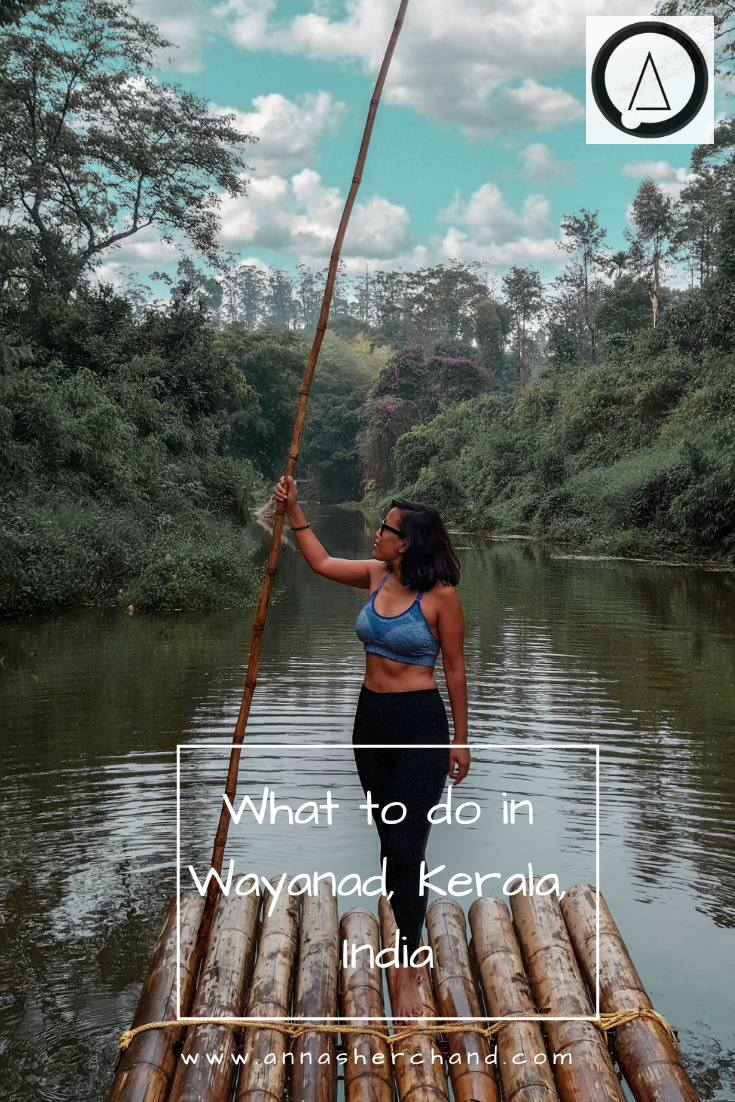 What I used to take photos:
Canon PowerShot G7 X Mark II Digital Camera
This has been my favorite Camera so far. I love how my pictures come out crisp and colorful. It also has a screen that is useful when v blogging. You can check out what I meant on my Instagram which is here.
Accessories For Canon GX7 Mark || Check it out here
This is the good old Go pro that I take with me everywhere. I recommend it because it is small, lightweight and waterproof. I have had made many memories with this trusted item and looking forward to more.
Accessories For Go Pro Hero 4 Check it out here
I have been using SanDisk since my first camera which was back in 2009. They build quality memory cards. I recommend getting at least two, just in case something happens to one of them.
Do you think it's a hassle of plugging your camera into your computer? This memory card reader will fit cards of all sizes and make an easy transfer to your computer. The reader supports all popular SD memory card formats, including SD™/SDHC™/SDXC™ memory cards, UHS-I SDHC/SDXC memory cards, and microSDHC™/microSDXC™ memory cards. It is also compatible with the latest UDMA 7-enabled CompactFlash cards.
Let me know in the comments:
6 best places to visit in Wayanad in two days