Today I am sharing all the travel tips you need to know for your solo travel to Copenhagen, Denmark. Such as the best places to see in Copenhagen, where to stay, what to eat, the best time to visit, activities, and day trips from Copenhagen. This travel guide is perfect if you are traveling to Copenhagen for the first time.
Copenhagen is the capital, most populous city of Denmark, and one of the most sought after travel destinations. Geographically, it is right across the bridge by Malmo in Sweden and can be reached via boats and ferries even on a day trip. (more on that below) .
It is a unique city that offers modern art, canal tour, boat tour, cycling culture, cool Danish fashion and design, a strong economy, nordic cuisine, and happy locals. Just like Helsinki, it is also known as the happiest city in the world, and that's on their shorter workdays, free college tuition, more vacation days, and levels of personal freedom.
Solo travel to Copenhagen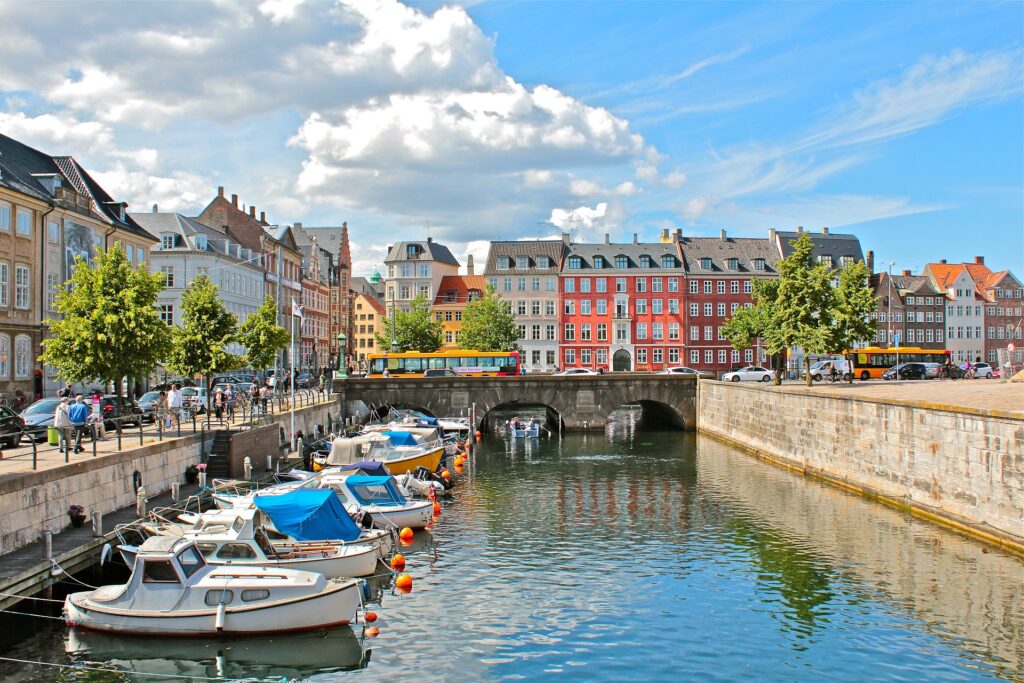 How to get to Copenhagen
By Plane
There is only 1 international airport in Copenhagen which is called Copenhagen Airport (CPH), not to confuse with Kastrup that is an old Danish name for it. This airport is the largest one in the Nordic and is located just 7 km from the Copenhagen city center. Although you can get there either by taxi, bus, or metro, the quickest option is to take the metro or train as they run 24/7 and takes only 15 minutes to reach the city center. Recommend to use Skyscanner to scan the best price for flights to Copenhagen. There are two terminals and both are open 24 hours with cafes and free WIFI for people with a flight departure or flight arrival. The connection was fast (100Mbs) and easy to use.
By Ferry
Alternatively, you could take a ferry to Copenhagen. Perhaps as an example, you can book a ferry to Copenhagen from Oslo in Norway with a choice of up to 7 ferry crossings per week. It does take a while though – around 17 hours and 15 minutes. Most ferries to Denmark are provided by Stena Line, Fjord Line, Color Line, DFDS Seaways, and Scandlines Ferries.
By Train/Bus
If flying or taking a ferry both are not your style, you can also travel overland to Copenhagen which is what I did. One option is to take Eurostar and comfortable onward trains from London to either Brussels, Cologne or Hamburg, stay overnight, then travel from Brussels, Cologne or Hamburg to Copenhagen next morning. The second option is to use a car share ride Blabla car to go from Hamburg to Copenhagen.
How to get around Copenhagen?
The first option I always suggest is to walk around the new city because it offers so much more with the sights, sounds, surprise conversations with the locals, and more. It is also very easy to walk around because all the main attractions aren't too far from each other.
That said, Copenhagen also has an established public transport system served by bus, metro, and ferry boats to go to islands. I should add their metro lines are easy to navigate and bus lines offer extensive routes. Alternatively, you can explore this pretty city by bike or get a taxi (Uber is no longer available). By law, all cabs are required to install fare meters, video surveillance, and seat sensors. So the fare is calculated fairly.
How many days in Copenhagen is enough?
Although I like staying until my visa runs out in each country but if you are time-poor, I would suggest spending at least 3 days. This should be enough time to explore Copenhagen and perhaps take a day trip or two.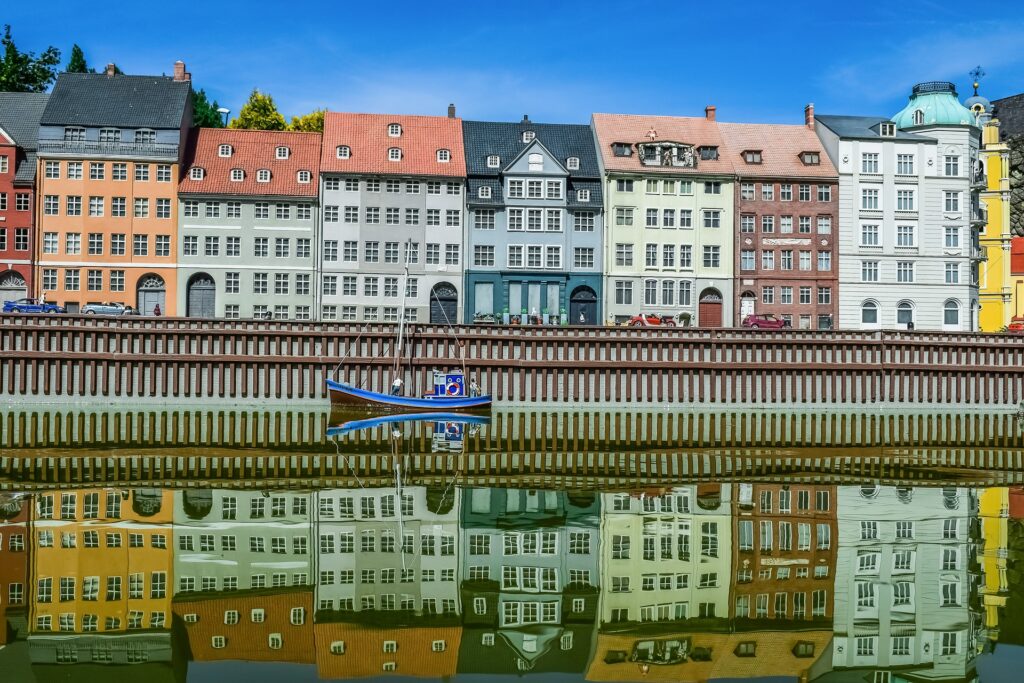 Where to stay in Copenhagen?
If you don't want to stay in an expensive Copenhagen hotel or cheap hostels, the easy alternative is to stay at Airbnb. You can even wash the bedsheets once you arrive as Airbnbs usually come with washing and laundry. You would be spoilt for choice in some of the best neighborhoods which are city center, especially in Kammpi, Eira, Ullanlinna, Kaivopuisto, Punavuori, and Töölö in the southern parts of the city. Kulosaari, Munkkiniemi, Lehtisaari, and Kuusisaari are a bit farther away, but still worth considering too.
Do I need a visa for Copenhagen?
If your passport is from Australia, you do not need a visa to enter Denmark because it falls under the Schengen zone that allows Aussies to stay up to 90 days on an arrival stamp in any 180-day period. Passport should be valid for at least six months beyond your stay. That being said, the authorities may ask for the return air or ferry ticket. I highly recommend checking the Embassy of Denmark website for the most current visa information.
When is the best time to visit Copenhagen?
The best times to visit Copenhagen are between late spring and summer because during these months usually the climate is warm-sunny and there are tons of events and festivals, such as Roskilde and Strøm you can enjoy in the long summer days. Plus it's a great time to visit the outdoor markets, harbor, and beaches.
Is Copenhagen safe for solo travelers?
My experience of solo travel to Copenhagen was safe from start to end. So I would say unless there is a drastic change in the country's political situation, pandemic, or some natural disaster it is safe to travel to Helsinki. Just remember to apply a general rule of thumb i.e. Don't walk down that dark alleyway on your own, respect the culture, don't argue about religion, dress modestly, trust your instincts, don't be afraid but be cautious.
Local currency
As mentioned above, Denmark has representation in the EU but it uses its own currency called the kroner (written as DKK). You will find some shops, bars, hotels, and restaurants accept payment in both Danish Kroner and Euros but the official currency is Kroner. Remember to consider bank fees from your bank and the ATM withdraw fee while you do your budget.
People, language, Simcard
Based on my experience I found Danish people look for simplicity, politeness, and equality. And like most other countries Danes are friendly but not easy to get close to as they often have established social circles.
Locals speak danish as it's their official language but they also have several minority languages spoken throughout the country. One of the cool things I found was Danes are taught English from a very young age and therefore most of Danes speak fluent English as a second language.
You can pick up a sim card right at Copenhagen Airport. I bought Lebara sim card which has its own sim card vending machine at baggage claim in Terminal 3, or at convenience stores at the airport or in town at 7-Elevens. They are always sure to have pre-paid cards and sims available in stock.
Denmark's country domain is .dk, and country-code is +45.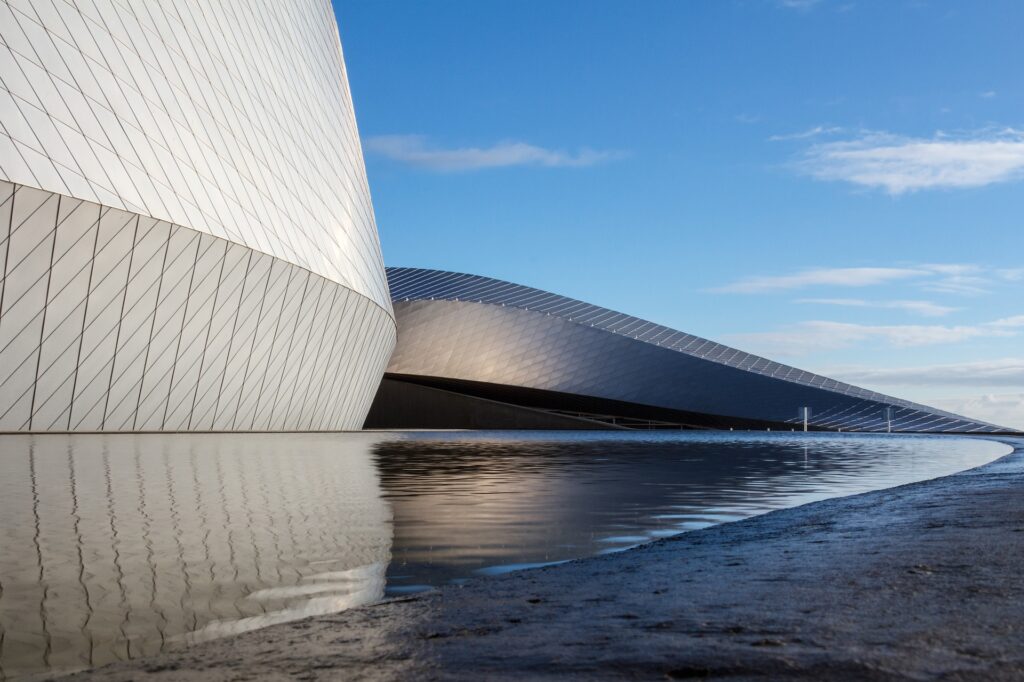 Must-Have Travel Apps for Copenhagen
Google Translate for easy communication on the local language and it's extremely simple to use!
Flixbus app to travel to Europe very cheaply including other cities in Denmark other than just Copenhagen. It has a comfortable seat, wifi, and snacks onboard.
Google Maps because it offers very good coverage of Bratislava, including Street View. Google Drive, Calendar for time management, and storing pictures.
Direct Ferries app to compare companies, prices, and, once you're happy, book those ferry tickets.
Mobilbiletter for all of Copenhagen's public transport.
Click a taxi to order your taxi, independent of the taxi company for immediate use or pre-book for later.
Copenhagen City Walks has a list of self-guided walks with information about the places you can visit.
I Bike CPH for all the best shortcuts cycling.
CPH Design Guide Copenhagen, Denmark for design lovers
Rejseplanen will offer you all the information you need, and suggest what train and bus routes to take, so you can travel with the highest level of comfort and efficiency. Great for day trips out of Copenhagen.
What to eat in Copenhagen?
Solo travel to Copenhagen wouldn't be complete without trying their food! The must-try food in Copenhagen is Herrings (sild in Danish), Flødeboller, Snegl (or Weinerbrød), Hot Dogs (or Pølser), Open Sandwiches (or Smørrebrød), Seafood, Lentil daal at GROD to name the few foods.
As you know most countries have a signature drink. Copenhagen is no different. So the must-try drink in Copenhagen is the local spirit called Akvavit which made from distilling potatoes and grains or Mead made from water and honey!
Where to eat in Copenhagen?
Generally, it is expensive eating out in Copenhagen but there are some budget-friendly options available. Most of the cheapest options are pizza and take away shawarma places that are spread throughout the city. The most affordable options are around Istedgade on Vesterbro, Copenhagen Street Food, located on Papirøen (known as Paper Island), is Copenhagen's first and only street food market, Norrebrogade on Norrebro, hotdogs at DØP – Den Økologiske Pølsemand, Kaffee at Next Door Café, and Pizza at Mother all under $20.
If you are into nice sit-down restaurants you can try La Banchina, Vandvid, Restaurant Silo, Noma, Juno, Amass, Alouette, Nihao YAO, Toldboden, Restaurant Krebsegaarden, Kokkeriet, and Soelleroed Kro to name a few.
Solo travel to Copenhagen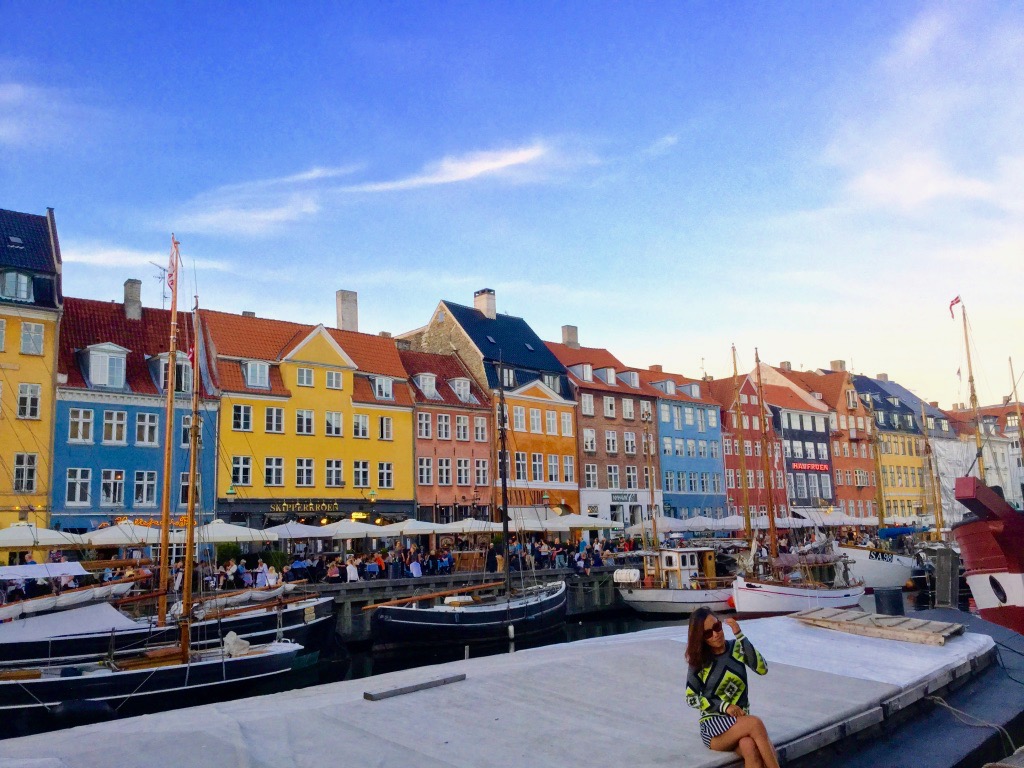 Now that we got the practical tips out of the way, let's get into the best places to visit during your solo travel to Copenhagen and day trips from it.
Best places to visit in Copenhagen
The first thing I would advise is to get a Copenhagen Card. It costs 55 euros for a day but it is worth it because it is definitely useful. This card allows you to move freely throughout the city, by all means, includes entrance fee to Tivoli which without rides costs 18 euros on its own and entrance fee to all the main museums and castles (around 10 per entrance). The price is reasonable if you calculate how much you spend using single tickets for each attraction.
You can order your ticket online, and once you arrive in Copenhagen you can exchange it for a card at the information desk at the airport voucher – and off you go on the first train ride to the main train station. From there, all you have to think about is which place to see as the transport and entrance fee is covered already. And the best part? You can get on and off as often as you want, you don't have to worry about which route or numerous zone, it's just this one which covers it all, just wonderfully independent. If you are planning to visit as many attractions as possible or visit museums, you MUST buy the Copenhagen Card.
If it's your solo trip to Copenhagen, and you would like to meet other fellow travelers I consider joining a walking tour, meet other travelers and get familiar with the city with the help of licensed, professional guides. There are many types of walking tours available from the public to private tours ranging from 1 to 3 hours.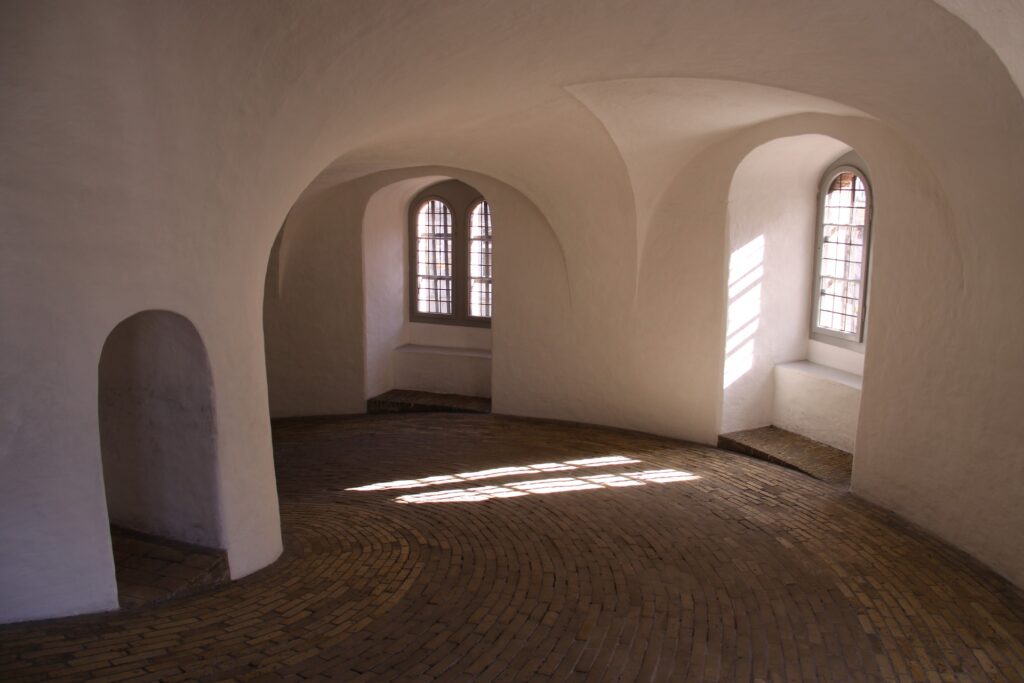 Either way, whether you join the tours or end up exploring on your own, here are the must-see places in Copenhagen you shouldn't miss: colorful Nyhavn, the hip and happening Christianshavn, the world-famous statue of the Little Mermaid statue (There is also a book called The Little Mermaid written by a Danish author Hans Christian Anderson if you want to get with the vibes), Christiania Freetown, Opera House, Tivoli Gardens – amusement park, Ny Carlsberg Glyptotek, Canals, Rosenborg Castle, Amalienborg, ARKEN Museum for Moderne Kunst, Dansk Arkitektur Center, Geologisk Museum (Statens Naturhistoriske Museum), Museet for Samtidskunst, Roskilde Museum, Zoologisk Museum (Statens Naturhistoriske Museum), The Round Tower, Den Blå Planet, National Aquarium Denmark, Christianborg – The Royal Reception Rooms, The National Museum, Kronborg Castle, Copenhagen Zoo and perhaps a Black Diamond (library) if you are into architecture.
Alternatively, you buy a hop on hop off bus card. It is a fun way to explore also and you can do it via land or sea or both! Although the 1-hour boat cruise is optional, it offers three different tours. Mermaid Tour (red line), Christiania Tour (orange line), and The Blue Planet / National Aquarium of Denmark (blue line). Click the link below to find out more.
For a breath of fresh air in Copenhagen, visit the following nature & parks Tivoli Gardens, Copenhagen ZOO, Sondermarken, Haveselskabs Have, and Amager Strandpark.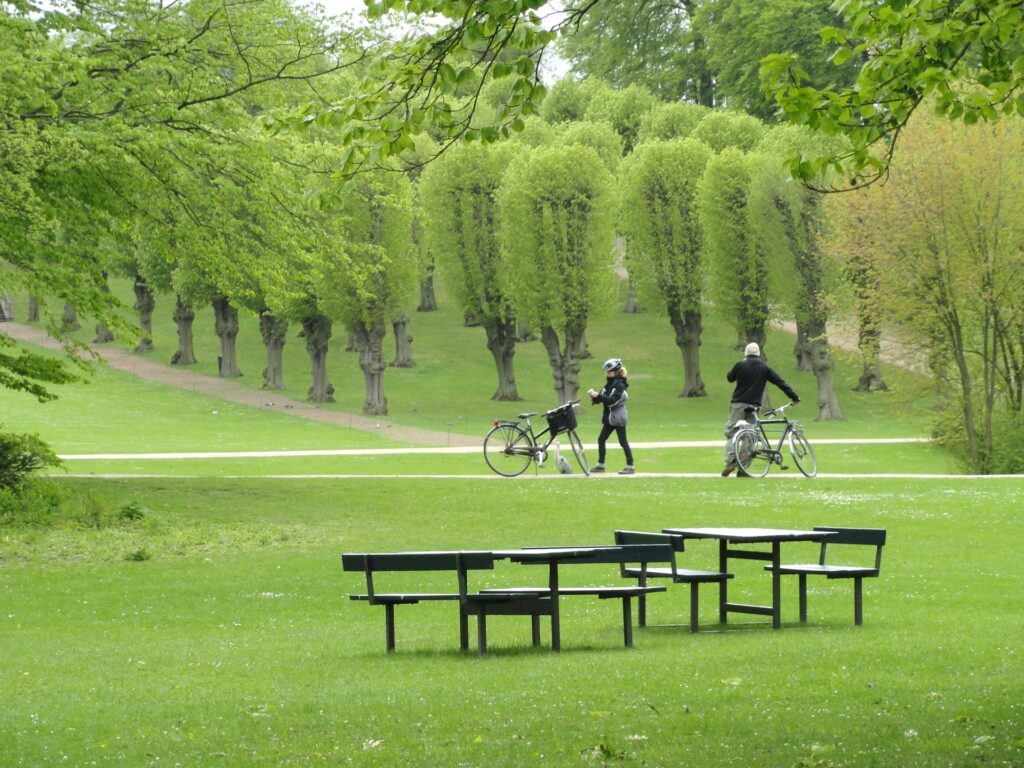 Best place to watch sunsets in Copenhagen
If you been following me for a while you know I am a sunset lover and it is on a high priority to every new country I visit. Copenhagen, Denmark is no different. Here are some places I recommend for watching sunsets in Copenhagen Rundetårn, Sticks'n'Sushi (food and view), Amalienborg Palace, Nyhavn, Knippelsbro, The Tower at Christiansborg Palace, Church of Our Saviour, Original Coffee, Skuespilhuset, Operaen, Det Kongelige Bibliotek – Den Sorte Diamant, AC Hotel Bella Sky Copenhagen, Toldboden, La Banchina, Illum Rooftop, Mikkeller Baghaven,
Day trips from Copenhagen
There are many places you can explore from Copenhagen as a day trip. Such as North Zealand: Frederiksborg Castle and city of Elsinore, The City of Aarhus: Experience History and Culture, The Island of Fyn: A Romantic Getaway, The Islands of Lolland and Falster: A Train Museum and Safari Park, Hven Island: Beaches and Great Local Cuisine, Bornholm: Relax by the Beach, Dragør: A Historic Village, Møn: Gorgeous Cliffs, Humlebæk: A Museum of Danish Art, Kastrup: Northeastern Europe's Largest Aquarium, The Capital Region: A Tour of the Most Noteworthy Sites, Helsingør: The Maritime Museum of Denmark, Kalundborg: A Historic Church, Sweden: Helsingborg, Lund, and Malmö,
I hope this solo travel to Copenhagen article helped you in planning your travels.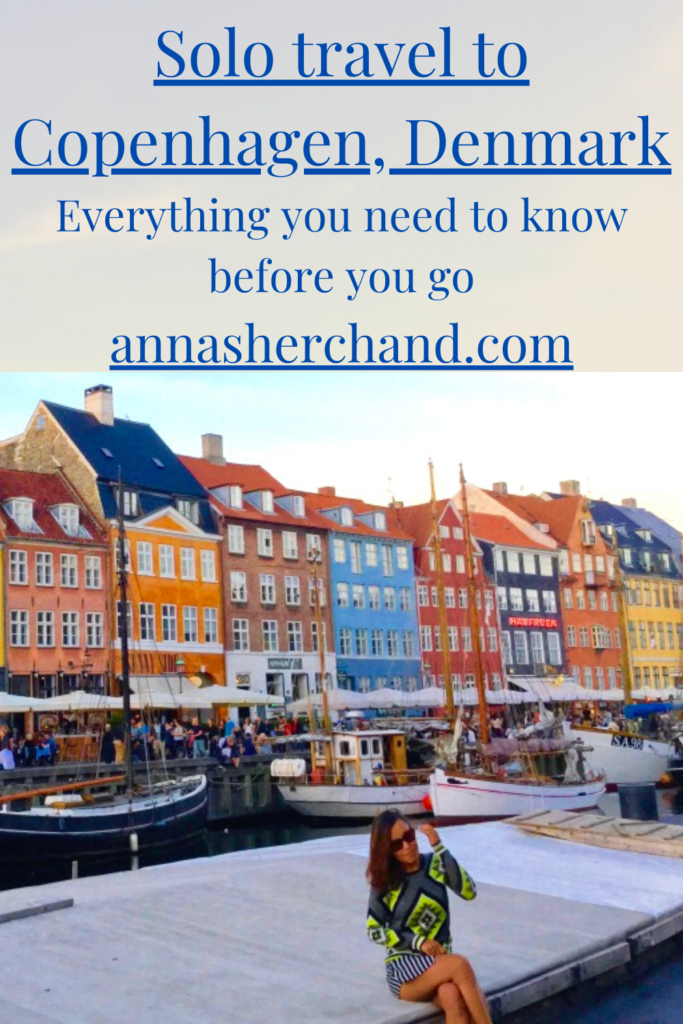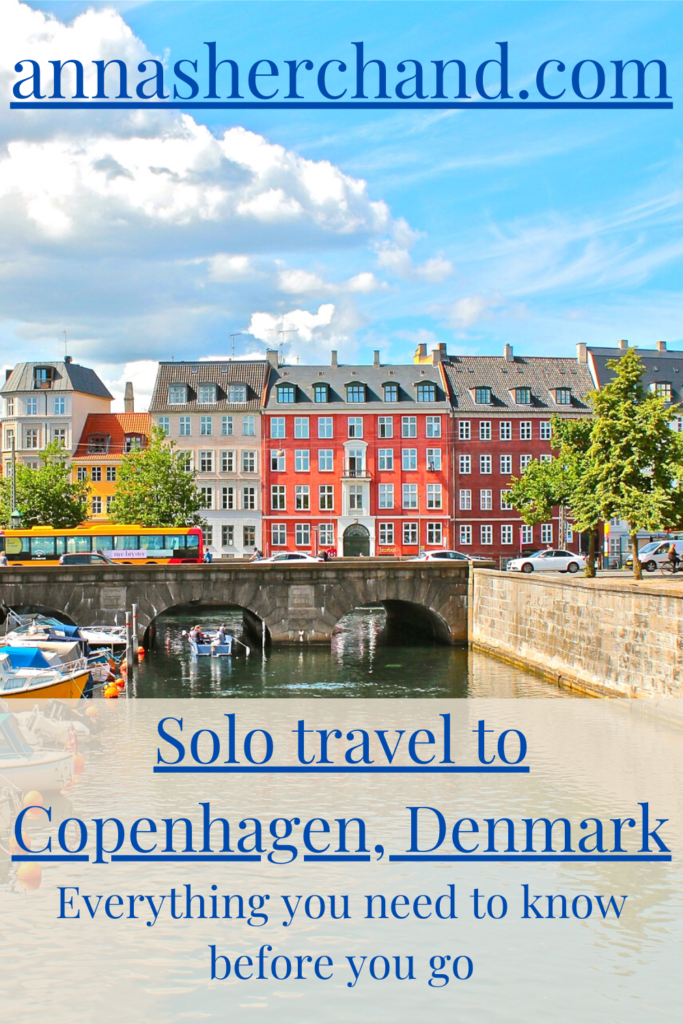 Let me know in the comments:
Solo travel to Copenhagen, Denmark