If you'd met me prior to 2020 I wasn't really keen on visiting small countries but now that I've decided to visit all the countries in the world, every small country interests me. So after 2 days in Amsterdam and a day trip to Zaanse Schans, 3 days in Haarlem and Madorudam, I was off to enjoy one day in Luxembourg- one of the smallest countries in Europe.
I used to think only businessmen, bankers, or locals/ex-pats who were working there from neighboring countries go to Luxembourg. After all, it is known for being the second richest country in the world, being a European economic powerhouse, and having award-winning wines but now that I have solo traveled to Luxembourg I can confirm that apart from the above there were also many fellow solo travelers.
Luxembourg is a beautiful little European country, surrounded by Belgium, France, and Germany but is easily reachable via Amsterdam which I will elaborate on below. It's mostly rural, with dense Ardennes forest and nature parks in the north, rocky gorges of the Mullerthal region in the east, and the Moselle river valley in the southeast. Its capital, Luxembourg City, is famed for its fortified medieval old town perched on sheer cliffs.
So if you are hesitating about whether to go or not, I hope this one day in Luxembourg itinerary helps you make up your mind and that you will go and experience this magical European country.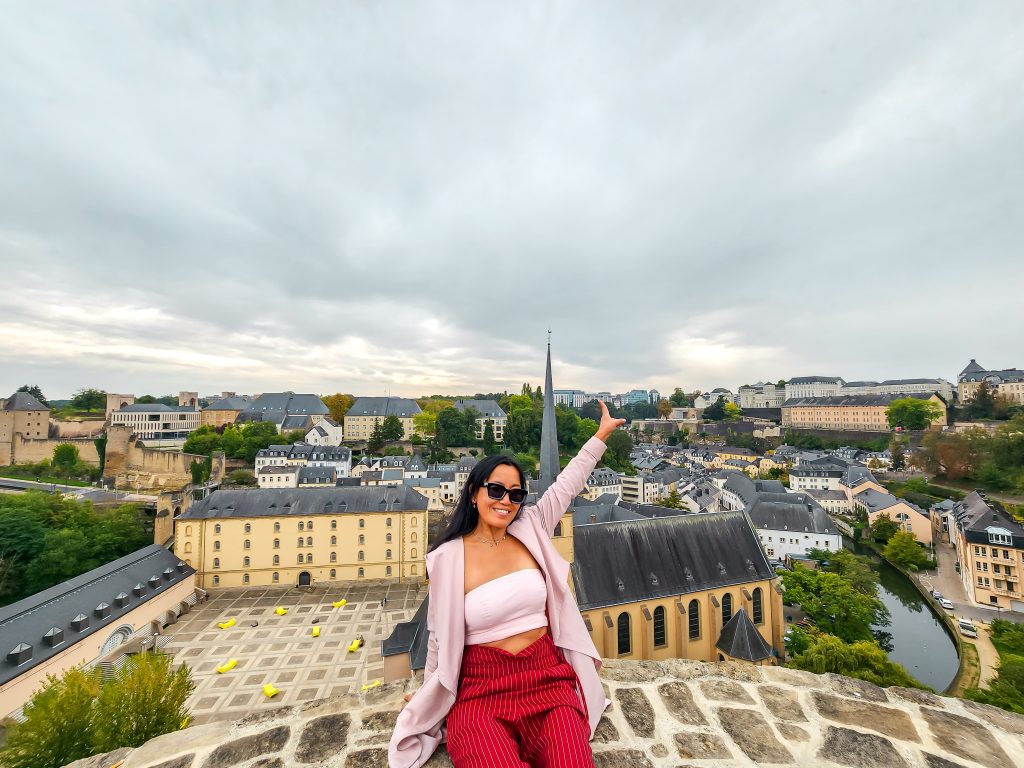 One day in Luxembourg
Traveling alone is quite different, as opposed to moving with a tour company. Hence if you are traveling alone, you have the choice to travel however you want via flight, bus, train, driving car, ferry or cruise ship (minus the last two options because Luxembourg is a landlocked country like Nepal). It all depends on your preferred mode of traveling and budget.
Let's start with how to get there, what to do, eat, where to stay, and day trips followed by the islands.
How to travel to Luxembourg from Amsterdam?
I simply booked a return ticket from the Flix bus app and arrived at the bus stop 10 mins earlier. For those that don't know Flix bus is a trusted app in Europe where you can book bus tickets. I have used it many times myself and recommend it as most of the time is clean, has a bathroom, and is on time usually.
Booking tickets on the app is straightforward and easy although when you arrive at the bus stop it could be a little challenging with many buses leaving at the same time. So, don't hesitate to walk up to the bus driver and check with him for the right bus.
Alternatively, you can book a flight or hire a car or check on blabla car if anyone has a trip up which is another app that lets you carpool with others. I used it only once back in 2015 so not sure how effective it is these days but just mentioning it here as an option if you are into it.
How to get around Luxembourg?
The easiest way to get around the city is to use their free public transport! Yes, you read that right! Initially, I thought maybe it is only free within a certain area in the city like we have free trams in Melbourne city.
Turns out there is free travel throughout the country with trains, buses, and trams! Luxembourg is the world's first country to offer free, uncomplicated nationwide public transport. Travelers no longer need to buy tickets to use local, regional, and nationwide trains, trams, or buses. How good is this!
How many days in Luxembourg city is enough?
I would say 2 days is best but one day in Luxembourg city is the minimum. You will most likely start your journey in the city, explore major spots, and activities then get up to the castle and more. I will elaborate on it below. If you would like to travel the whole country then maybe 5-7 days would be ideal.
Do I need a visa for Luxembourg?
If your passport is from Australia, you can stay up to 90 days in Luxembourg. When I land crossed with the flix bus we didn't have to stamp out or in, no one checked anything but if you are taking the plane the authorities may ask for a return air ticket. That being said, I highly recommend checking the official website online or with your local embassy to find out if your country requires a visa.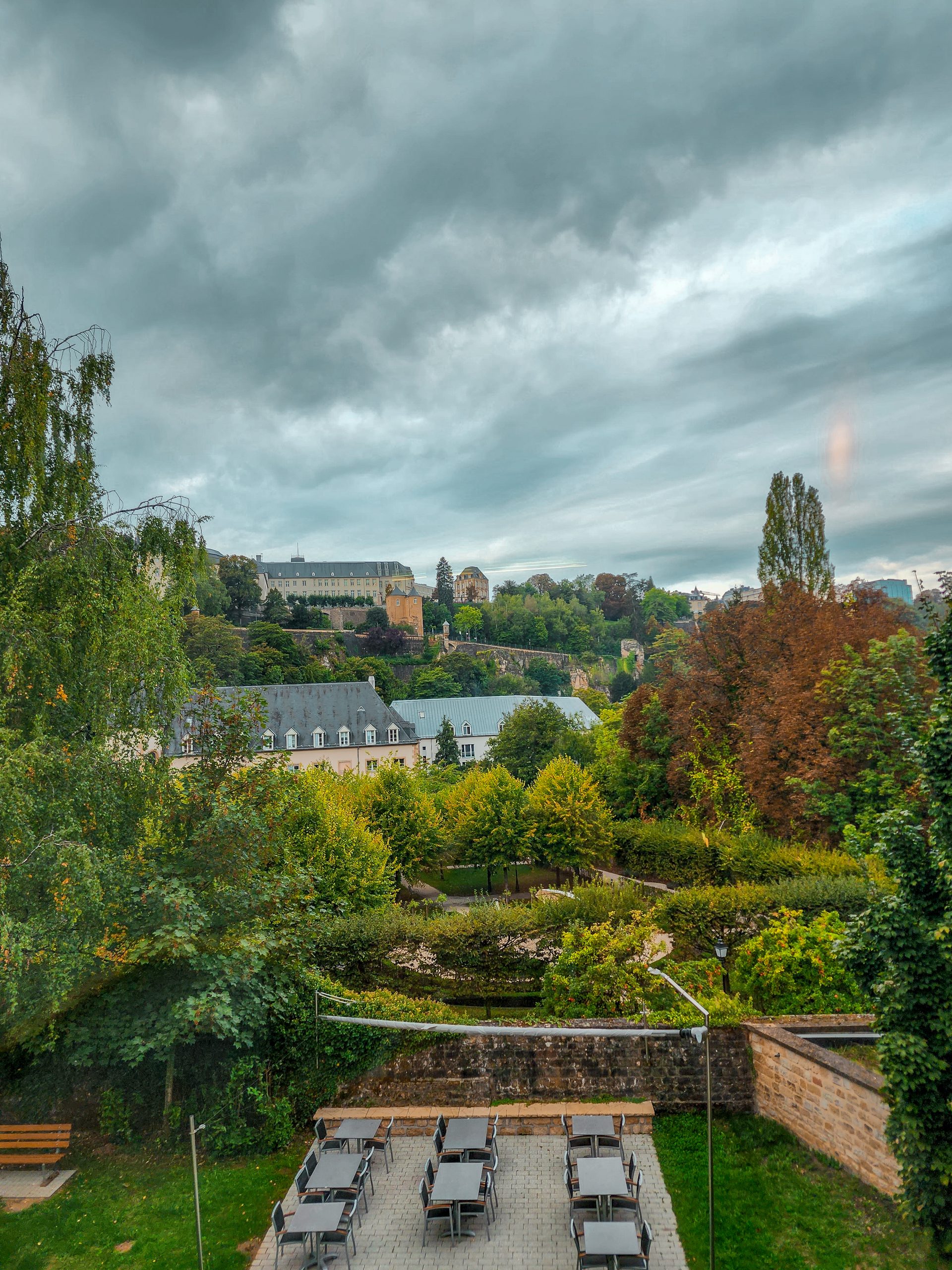 Where to stay in Luxembourg?
There are numerous choices when it comes to accommodation in Luxembourg from all five stars hotels to hostels. Make sure to book with a legit website such as Booking.com Here are some places I suggest:
To meet other travelers/backpackers
Youth Hostel Luxembourg city offers private and dorm rooms some with garden views and is minutes away from the medieval old town. It comes with a free buffet breakfast although no hot eggs or anything warm but basic bread, different spreads, nice yogurt, coffee, and tea. It also has an onsite restaurant that opens for lunch from 1145 to 14:30 then dinner from 18-21 and drinks and snacks from 10 to 23.
First pic above out of 3 was the view from my room! To clarify I booked a night here because the bus arrived really late from Amsterdam and spend one day in Luxembourg next 24 hours.
Lil more expensive than the youth hostel but slightly more sophiscated options are Novotel or Ibis. Both are within the walking distance in the old town and easy to get around.
ibis Styles Luxembourg Centre Gare
This one would be fanicest of the list and comes highly recommended if you would like to have a unforgetable luxurious stay.
When is the best time to visit Luxembourg?
If you have limited time, anytime is best to visit a new country IMHO but if you are after the best weather to enjoy this magical and historical destination, it would be between April to October. Basically summer time but also shoulder seasons before and after summer when the weather is dry and the temperature is warm yet comfortable averaging between 18 degrees and 28 degree Celsius.
Is Luxembourg city safe for a solo female traveler?
First of all, let's establish the understanding of traveling is brutality! It forces you to trust strangers and to lose sight of all that familiar comfort of home and friends. You are constantly off balance. Nothing is yours except the essential things – air, sleep, dreams, the sea, the sky – all things tending towards the eternal or what we imagine of it. If you are okay with it, you will adapt, and you will survive.
That being said, with spending one day in Luxembourg I can assure you I had no problem. People in Luxembourg were not open but kind in action and the violent crime rate is quite low. I say that because in my encounters with locals there wasn't much conversation like I would have in other countries but they were thoughtful in their actions which I appreciated very much.
Unless there is a drastic change in the country's political situation, pandemic, or some natural disaster it is safe to travel to Luxembourg. Just remember to apply a general rule of thumb i.e. Don't walk down that dark alleyway on your own, respect the culture, don't argue about religion, dress modestly, trust your instincts, and don't be afraid but be cautious.
Local currency
The local currency is the Euro, with the international currency code EUR. You could withdraw Euro from ATMs on arrival at the airport or in the city. However, remember to consider bank fees from your bank and the ATM withdrawal fee while you do your budget.
People, language, and more
One of the smallest nations, Luxembourg is linguistically quite limited although you will find locals speaking English, especially in hospitality and shops.
There are three official languages in the country: Luxembourgish, French, and German. English is very common, as is Portuguese, the mother tongue of approximately 20% of the population.
Luxembourgish is a West Germanic language/dialect that is spoken mainly in Luxembourg. About 400,000 people speak Luxembourgish worldwide.
Most hotels and hostels also offer free WIFI.
Must-Have Travel Apps for Luxembourg
Flix Bus for easy booking, and checking the status of your bus rides.
Blabla car if updates on your carpool
Google Maps for ease of finding routes, and offline use.
Google Drive, Calendar for time management, and storing pictures.
What to eat in Luxembourg?
Here are my recommendations on must-try food in Luxembourg starting with the Traditional Luxembourgish Foods
such as Bouneschlupp and Gromperenzopp (Green Bean and Potato Soup) Esaü Soup, Gromperekichelcher (Potato Pancakes), Bouchée à la Reine (Queen's Morsel or Filled Puff Pastry), Letzeburger Kniddlelen (Luxembourg Dumplings), Judd mat Gaardebounen (Smoked Pork and Broad Beans) or Quetschentaart (Plum Tart).
There are tons of restaurants and cafes in the old town including Mcdonald's and some little bigger than 7/11 shops also. Some recommended ones are Grand Café by RedBeef, Brasserie Aubergine, Restaurant Clairefontaine, or Athena.
What to drink in Luxembourg?
If you are a beer person, recommend the Premium Diekirch beer or regional drinks like Bofferding, Simon, Battin, Ourdaller, and the Mirabelle or quetsch (plum ones) or pears. If you enjoy liquor try the 'Hunnegdrëpp which is made of honey, or the 'Nëssdrëpp' from Vianden, made of nuts.
Among the young generation it has also become a popular activity, a means to de-stress from the pressures of social, corporate, and personal life. However, in some social groups, the original function and etiquette that accompanies the activity have somewhat lost their reverence. It can be abused so drink responsibly.
One day Luxembourg travel guide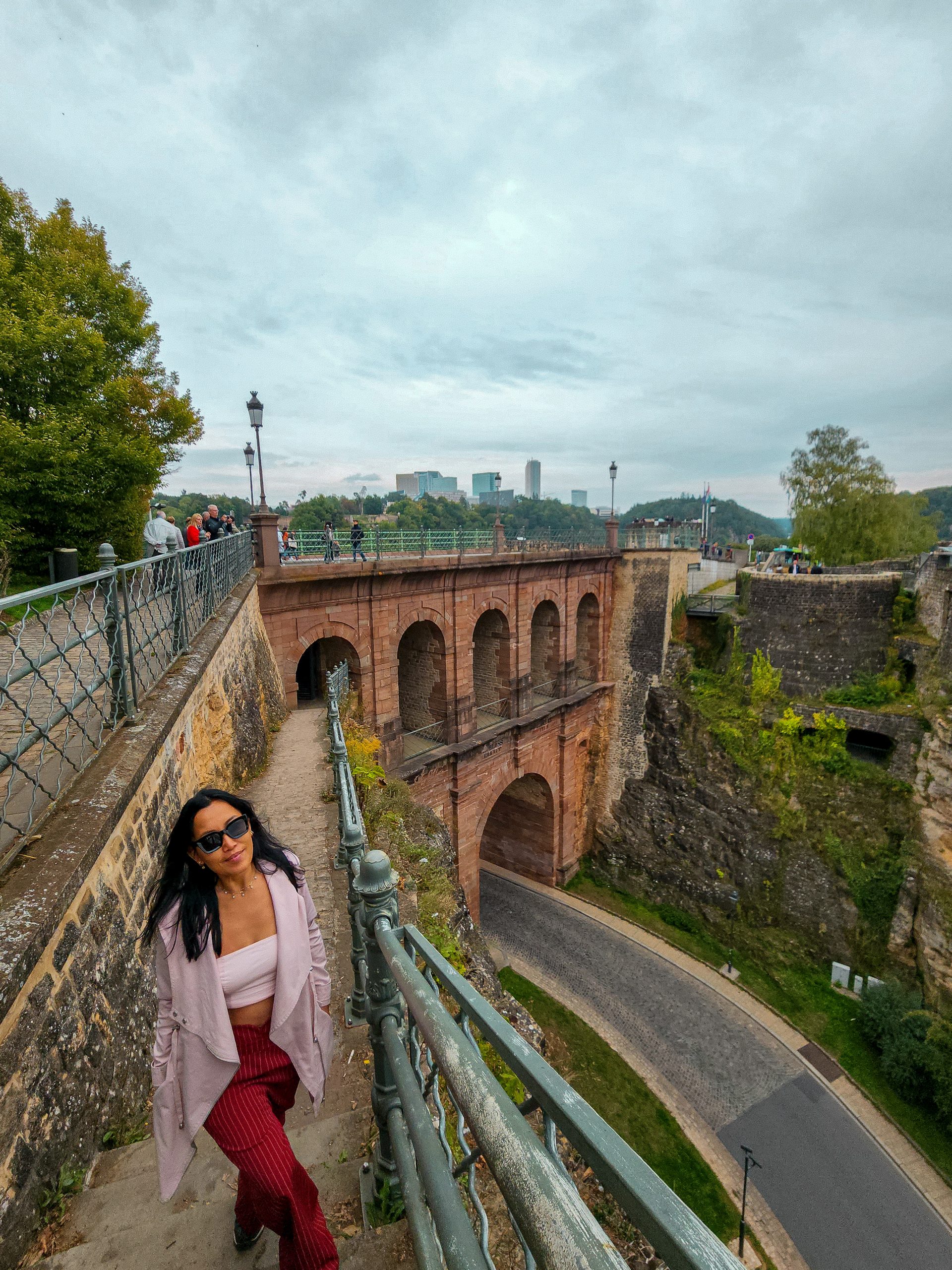 Now that we got the practical tips out of the way, let's get into the best places to visit in this Luxembourg itinerary and day trips from it.
If you are in the mood to meet other travelers then join a free walking tour that gives you a broader perspective and story about the city. It runs on a donation basis so just book yourself and arrive on time and tip at the end.
While on the road, some days you may not be in the mood to be in the group so in that case, you will be pleased to know Luxembourg is pretty small and you can easily sightsee and walk around yourself in one day.
I have written this one day in Luxembourg travel guide exactly how I spent it. I started my day with a morning walk to a bridge, lift, and another bridge then went to the old town for lunch and more sightseeing. You may change it around to what suits you best. Alternativley you could also buy a hop on bop off bus pass but personally i enjoyed walking around myself.
Where to go in Luxembourg?
Alright so let's get into it.
The Red Bridge
Did you know this small city has 1,271 bridges and footbridges?! When I learned that I had to go check out the closest one called The Red Bridge although there is one called Viaduc ferroviaire right outside of the Youth hostel also.
The Red Bridge (Rout Bréck) is the largest bridge in the capital and it links the city center to the European district on the Kirchberg plateau and is 355 meters long. It was officially named in honor of the Grand Duchess Charlotte of Luxembourg, who inaugurated the bridge in 1966. It was built to make the Kirchberg district more accessible and today, the tram runs between the Kirchberg and the Central Station.
If you are staying in the Youth hostel, as you walk out the main door turn left and keep walking straight. It is probably the best place to start sightseeing if you will have only one day in Luxembourg. Here you can get the pic with the Luxembourg sign, and enjoy the view of the Pétrusse valley below (although there is no clear view because of the design of the bridge).
After that, you can make your way towards the old town, but first, you will pass through the Domaine De La Fondation J.P. Pescatore which looks like a castle but in reality is a retirement home that is surrounded by an elegant park with numerous little monuments. It's a great place to stop by, take some pictures and walk around. It's usually a quiet and relaxing place.
Panoramic Elevator of the Pfaffenthal
As you make your way further down you can make a stop at the Panoramic Elevator of the Pfaffenthal. It is a public elevator in Luxembourg City which links the city quarters of Ville Haute, the historical city center, with Pfaffenthal, in the Alzette valley below. It also offers panoramic views of the Alzette River valley.
It literally takes you from the bottom of the city to higher up and is completely in glass, so the view is lovely. Once you're all the way up, there is some sort of walkthrough tunnel that also gives you a nice overlook of part of the city.
So all in all, you could do this and skip red bridge or vice versa but when I was traveling in Luxembourg, the lift was closed for maintenance so I went to Red Bridge & the park around the Fondation J P Pescatore.
Pont Adolphe (Adolphe Bridge)
We are spending one day in Luxembourg so obviously, we don't have time to cross all the 1,271 bridges but one more wouldn't hurt besides Adolphe bridge is one of the most beautiful bridges in Luxembourg!
From the Panoramic Elevator of the Pfaffenthal, it's about 20 mins walk to Pont Adolphe, if you don't stop every step to take pictures.
The year 1900 was the date when the Pont Neuf (New bridge) aka – the Pont Adolphe was inaugurated. The name was given in respect to Grand Duke Adolphe, who reigned from 1890 to 1905, and who laid the foundation stone of the bridge, on the city side, in 1900.
Over the years, this beautiful stone bridge has become one of the capital's most popular tourist attractions. You will probably see it in most Luxembourg postcards, photographs, films, and drawings.
Its majestic double arch is a sight to behold and it spans across the 50-meter-deep Pétrusse valley
The Old Quarter
After your morning walk, you must be hungry now and it is a perfect time to get into hustle and bustle of the old quarter.
The UNESCO World Heritage old town is also known as Ville Hauteis which is a beautiful and inspiring place in the gorge of the River Alzette. The zigzagging streets have heritage buildings, grand squares, and palaces, all within a few minutes walking distance of each other.
There are numerous cafes and restaurants also. I recommended some places to eat above.
If you are skipping the morning walk taking public transport, you can just take the bus and tram to Centre Hamilius and then walk 200m to Place de la Constitution.
Grand Ducal Palace
The grand ducal Palace is located in the city center of the old town and is the official residence of the grand Duke & family since 1895. It has nice architecture and also the opportunity to watch the marching guard outside. Every half an hour to so they change the guard in a simple ceremony which is nice to watch. You can go for the guided tour which lasts 1h15 hours and if you don't miss the ancient hall of the Nobles and the Hall of the Guards.
Notre dame cathedral
Another place to check out would be the beautiful 17th-century Cathedrale de Notre Dame, which was built by the Jesuit religious order. Here you can admire the late Gothic architecture and Renaissance elements. Other important locations include two public squares and their clutch of historic buildings, Place Guillaume II and Place d'Armes.
In front of Place d'Armes, they had a small market where you could buy some antic things. I notice a few things all the way from Nepal!
National Museum of History and Art
If the heat/rain is getting to you or want some art and history, make sure to see this museum one day in Luxembourg itinerary. They usually have different exhibitions on and some are paid and some free. A good place to see historical artifacts dating from the Stone Age to the early Middle Ages.
City History Museum
As an alternative to the above, mention the city history museum. You can get entry free with the purchase of a ticket to Villa Vauban. This museum has an amazing view of the old town from the 3rd floor and also has a gigantic elevator the size of a room within a stone shaft with transparent walls. Inside you have an immersive experience with an old Luxembourgish charm. There are 4 floors and each successive floor takes you through the stages of the city's growth.
The Bock Casemates
As a UNESCO World Heritage Site, Bock Casemates is a very popular tourist attraction in Luxembourg City.
Initially built in the 17th Century, it was a Subterranean Defence System, that utilized its unique Geographical location to form a Fortification with natural rocky cliffs and man-made tunnels. Towering over River Alzette, and overlooking Stierchen Bridge, it offers wonderful views over the surrounding areas.
Absolutely worth a stop by when visiting Luxembourg. You can walk from the bottom to the top or Visa Versa, and it's in the center of town and close to other attractions. There are lots of information boards telling you about the history of the place and truly stunning views over the city to admire!
Le Chemin De La Corniche
According to the Luxembourg writer Batty Weber, Le Chemin De La Corniche is "the most beautiful balcony of Europe" which is pretty reasonable don't you think? In simple terms, it is a walking path along the Bock's sides and offers panoramic views across the fairytale-like city as well as The Grund and the Alzette Valley.
It is definitely worth the walk from here up to the Abbey.
Neumünster Abbey
This whole area is really amazing. The view of the water is breathtaking and the abbey has this kind of eerie charm you'd expect in a black-and-white movie.
This is worth the walk.
You keep walking and will keep finding the picturesque points with all the hidden routes between the fort walls, grund, and lake flowing around covered in the vertical greenery. It's full of amazing hidden points which can be explored as per the availability of time even seating there and feeling the environment was really amazing at this place.
On a side note, along the way, there are tons of apple trees and they had a note saying it's free to pick up. People were filling their bags with fresh Luxembourg apples! Perfect snack for a day trip tho!
Vianden Castle
As mentioned above public transport is free in Luxembourg so you can reach Vianden castle in about 2 hours one way. The main concern here is timing though.
If you would like to visit the castle plus see all of the above places in one day, I would advise starting early because it is a 4 hours return trip from the city plus you would probably spend about 2 hours here. In total 6 hours then spend the rest of the day in the old town.
Alternatively, you can visit here as a day trip if you are staying longer.
No matter what you decide to do, Vianden castle is beautiful both inside and outside. There are 22 rooms you can visit plus a visitor center with lots of info about the castle. It's all very well done.
The views are beautiful and overall it is a good price/quality ratio. There are beautiful walking routes around it too. The city of Vianden is also beautiful to walk through.
Furthermore, there's also a cute gift shop, lockers for your bags, and a cafeteria with lots of options.
Day trips from Luxembourg
Assuming you decided to stay longer in Luxembourg and after seeing all of the above, you have a spare day or two. It is a perfect opportunity to make a day trip to the following places.
Esch-Sur-Alzette
40 mins drive from Luxembourg and you will reach Esch-Sur-Alzette, the current European Capitals of Culture for 2022. It is a cosmopolitan city with a lively past and is well-known for its architectural charms (the architects Violet le Duc, Joseph Stübben, Gottfried Böhm, and Peter Rice have worked here) and its large shopping facilities.
Echternach
36 mins from Luxembourg and you will reach Echternach, the oldest town in the country. It is located on the east of the landlocked country of Luxembourg and is filled with oodles of history and things to see and do, including well over two thousand years worth of history to uncover.
Diekirch
15 mins away from the city and you will be at Diekirch. One of the small and picturesque district towns of the canton. It is situated at the river "Sûre" and surrounded by the heights such as "Haardt", "And Goldknapp. Best known for its brewery of the same name and the National Museum of Military History.
Brussels
2.5 hours drive and you will arrive in Brussels, which is the capital city and one of the most beautiful places in Belgium. It is located in the heart of Belgium and boasts many architectural landmarks and UNESCO world heritage sites
It is also known for its cuisine and gastronomic offer (including its local waffle, its chocolate, its French fries, and its numerous types of beers).
Bruges Belgium
3 hours of driving and past Brussels you will arrive in Bruges. It is known for its sheer beauty its history to its opportunities for people watching, beer indulging, and museum seeing, Bruges is a great place to stop. Fun fact, I had my first delicious smooth beer in Bruges. I am not a beer person but I will never forget that beer!
Amsterdam, Netherlands
Get on a Flix bus, land cross and you will arrive in the beautiful city of Amsterdam. See more of what The Netherlands has to offer.
Frankfurt, Germany
3 hours a car ride and you will be in Frankfurt. City of great diversity. Banks and big business, trade shows and shopping on the one side, culture, coziness, and traditions on the other.
Metz, France
About a 1-hour drive south and you will reach Metz, France. It is filled with warm yellow architecture, one of the highest cathedrals in France, and the German imperial district around the train station. It takes pride in being a true Garden City, with its trees, flowerbeds, and green esplanades.
If you don't feel like exploring alone, you can join any of the private or group tours below.
I hope this One day in Luxembourg travel tips gave you an insight into how you can spend a day here.
Let me know in the comments:
One day in Luxembourg city