Today I am sharing all the travel tips you need to know for your Budapest 2 day itinerary. Such as when is the best time to go, if it's safe for solo female travelers, the best places to see in Budapest including hidden spots, where to stay, what to eat, half a day trip ideas, and more. With all the information I am going to give you, I think it is fair to say this travel guide will be jam-packed with wanderlust!
Budapest is the capital city with the most population in Hungary and it is divided by the Danube river. A fun fact is Rubik, the inventor of the famous Rubik's cube, was born in Budapest and the city boasts a number of UNESCO world heritage sites.
Historically there were separate towns of Buda, Óbuda, and Pest and when they were officially unified in 1873, they were given the new name Budapest. It actually sits on the thermal springs and mineral-rich thermal water just spouts from the grounds which explains Budapest being the most important thermal spring cultures in Europe. (more on this below)
Budapest 2 day itinerary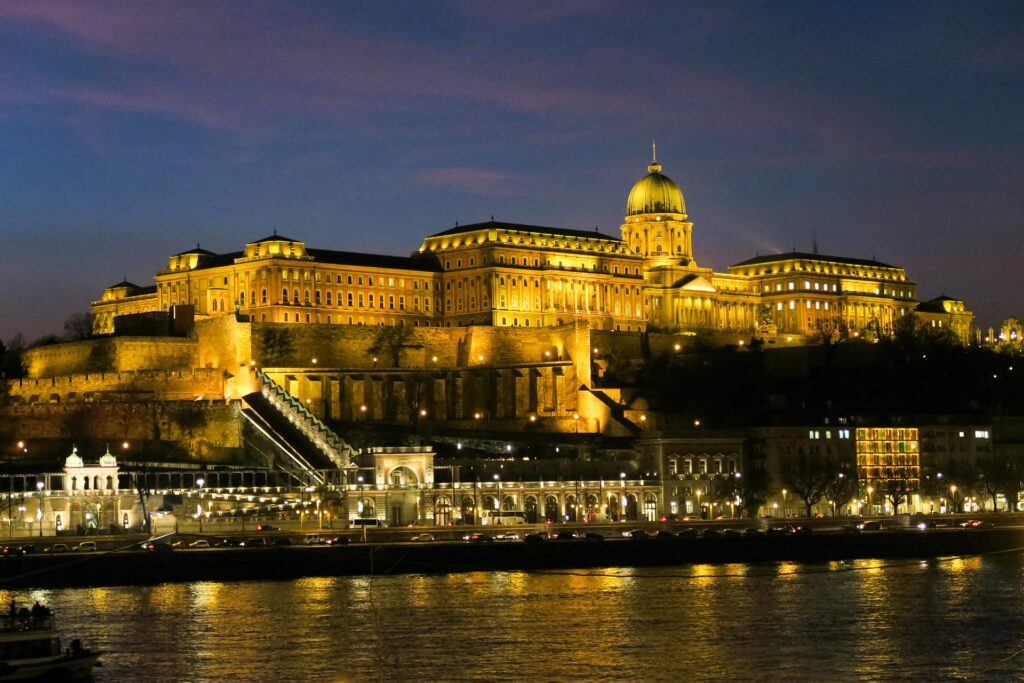 Before the itinerary, here are the FAQs answered for Budapest:
How many days in Budapest is enough?
My suggestion is to spend at least 2 days in Budapest where this guide comes in handy. This should be sufficient time to explore Budapest's main attractions, get the feel for the city, and even take a half-day trip. If time is no factor, you could spend months and still have a lot of places to explore in Eastern Europe.
Where is the best place to stay in Budapest?
If you want luxury then hotels are the best options or even Airbnb otherwise sticking with hostels would be your best bet with budget travels. What I find with Airbnb is though, you can even wash the bedsheets once you arrive because usually, the apartments come with washing and laundry machine. Either way, for Budapest 2 day itinerary some of the best neighborhoods to stay are District V (downtown/shopping), Buda (calmer quiet area), Pest (vibrant/busy), District VI or VIII (budget travelers), District VII (nightlife), and District I or District XIII (families).
When is the best time to visit Budapest?
The best times to visit Budapest are either the shoulder season (from March to May and September to November) or Summer (June to August). The shoulder seasons are when the weather isn't too hot, perhaps mild and the city isn't overcrowded with tourists. Also plenty of affordable room rates during that time. Then when the summer hits, usually the climate is warm-sunny and there are tons of events and festivals to go to. So ideally you may want to fit it in your schedule between these two options.
Is Budapest safe for a solo female traveler?
My experience of solo female traveling to Budapest was safe from start to the end. So I would say unless there is a drastic change in the country's political situation, pandemic, or some natural disaster it is safe to travel to Budapest. Just remember to apply a general rule of thumb i.e. Don't walk down that dark alleyway on your own, respect the culture, don't argue about religion or men, dress modestly, trust your instincts, don't be afraid but be cautious.
Local currency
The official currency is the Hungarian Forint (HUF) in Hungary. However, almost all establishments accept Euro and debit or credit cards. Remember to consider bank fees from your bank and the ATM withdraw fee while you do your budget.
Do I need a visa for Budapest?
If your passport is from Australia, you do not need a visitor visa to enter Hungary because it falls under the Schengen zone that allows Aussies to stay up to 90 days in any 180-day period. Passport should be valid for at least six months beyond your stay. That being said, if you are flying into the country the authorities may ask for the return ticket. I highly recommend checking the Hungary Embassy website for the most current visa information that applies to you.
How to get to Budapest?
By Plane
There are three working international airports in Budapest, 4 domestic, 4 military, and numbers of private airports in Hungary. Budapest Ferenc Liszt International Airport, formerly known as Budapest Ferihegy International Airport and still commonly called just Ferihegy or Budapest Airport. It is the most common one for international passengers arriving from different countries. Recommend to search via Skyscanner to check the latest flight pricing.
By Ferry
Alternatively, you could take a luxurious private or public six-hour Danube cruise that takes you from Vienna, Austria to Budapest, Hungary. This route is the fastest of all boat trips between the two cities. It is a good option for people who want a day cruise on the Danube and visit Budapest there is just the 1 ferry company DFDS Seaways operating this ferry service. The ferry runs 7 times each week with sailing durations from around 19 hours.
By Train/Bus
If flying or taking a ferry both are not your style, you can also travel overland to Budapest which is what I did. As an example, you could buy a train ticket from Vienna to Budapest at €14 one-way for a Standard Class ticket and if you're booking last-minute tickets on the day, the average price would be around €40.20. You could even use a car share ride Blabla car in Europe for some land transport.
How to get around Budapest?
The first option I always suggest is to walk around the new city because it offers so much more with the sights, sounds, surprise conversations with the locals, and more. It is also very easy to walk around in Oslo because all the main attractions aren't too far from each other.
That said, Budapest's metro is the oldest and richest in continental Europe. There is also easy to use tramline and their four subway (metro) lines connect most of the city's most important areas. If you have the Budapest Card you can travel without restrictions and for free within the city limits on more than 200 bus, 32 tram, 15 trolley, and 4 metro lines, on the HÉV Suburban Railway and with boats.
From the airport, you can either use a direct bus or a bus/metro combination to get to the city. There are no Uber's in Budapest but Bolt is the uber of Budapest.
People, language, Simcard
Based on my experience I found Hungarians to be into fine arts, a wide interest in music, poetry, literature, and quite pragmatic.
Given Hungary is one of the photogenic countries in eastern Europe, it also boasts no less than 1,500 spas, typically featuring Roman, Greek, and Turkish architecture. It is a way of life here and they also have a long tradition of classical music with famous composers like Béla Bartók, Zoltán Kodály, and Franz Liszt
You can pick up a Vodafone sim card at Budapest airport ranging from $26 to $52.
Hungary's country domain is .hu, and country-code is +36
Must-Have Travel Apps for Budapest
Google Translate for easy communication on the local language and it's extremely simple to use!
Flixbus app to travel to Europe very cheaply including other cities in Denmark other than just Copenhagen. It has a comfortable seat, wifi, and snacks onboard.
Google Maps because it offers very good coverage of Bratislava, including Street View. Google Drive, Calendar for time management, and storing pictures.
SmartCity is an offline public transport information application of Budapest.
BKK Futar provides information on the trams and vehicles' real-time departure times.
GreenGo for car-sharing service with only electric Volkswagen Up cars. You can also rent them.
Netpincer your ubereats in Budapest
MOL Bubi is a public bike-sharing service
Night works for parties and events currently happening in Budapest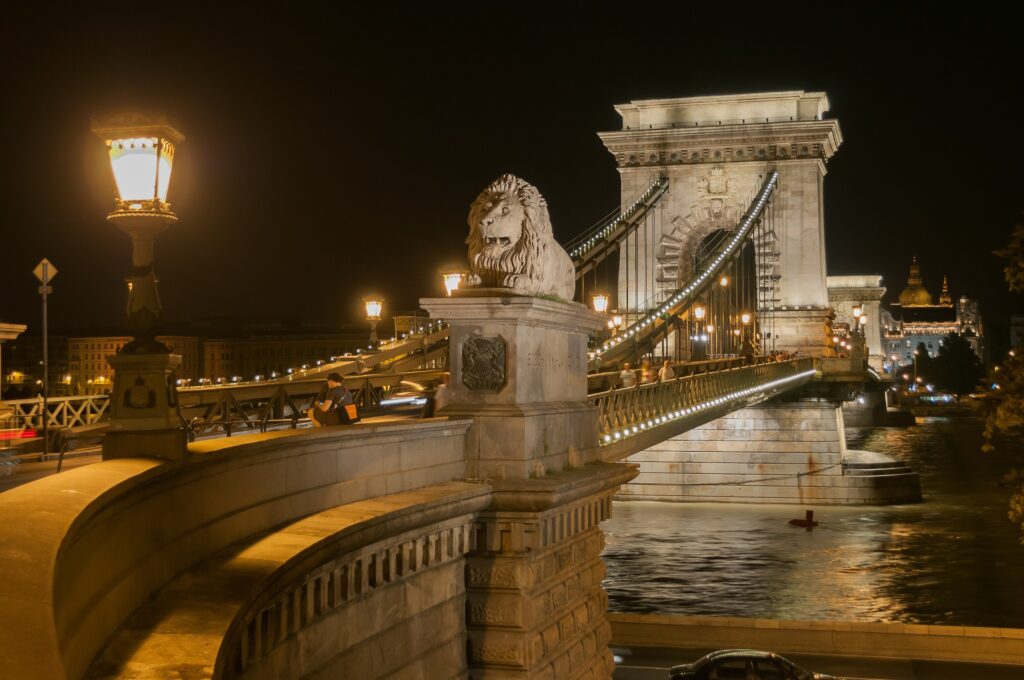 What to eat in Budapest?
Budapest 2 day itinerary wouldn't be complete without eating some Hungarian meals! Here are my recommended meals (also mentioned hungarian names of the ones remembered) Beef Goulash (gulyás), Chicken paprikash, Kolbász, Jókai Bean Soup, Palacsinta, Rakott Krumpli, Túrós Csusza, Langos, kolbasz (spiced sausages), Töltött káposzta (Stuffed Cabbage), Dobos Torta (Drummer Cake), Gyümölcsleves (Cold Fruit Soup), Dobos torte, and Kürtőskalács (Chimney Cake).
A fun fact is Paprika was invented in Budapest and legend says Hungarians eat more than 500 grams of Paprika per year! No wonder it is one of my favorite European cuisines.
As you know most countries have a signature drink. Hungary is no different. So in my books, the must-try drink in Budapest is Tokaji. It is a sweet, Hungarian wine that is perfect as a dessert wine or with cheese platter or snacks. High note sky bar is my recommended sky bar, ruin bars such as Mazel Tov, Kadarka Wine Bar, Rabbit Hole Bar, and Cafe good options too.
Where to eat in Budapest?
Generally speaking, eating out in Budapest is reasonable compared to other European countries but here are some expensive restaurants for sure but with the mix of budget-friendly options, it is a foodie paradise. Here are some restaurants I recommend Gettó Gulyás's, HILDA, Csarnok Vendéglő, Börze, Felix, Langos Papa, Borkonyha Wine kitchen, A Séf utcája, and Marika Lángos Sütője at the central market hall.
Budapest 2 day itinerary
Now that we got the practical tips out of the way, let's get into the best places to visit during your Budapest 2 day itinerary.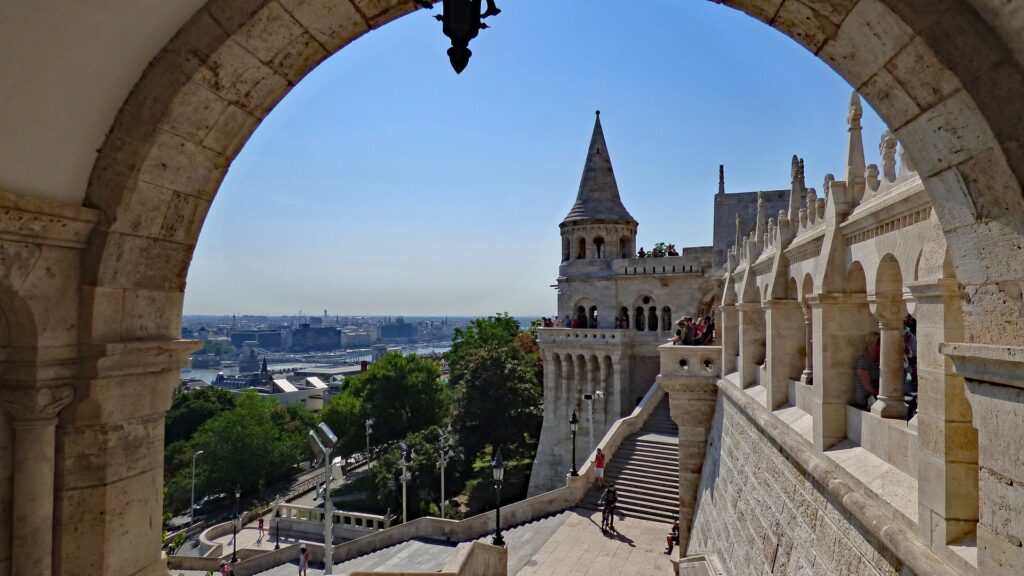 Best places to visit in Budapest
If it's your solo trip to Budapest, and you would like to meet other fellow travelers I consider joining a walking tour, meet other travelers and get familiar with the city with the help of licensed, professional guides. There are many types of walking guided tours and even a river coach available from the public to private tours ranging from 1 to 3 hours.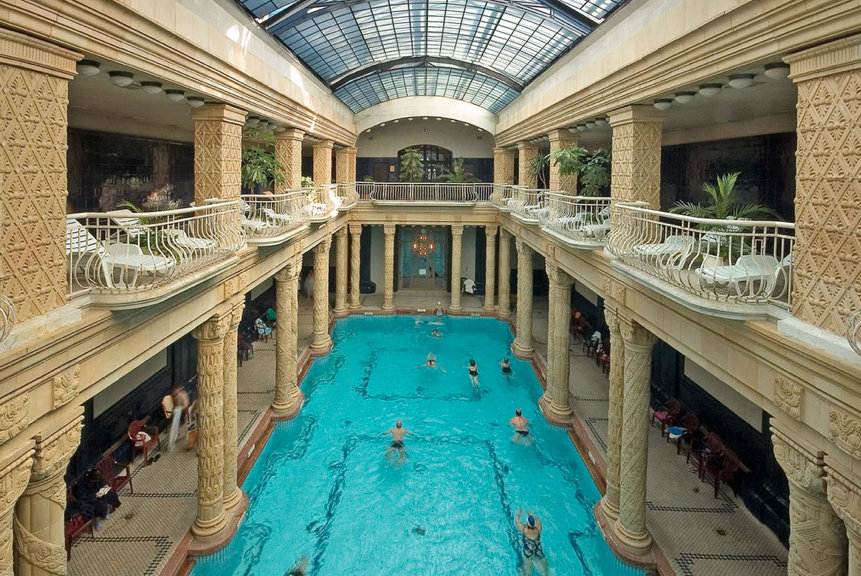 Alternatively, you can venture out on your own but whether you choose to join the tours or end up exploring on your own, here are the must-see places in Budapest you shouldn't miss: Budapest history museum, Hungarian national gallery, Szechenyi chain bridge, Hungarian state opera house, New York palace, Matthias church, Andrássy avenue and heroes square, City park, beautiful Buda Castle, Fisherman's Bastion, Central Market Hall and Citadel atop Gellért Hill.
Budapest has more thermal water springs than any other capital city in the world, and it is said they also have magical healing powers, too! During the summer months, they have 'Spa parties' with lasers, DJs, and so many more events! In your 2 day Budapest itinerary, this could be a bucket list item maybe not the party but definitely the Spa and thermal baths. Gellert Bath and széchenyi thermal bath are good places to start.
The tallest buildings in the city are the St. Stephens Basilica and the Hungarian Parliament building, both are 96 meters tall and no building can be taller than this! (It is the largest Parliament building in the world!)
Some of the hidden spots I recommend is a church cave in downtown Budapest. Only locals know of this little church in the rock under the Gellert Hill, in Budapest Old Town. Also next to the parliament, by the edge of the Danube river, you can find lots of shoes made of bronze fixed to the ground. These are a tribute to all the Jews that were killed.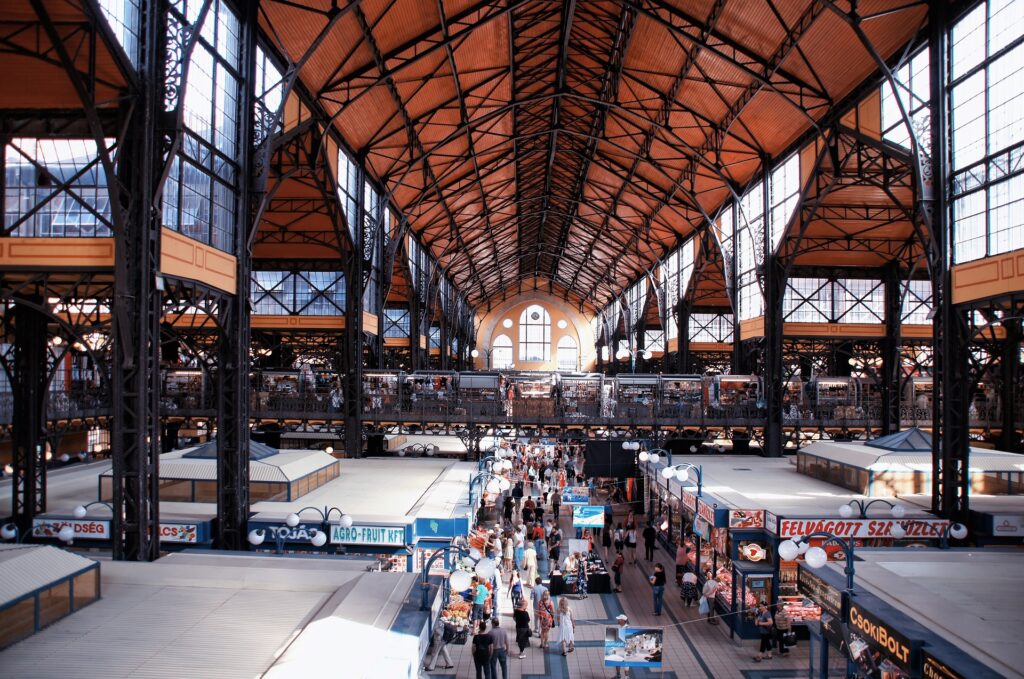 Budapest Zoo if you are into animals and beneath the city of Budapest lies a hidden subterranean world, a maze of over 200 caverns and tunnels. The caverns are the result of a large number of geothermal springs in the area from thermal activity.
Many of these caves are open to the public for guided spelunking adventures. The most interesting one of them is the underground labyrinth located right beneath the Castle Hill, in Budapest Old Town. The 6-mile long Budavari Labirintus has a very tumultuous history, as well. From a refuge for prehistoric people to a cellar and a prison in medieval times, a bomb shelter and a military hospital during World War II, and a command post during the Cold War, the Labyrinth had many functions. In more recent times, the Labirintus has been turned into a museum that displays Budapest's rich history.
2 days Budapest travel guide would feel incomplete without mentioning the best place to watch sunsets in Budapest. So here it is, Mansfeld Péter Park, Citadel- Gellért Hill, Danube Riverbank, Liberty Bridge, Fisherman's Bastion, the Bajor Gizi park, Népsziget, Bálna complex, Margaret Island, Tomb of Gül Baba, Árpád Lookout, Lake Feneketlen, Garden of the Philosophers, 360 bar or Budapest Eye, Ferris-wheel at Deák Ferenc Square.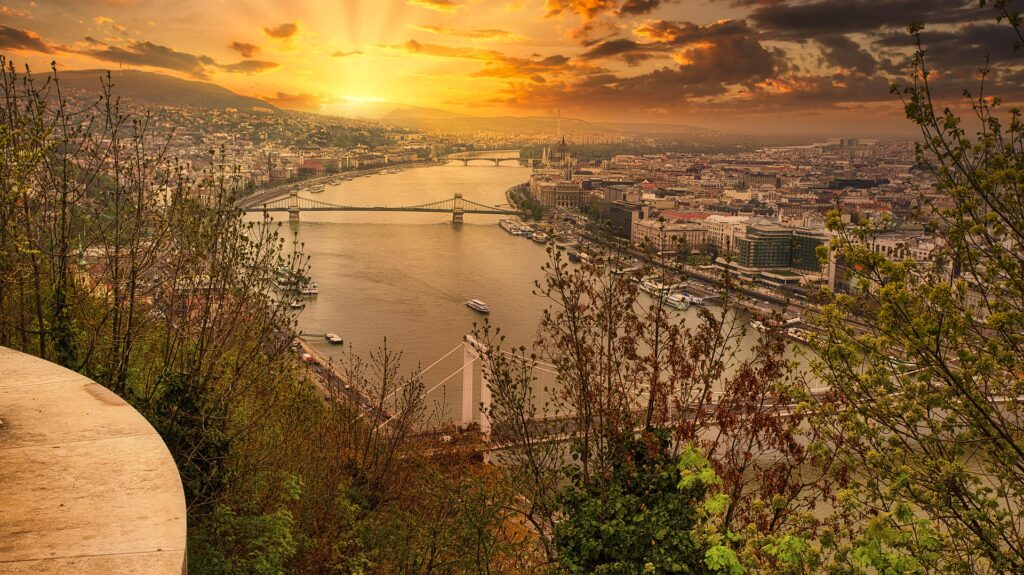 Half-day trips from Budapest
If you have managed to see must-see places in the center on the first day, there are some half a day trips from Budapest that you can do on your second day. Such as the picturesque artists' village of Szentendre, Royal Palace of Gödöllő, Wine tasting in Etyek (both 30 mins out of Budapest), beautiful Lake Balaton, Kecskemét town, the northeastern city of Eger, or even to Vienna and back given its 2.5 hours to go and back if you are keen!
Alternatively, I recommend opting for some experiences or activities in Budapest. Such as treasure hunting, a bar on a cycle, typical Hungarian dinner with a folklore show with private car, Danube river cruise, or perhaps a cooking class at the market hall.
With pretty city views, UNESCO sites, relaxing thermal baths, cool activities to do and see, Budapest seems to become more alive with each passing year. I hope this Budapest 2 day itinerary article helped you in planning your travels.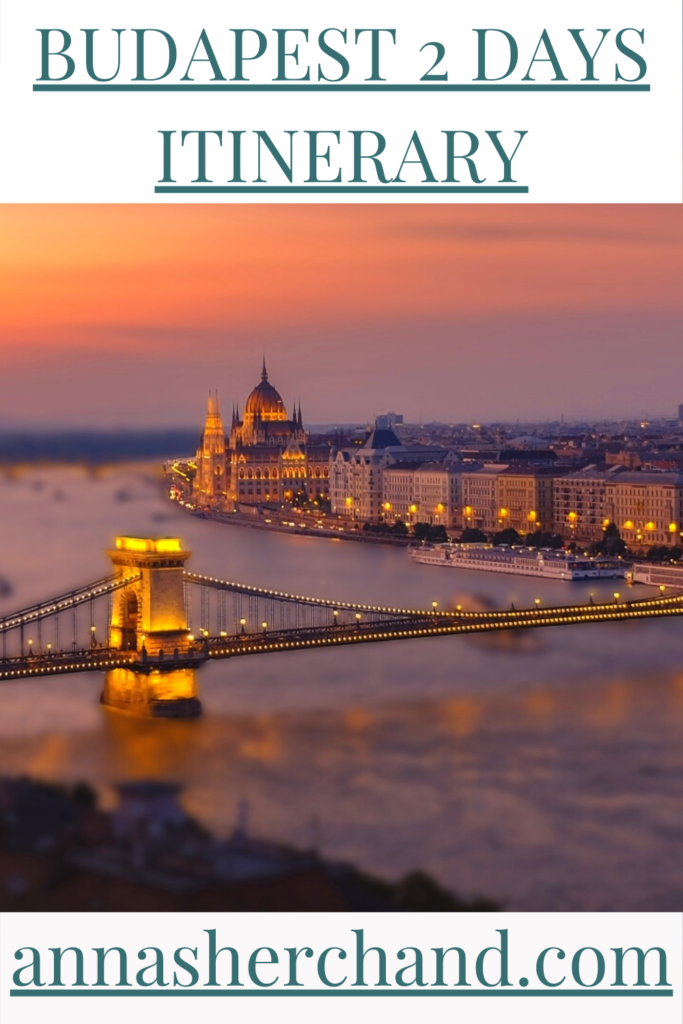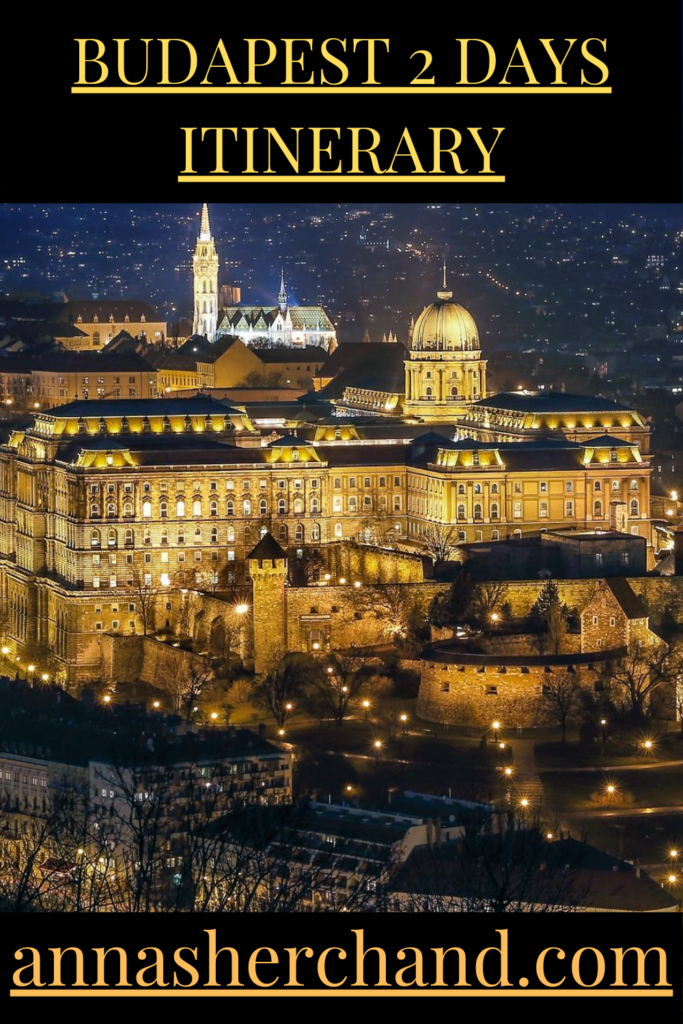 Let me know in the comments:
Budapest 2 day itinerary for first-timers