It is time to visit one of the lesser-known countries in Central America. If you're planning a backpacking trip through Central America, El Salvador is definitely worth considering. As I was time-poor during my one month in Central America journey, I spent 3 days in El Salvador including El Tunco in the south. So if you are wondering what to do in El Salvador solo female travel, continue reading till the end.
El Salvador is one of the smallest countries in the region and offers a diverse range of attractions and activities that are perfect for solo travelers.
Most people visit Santa Ana in El Salvador but I skipped it because my goal for this trip was to see something unique in all 7 countries. So that meant Volcano in Santa Ana wasn't of interest as it fell under the already seen/done bucket.
So what different things do I see during 3 days in El Salvador? I'll elaborate on that below.
Nestled within the heart of Central America, El Salvador is a hidden gem waiting to be discovered. With its pristine Pacific coastlines, dramatic volcanic landscapes, and rich cultural heritage, this compact nation offers a diverse range of experiences for the intrepid traveler. Explore the charming colonial streets of Suchitoto, surf world-class waves in El Tunco, hike to the summit of Santa Ana Volcano for breathtaking vistas, and savor the flavors of pupusas, El Salvador's beloved stuffed tortillas.
But what truly sets El Salvador apart is its warm and welcoming people, who are eager to share their traditions and stories with open arms. From its vibrant festivals to its tranquil lakes and jungles, El Salvador offers a tapestry of adventure and culture just waiting to be unraveled. It's a destination that captivates the senses and leaves a lasting impression on the souls of those who venture here.
San Salvador, the capital of El Salvador, is a must-visit destination. This bustling metropolis boasts a mix of modern and historic architecture, including the stunning Metropolitan Cathedral and the National Palace. If you're a night owl, you'll love the vibrant nightlife scene with plenty of bars, clubs, and restaurants to choose from.
But El Salvador isn't just about city life. The Ruta de las Flores, or "Flower Route," is a scenic drive through several charming towns known for their colorful flowers and unique artisanal crafts. And if you're a thrill-seeker, El Salvador has plenty of outdoor activities to offer, from hiking, and riding a bike on a zip line, to surfing on the Pacific coast and more.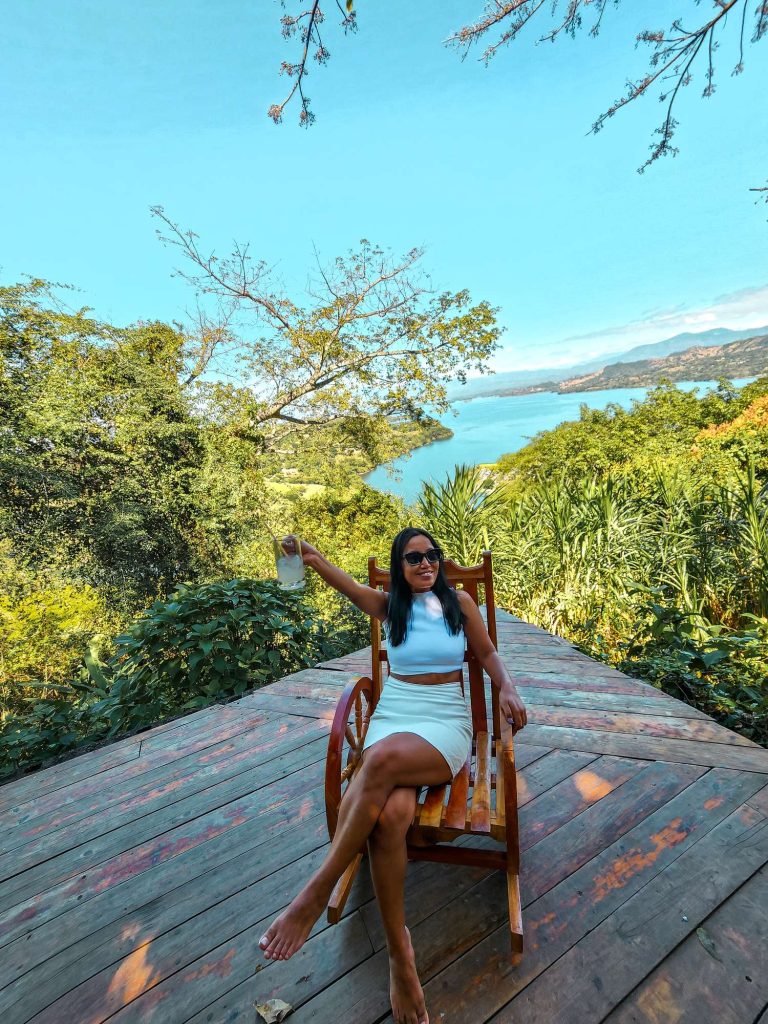 Is El Salvador safe for solo female travelers?
El Salvador has a reputation for being a dangerous country, and there are certain safety concerns that solo travelers should be aware of. However, with appropriate precautions, it is possible to have a safe and enjoyable trip to El Salvador.
Here are some tips for staying safe in El Salvador as a solo female traveler.
Stick to well-known tourist areas and avoid traveling alone at night.
Avoid carrying large amounts of cash or wearing expensive jewelry or watches.
Use caution when using public transportation. Stick to licensed taxis or Uber.
Keep your passport and important documents in a secure location, such as a hotel/hostel safe/locker.
Stay aware of your surroundings and trust your instincts. If a situation feels unsafe, remove yourself from it as quickly and calmly as possible.
Learn some basic Spanish phrases before your trip, as English is not widely spoken outside of tourist areas.
Consider staying in a hostel or guesthouse with good reviews and a social atmosphere, where you can meet other travelers and possibly join group activities. (recommendation below)
Overall, while there are safety concerns in El Salvador, solo travelers can have a safe and rewarding trip with careful planning and a heightened awareness of their surroundings.
Which hostels to stay in El Salvador?
Here are some highly-rated hostels in San Salvador, the capital city of El Salvador: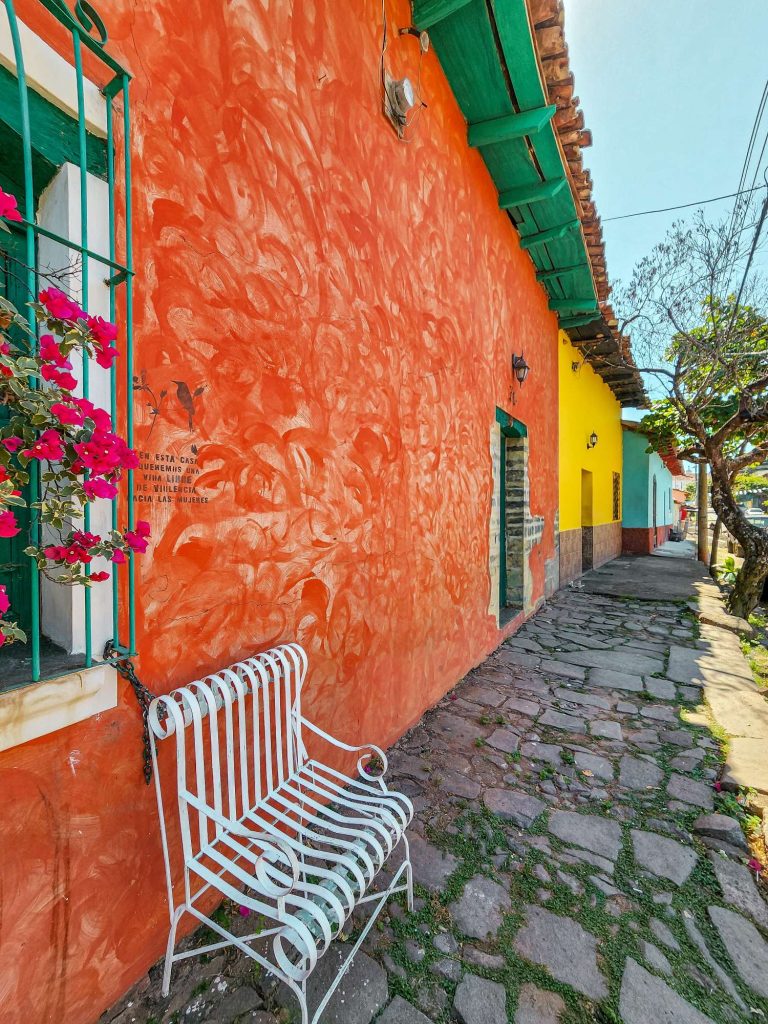 What and Where to eat in San Salvador?
San Salvador has a vibrant food scene, with a mix of traditional Salvadoran cuisine and international options. Here are some popular dishes and places to eat in San Salvador:
Pupusas – This is the national dish of El Salvador and a must-try when visiting San Salvador. Pupusas are thick corn tortillas stuffed with cheese, beans, or meat, and topped with curtido (a pickled cabbage slaw) and tomato salsa. Some popular places to try pupusas in San Salvador include El Paseo de las Pupusas and Pupusería Paty.
Mariscada – El Salvador is known for its seafood, and mariscada is a popular dish that features a variety of seafood, such as shrimp, clams, and fish, in a tomato-based sauce. Some popular places to try mariscada in San Salvador include La Pampa Argentina and Los Cebollines.
Chorizo con lombrices (also known as chorilonga or chorilonza) – It is a popular street food that consists of grilled chorizo sausage and moronga (blood sausage) served on a tortilla.
Comida Corrida – This is a traditional Salvadoran lunch that typically includes a soup, a main course (such as grilled chicken or beef), rice and beans, and a drink. Many small restaurants in San Salvador offer comida corrida at an affordable price, such as Comedor Guadalupano.
Coffee – El Salvador is also known for its coffee, and there are many coffee shops and cafes in San Salvador where you can try a cup of locally grown coffee. Some popular places to try coffee in San Salvador include Viva Espresso and The Coffee Cup.
Street Food – San Salvador has a lively street food scene, with vendors selling a variety of snacks and treats. Some popular street foods to try include yuca frita (fried cassava), churros, and elotes locos (corn on the cob with toppings). You can find street food vendors throughout the city, but some popular areas include Parque Colón and La Gran Vía.
Sopa de Res – A traditional beef soup that often includes vegetables such as carrots, potatoes, and yucca.
Tamales – Similar to the Mexican dish, tamales in El Salvador are often filled with chicken or pork and served with tomato sauce.
Ensalada Rusa – A salad made with boiled potatoes, carrots, peas, and mayonnaise.
Quesadillas – These are sweet, Salvadoran-style cheese pastries that are often served with coffee or hot chocolate
Ponche- Ponche is a traditional Salvadoran Christmas beverage made with fruits, spices, and rum.
Some popular places to try seafood dishes in San Salvador include La Pampa Argentina, Los Cebollines, and El Cadejo. You can also find ponche at local markets and street vendors during the holiday season.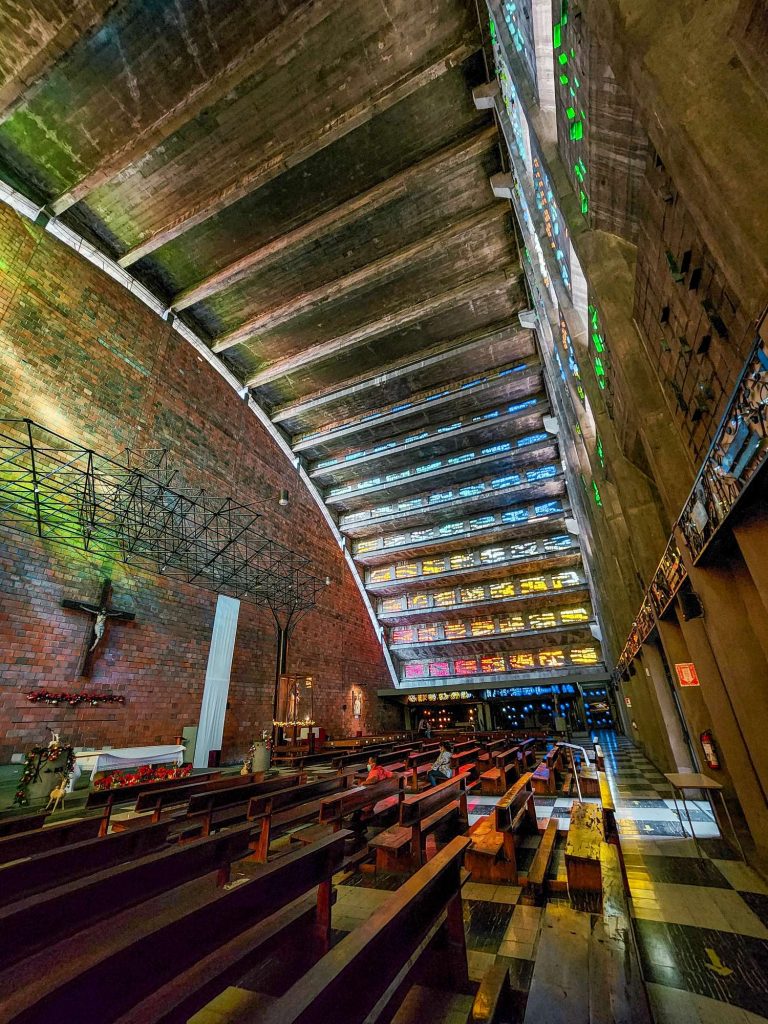 3 Days in El Salvador Solo Female Travel
San Salvador is the vibrant capital of El Salvador, located in the heart of Central America. Despite being one of the smallest capital cities in the region, San Salvador is a bustling metropolis with a rich history, vibrant culture, and plenty of activities for visitors to enjoy.
Here are 10 interesting things/highlights to see during 3 Days in El Salvador and do in San Salvador:
See the memorable Iglesia El Rosario (Church of the Rosary) Pretty impressed with the rainbow effect – v original! It is so beautiful inside at any time during the day but the best time is 3 pm for the full rainbow effect. Cost $2 per foreigner to enter and masks are still required. They sell them for 0.25 cents each.
Visit the iconic "El Salvador del Mundo" monument and ride the giant slide for a thrilling experience and panoramic views of the city.
Immerse yourself in the local culture by visiting bustling markets like Mercado Central and Mercado Antiguo Cuscatlán, where you can sample traditional street food and shop for souvenirs.
Learn about the country's turbulent history and the struggles of the local people by visiting the Museum of the Revolution or the National Museum of Anthropology Dr. David J. Guzmán.
Marvel at the stunning architecture of the city's historic buildings, such as the Metropolitan Cathedral, the National Palace, and the Teatro Nacional.
Take a leisurely stroll through the city's parks and plazas, including the Parque Cuscatlán, Parque Libertad, and Plaza Gerardo Barrios.
Enjoy the vibrant nightlife scene by visiting bars and clubs in trendy neighborhoods like Zona Rosa and La Gran Vía.
Attend a cultural event or festival, such as the annual August celebrations or the Paseo El Carmen, a traditional street fair that takes place in the historic district.
Discover the contemporary art scene by visiting Museo de Arte de El Salvador or art galleries like the Centro Cultural de España or the Casa Tomada.
El Boquerón National Park: This park, located on the edge of the San Salvador Volcano, offers hiking trails, picnic areas, and stunning views of the city and surrounding landscape.
La Casa de la Cultura: This cultural center offers a variety of workshops, classes, and events related to art, music, dance, and theater.
Plaza Libertad: This beautiful public square features a statue of El Salvador's national hero, Jose Matias Delgado, and is surrounded by historic buildings and museums.
Below are some suggested tours if you're interested
Day Trips from San Salvador
Joya de Cerén: This UNESCO World Heritage Site is known as the "Pompeii of the Americas" and offers a glimpse into the daily life of the Mayan people who lived here before the eruption of the nearby volcano.
Tazumal: This pre-Columbian archaeological site located in the town of Chalchuapa features impressive Mayan ruins and is considered one of the most important archaeological sites in El Salvador.
Lake Coatepeque: This picturesque crater lake is located about 45 minutes from San Salvador and offers stunning views, swimming, and water sports.
Santa Ana Volcano: This active volcano is the highest in El Salvador and offers a challenging but rewarding hike to the summit for stunning views of the surrounding landscape.
Ruta de las Flores: This scenic drive takes you through charming towns and picturesque landscapes, with plenty of opportunities to stop and explore local markets, coffee farms, and artisan shops.
Suchitoto: This pretty pastel colonial town (pics above) located about an hour from San Salvador offers historic architecture, beautiful views of Lake Suchitlán, and opportunities for hiking, birdwatching, and water sports.
El Boquerón National Park: This park, located on the edge of the San Salvador Volcano, offers hiking trails, picnic areas, and stunning views of the city and surrounding landscape.
These are just a few of the many day trips you can take from San Salvador. Make sure to do some more research and plan ahead to make the most of your time in El Salvador.
El Tunco Beach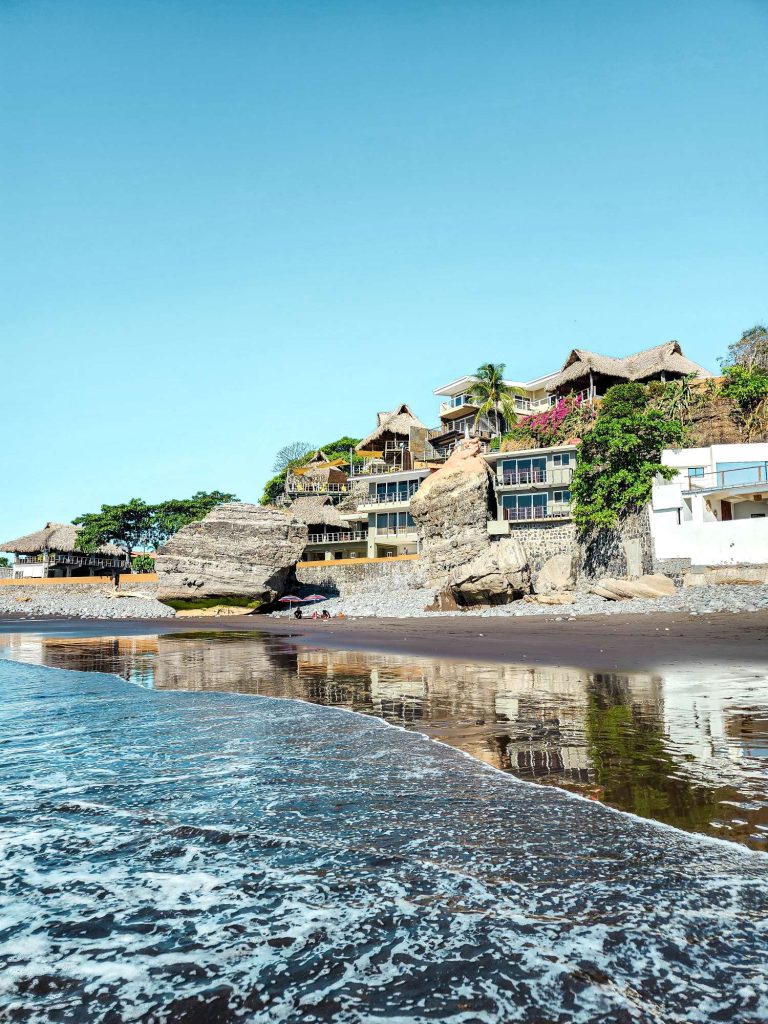 After spending a day in San Salvador and taking a day trip to Suchitoto the next day, I took the public local bus in the evening and arrived at El Sunzal Beach which is a good 20 mins beach walk to El Tunco beach. From San Salvador, the bus journey took about 1 hour and if you want another option, you can also Uber it to el tunco. It is a popular tourist destination located on the Pacific Coast of El Salvador. The beach is famous for its excellent surfing conditions, relaxed atmosphere, and beautiful natural scenery.
Other ways to get to El Tunco Beach from San Salvador include hiring a taxi but the most convenient way to travel is by car or private shuttle, which can be arranged through local tour operators or your hotel. The journey takes approximately 45 minutes to an hour, depending on traffic.
Once you arrive in El Tunco Beach, there are many activities to enjoy. Surfing is the most popular activity, and there are several surf schools and rental shops along the beach. You can also take a boat tour to explore the coastline, try your hand at fishing, or go for a hike in the nearby El Imposible National Park.
If you prefer a more laid-back experience as I did, you can simply relax on the beach and soak up the sun. The beach is lined with palm trees and has plenty of shady spots to relax, read a book, or take a nap. You can also enjoy a cold drink or a snack from one of the many beachside bars and restaurants.
When it comes to dining in El Tunco Beach, there are plenty of options to choose from. Many of the restaurants offer fresh seafood and traditional Salvadoran dishes, as well as international cuisine. Some popular restaurants include Sunzalito, Cafe Sunzal, and Beto's Beach Bar.
Overall, El Tunco Beach is a must-visit destination for anyone traveling to El Salvador. Its relaxed vibe, beautiful scenery, and excellent surfing conditions make it an ideal place to unwind and enjoy the beauty of the Pacific coast.
How to go from Copan Ruins, Honduras to San Salvador, El Salvador?
This was going to be another long day so I started EARLY!
Here is the step-by-step route I executed.
1. Get on a bus to Santa Rosa de Copan (3.5 hours)
In Copan Ruins town, there are two bus terminals. One is in the town between all the shops and the second one is on the way to the Copan ruins itself – If you walk from town to the ruins you will come across a small bridge and right next to it on the right-hand side is the second bus stop.
I did not buy a bus ticket day before because there was no one selling it! So I just decided to turn up early in the morning. The first bus leaves the bus stop at 4:20 am and the second bus leaves at 6 am ( i made it around 545 am – the hostel was nearby recommendation below and the bus left right on time at 6).
2. Take another bus from Santa Rosa de Copan to Ocotepeque (2.5 hours)
The bus will take its sweet time, looking and waiting to pick up passengers in order to fill the seats and buying breakfast for the driver/conductor. I wasn't sure what they were eating tho but a friendly Honduran man on the bus who spoke good English explained it to me. It was a delicious local breakfast that looked like a tortilla with stuffed meat or veggies inside which was actually tasty
I suggest letting the driver and the conductor know beforehand you want to go Ocotepeque next because along the way the bus may pass other buses heading in that direction. So they just stop and take your bag and move you right then and there!

That is how it happened for me although it was only 5 minutes before arriving in Santa Rosa! So in any case, get to Santa Rosa and on this small bus stop area you should be able to find a bus that goes to Ocotepeque.
3. Taxi drive to the border (7 minutes)
Once you arrive in a town called Ocotepeque, you can either get another microvan heading to Frontera (border) or get a taxi to drop you off at the border.
4. Immigrations: Stamp out/ Stamp In (40 minutes)
At the border, continue walking to the immigration office. Stamp out of Honduras Then walk straight to the San Salvador immigration office You can't miss it, it is just straight ahead.

There are some people exchanging USD/ Lempheras for the local currency, recommend changing some to use for bus or food, maybe snacks. The man gave me a good rate tbh
5. Walk to the Terminal de buses 119: (10 minutes)
Once you enter El Salvador, you gotta keep walking straight again to get to the bus stop. There are some restaurants and shops along the way. I stopped at once to buy water and snacks for the bus ride and was pleasantly surprised to bump into a local El Salvadorian who spoke perfect American English.

Walk straight about 10 minutes from the immigration office until you see the bus terminal on your right-hand side.
6. Take Chicken Bus #119 to San Salvador: (3 hours)
El Salvador was my 4th Central American country and I was finally about to experience the Chicken bus ride everyone talked about!

I must mention it was one of the fun bus rides because of a few things. Firstly, both the driver and the conductor were super nice and polite even when they had 0 English and I had no Spanish. Just looking at them you could tell they absolutely LOVED their job.
Secondly, this chicken bus had a massive TV at the front and throughout the bus journey, they kept playing Daddy Yankee music videos on repeat! So i guess I got familiar with their taste in music now
7. Arrive at a gas station called Gasolinera Puma near Terminal de Oriente bus station
Finally arrived in San Salvador, remember Uber works here so I checked how much was to my hostel and it was $6 but there are also many taxis around. I was at my hostel in 20 minutes due to peak office hours traffic around 5:30 pm.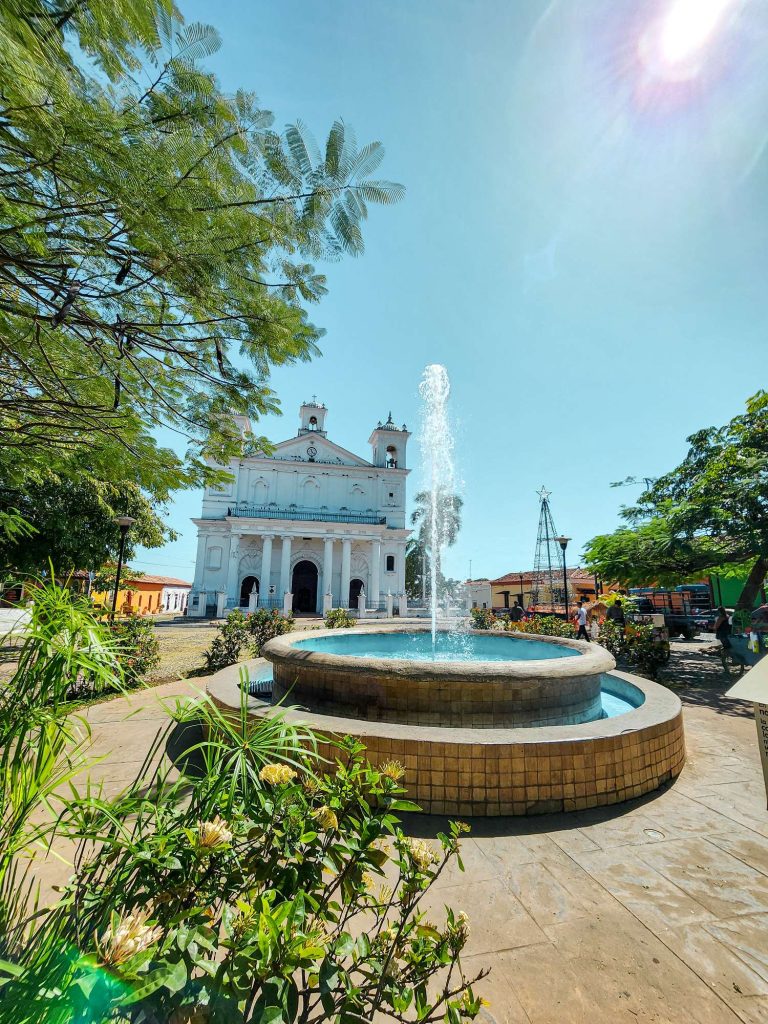 Cost of this independent border crossing:
Here are quick notes from the day
From Copan Ruins the bus left exactly at 6:40 am
Arrived at 9:40 am in Santa Rosa
110 lemp
3 hrs
Left Santa Rosa at 950 am
Arrived at Ocotepeque at 12:50 pm
150 lemp
I gave the bus conductor 500 lemp but had to remind him more than halfway for the change back. Suggest carrying smaller notes for ease.
3 hrs
A shared Taxi to the border with locals left at 1 pm
Arrived at Honduras immigration at 1: 20 pm
12 lemp
Stamp out Honduras immigration
Asked where I'm going next and where I was before
Mentioned that I had too many stamps on my passport!
Walked to the San Salvador immigration
Guard checked passport, stamped in and stamped out of Honduras
At the El Salvador immigration, the officer flicked through all the pages of my passport and checked the stamps again
This time questions were – where was I staying, where was I going, and which country I land first form Australia
Snacks $1.35
2 pm arrived At the bus stop chicken bus guy washing the tires
Left 2:15 pm $5 waiting for change still
Got back $2.80
Finally arrived in San Salvador at 5:30 PM
TAXI to the hostel at 5: 37 pm
Arrived at the hostel in 5 mins
Also checked Uber's price was $6.10
Taxi wanted $8 but in the end, agreed to go from $6
How long did it take me to get from Honduras to El Salvador?
Total: 12 hours
These steps may look pretty complicated but don't be put off by the fact that you need to take 3 different buses and 1 taxi to get to San Salvador. It's not as bad as it looks, I speak barely any words in Spanish and did fine so you can too!
Alternatively, you can pay for a shuttle door-to-door service for about 90 USD.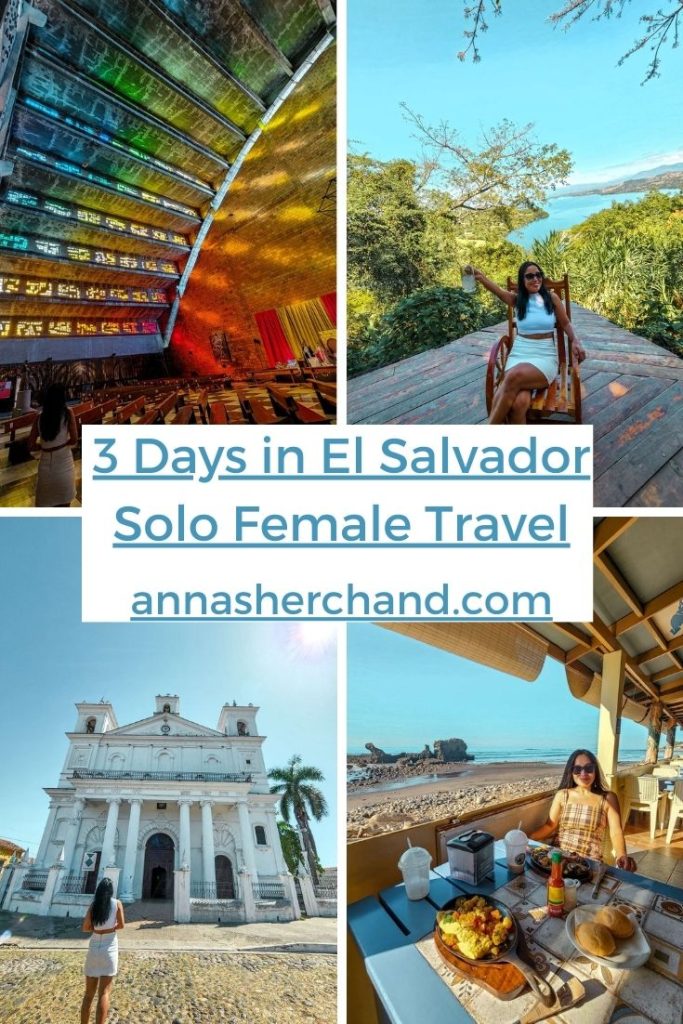 Let me know in the comments:
If you have any questions about 3 Days in El Salvador
9 days in Guatemala
Solo border crossing from Guatemala to Punta Gorda Belize
2 Days in Punta Gorda, Belize
How to cross the border from Belize to Honduras
Solo female travel to Copan Ruins Honduras
Solo border crossing from Honduras to El Salvador
Border crossing from El Tunco El Salvador to Leon Nicaragua
7 days in Nicaragua solo travel
Granada Nicaragua to San Jose Costa Rica border crossing
3 Days in Costa Rica Travel Guide
Puerto Viejo Costa Rica to Bocas Del Toro Panama Border Crossing
5 Days Panama Travel Guide
7 days in Nicaragua solo travel
Granada Nicaragua to San Jose Costa Rica bus
7 days backpacking in Ecuador itinerary
5 days in Oaxaca itinerary
2 days in Mexico City itinerary
Best places to visit from Split
2 days in Split, Croatia
Solo traveling to Mostar
Solo female travel to Kotor
Best places to visit from Split
2 days in Split, Croatia
Solo traveling to Mostar
Solo female travel to Kotor
Solo female travel to Budva
Solo female travel Albania
Warsaw by Train covers warsaw travel tips
Check out One day in Luxembourg, western Europe
Day trip from Zurich to Liechtenstein
Travel tips to South America
Fiji solo travel guide
Australia east coast must-see
Backpacking in Melbourne, Australia
Digital nomad guide to Melbourne
14 best area to stay in Melbourne CBD
Master Sydney travel guide
Solo travel guide to Brisbane
Exploring Adelaide the best way is a must-read
Important travel tips for Uluru trip
Melbourne day trips in winter
Day Hikes in Melbourne
Weekend getaway? Check out things to do in Ballarat
Perth solo itinerary
Top 5 must do in Darwin, Australia
How to go from Dublin to Howth
Solo female travel Romania
Read a recent day trip to Zaanse Schans from Amsterdam
How about a solo itinerary to Canberra– Australia's capital city?
Solo trip to Peru, travel tips to South America
Check out the 7 days Hanoi travel guide.
Book accommodation through trusted Booking.com
I have detailed travel resources right here. Save money, learn what and how.
If you like this article, feel free to follow my adventures on Instagram, Facebook, YouTube, Twitter, and Pinterest, but most importantly sign up to my e-mail list to keep up with updates and travel posts.
3 Days in El Salvador Solo Female Travel