Today I am sharing 2D 1N Ulu Temburong national park itinerary. When I was in Brunei last month, I visited Ulu Temburong and it was just perfect! There is something for everyone, whether you are a traveler looking to experience what nature has to offer, a city dweller seeking to escape the hustle and bustle for a weekend, or someone wanting a digital detox.
If you are visiting Brunei, please don't just visit the town and say there is not much to see. Take advantage of this Ulu Temburong national park itinerary and make the most of your time in Brunei.
With my short timeframe, I was looking for mostly nature and adventure but I also achieved some level of digital detox which was a bonus! Straight off the bat, some of the adventure activities you can do in Ulu Temburong national park are abseiling, flying fox (ziplining across the river), sunrise hike, canopy walk, rafting, wall climbing, canoeing, tubing, and also a cultural experience.
2 days and 1 night Ulu Temburong national park itinerary
This travel itinerary covers how I experienced the Ulu Temburong tour for 2 days and 1 night. Throughout the post, I'll also give you all the practical travel tips about getting to and staying in the Temburong region. So don't miss that, it will be helpful.
Brunei ( Bandar Seri Begawan capital ) is one of the smallest countries in Asia of which 80% is virgin rainforest. And they have done a remarkable work of preserving it! Hence it is worth visiting even though much of Ulu Temburong is not open to the public, but the route there and the hike is worth it.
Without further ado, let's begin-
First Day Activities
After the mid-day sun, I was picked by a private car provided by the Panbright travel service in Brunei. In fact, they organized this tour for me with the help of Tradie Brunei.
We arrived at the pier and waited for the small boat to take us across the water to the Ulu Temburong National Park. The guide from pan right introduced me to a travel guide from Trandie Brunei and told me he will look after me from here on and said he will pick me up again tomorrow at the same pier.
After waiting for around 30 minutes, we hop onboard the small speedboat.
It was something I had never seen before. The entrance to the boat was from what looked like a window! You take stairs down the boat and the benches offer seats for about 20 people. I noticed there was no sign of life vests!
The boat picked up the speed pretty soon and brought us a welcome breeze in this fully occupied space. If you follow me on Instagram you must have seen the stories. (if not all my travel stories are saved as highlights, go check them out)
So the boat ride took us from the wide Brunei River into a maze of channels. Kind of reminded me about the boat from inland to the Don Det island in Southern Laos.
After nearly 50 minutes of only water and jungle, we finally got off the boat.
I was exploring Brunei in the morning so hadn't had anything to eat. So, I asked my guide if there is a place to eat nearby. He advised there is a little produce market opposite the boat station but probably closed after mid-day! The few stalls on the market sell local fruit and vegetables, a few cooked items and sweets, as well as basic supplies such as salt or oil. Luckily one of the shops was still open! so I got my snack and we went on to a car which was waiting for us outside the boat station. I loved the convenience and ease of transport here.
Shortly after we arrived at the hotel and I was very pleased with the location. Let me share a bit about the place.
Trandie is the longest-running eco-lodge in the Temburong district of Brunei. It was established in 1996 and located right by the river in the lush jungles on the tropical island of Borneo.
I had a big double room with a balcony and ensuite all to myself! It was so relaxing to be able to read my book on the balcony or just fall asleep looking at the river from my bed. Simple but it was what I wanted at that time. Peaceful, quiet, and calming.
Trandie offers 3 packages for guests. 1. Adventure through nature ( 3D 2 N), 2. Stroll through nature (2D 1 N)
and 3. Digital Detox (2D 1N) as well as a glimpse of the natural day trip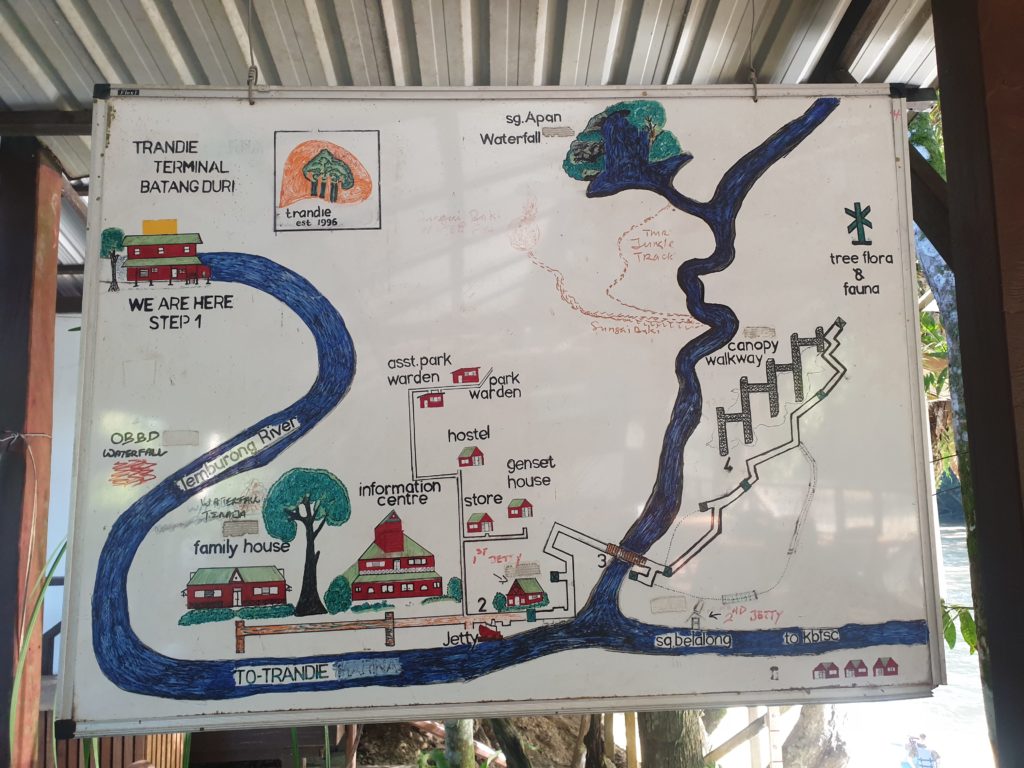 Staying in Trandie makes it possible to do all the activities. Such as abseiling, flying fox (ziplining across the river), sunrise hike, canopy walk, rafting, wall climbing, canoeing, tubing, and also a cultural experience. The only thing that has to be right is the weather!
Brunei solo travel itinerary- How to see the best of Brunei
So when is the best time to visit Brunei?
June – September is the high season but I recommend visiting between January and May. You will have dry and warm weather but not too hot. February and March are the driest months of the entire year though.
Loads of domestic travelers also come here for the team-building experience. So, makes sense to book it in advance to see if they can accommodate you.
Sadly for me, it rained the whole afternoon so I couldn't do any of those outdoor activities but I enjoyed having some downtime reading my book.
Then later on at night, it was delicious BBQ for dinner!
After dinner, it was time for bed. And this is where many ask me how safe I felt being a solo female traveler in the middle of nowhere by myself. I must admit, I was a little concerned at first but the staff at Trandie and my guide were all respectful and there really was no reason to feel otherwise than at ease.
Plus I was staying at a reputable place with positive reviews and the staff I'd met earlier on the day was all positive too. So I trust the vibe and locked my doors. Slept with the gentle sound of the river flowing and quietness of a tropical night.
Second Day Activities
Sunrise Hike at the Ulu National Park
My alarm was set at 4 am so I could actually get up from my bed at 4:30! Got ready and out the door, meeting my guide at the reception area at 5 am.
He was organized with torchlights and water. I followed him out the main gate, through the woods, and onto the jungle. The morning light was only peaking through the air at this hour.
I was half asleep so, I obviously didn't use mosquito spray and got crazily bitten off by those annoying insects.
In about 40 ish minutes we reached the top of a hill and I was scratching everywhere! But I was also super excited to watch my first Brunei sunrise.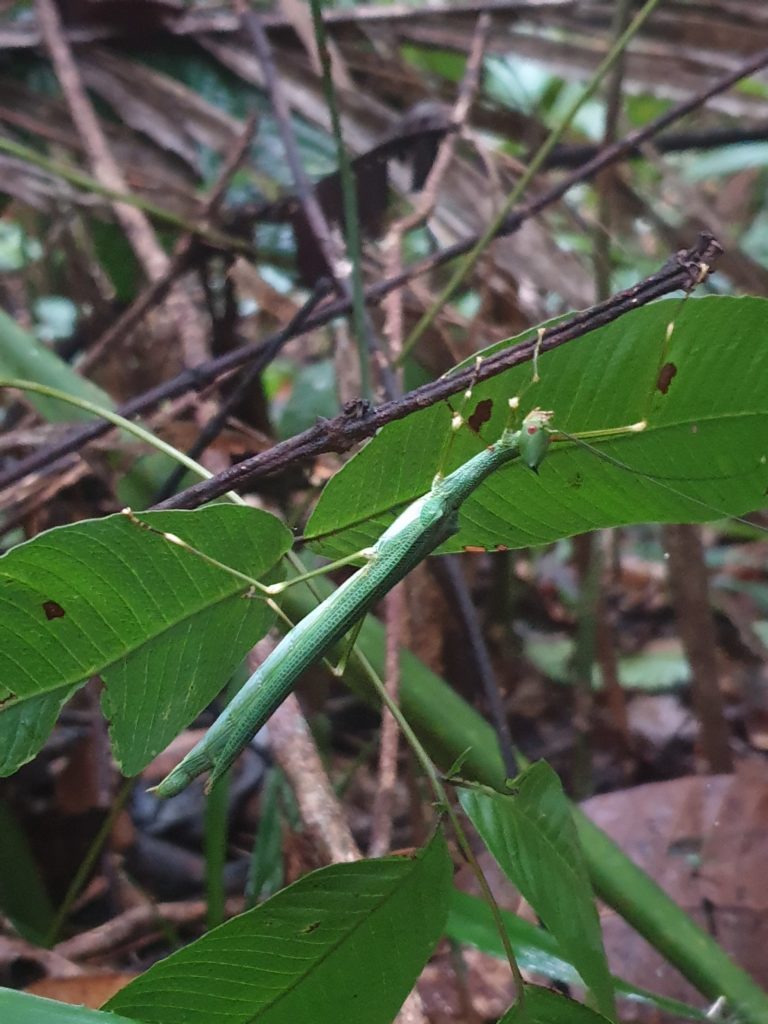 When the sun finally came out and lit up the whole sky, trees and all. It was breathtaking, to say the least, and I was so glad I got to see that.
After the sunrise, went back to the lodge, showered, had breakfast then it was time for back-to-back activities.
Important – breakfast, lunch, and dinner were all included in the Ulu Temburong national park itinerary and were freshly prepared by the head chef at Trandie. I was even asked what I wanted to have for Breakfast, so definitely you'll be spoiled for options.
Brunei travel tips
Activities:
60m high canopy walk in Ulu Temburong national park
If you love adventure, you will love this activity but it is probably not for people afraid of heights.
Then the second stop would be waterfalls and a natural fish spa.
Staying at Trandie ecolodge was also handy because the river is right behind the lodge which means no waiting for the boats. As soon as I finish eating breakfast, me, my guide and boat driver was on that narrowboat heading towards the canopy.
The journey upriver takes another 45 minutes. Our boat driver had to exercise great care when navigating the frequent rapids. The water level was high because of the recent rain and you couldn't see anything under the water. But my guide was saying in the dry season you can see pebbles under the crystal clear water here! Anyway, the view from the boat was still refreshing and the only people I was 1 other boat filled with locals. Something worth adding here is having the travel guide was super convenient as at one point he got off the boat and went to register my name as a tourist visiting the national park. So I didn't have to do anything.
Our boat driver dropped us near the set of stairs and it was the starting point for the canopy hike!
With the recent rain, the path was muddy and it required focus to not step into slip or bogs. It wasn't long before we reach the wooden stairs though.
Along the way, I saw a well-made hanging bridge that connects two parts of Tembourng national park.
But I kept going, that is the thing about me and hiking! If I stop it takes me a good 10 minutes to start walking again. So, I keep climbing hundreds of uneven but stable stairs!
FYI, if you want to take a break there are four huts with benches to sit, catch a breath and watch nature unfold.
That nonstop climb was a little hard work even for an experienced hiker like myself! My guide was breaking in sweats but he was not far behind me also.
In less than 40 minutes we finally reached the Canopy Walk, and I finally lean on the small wall to drink water and rest for 5 minutes.
Now, in front of me was the 60m metal scaffolding to climb! I was super excited and pumped! It was one of the things to do and see on my list in Brunei.
I must admit here though it also makes me super happy to be able to travel and gather experiences/create content for my Instagram family and blog readers at the same time.
So, back to the canopy walk. The infrastructure for the canopy walk was built in cooperation with one of the oil companies with the same infrastructure as a rig. But don't be afraid, it's stable! There are five walkways and three towers with even better views of the surrounding jungle rise above us.
Few tips for Canopy walk below.
Just bring something that attaches the phone, camera, or a go pro (electronics) you'll use to your wrist.
For the safety of all, don't climb if there are five people already on it. It is stable but you can still feel and hear the nuts and bolts as you climb
Better to climb only one person at a time on each set of stairs
When you get to the long walkways, perhaps only two persons at a time is safe
I was lucky it was only me and my guide at this canopy at this time. So I had plenty of time to climb to the top, enjoy the view and take pictures, videos.
In case you are afraid of heights the secret is to only focus on the step ahead and try not to look down, don't look up, or don't look around. Just take one step at a time and keep moving!
And here's the bonus tip, the views from the first and the third tower are the best and pretty much identical.
Temburong waterfall with the nibble fish
After the canopy climb, I got back to our boat and then we went to the Temburong waterfall.
I assumed it would be a small waterfall to swim but it was more than that! Under the refreshing water, there was the kind of fish that nibble on your dead skin (not piranhas). I named them the nibble fish, they were all over my legs nibbling the dead cells off my legs and foot.
I couldn't stay here too long though because I still had to have lunch at the lodge, refresh, and take a boat back to Brunei on time.
But on the way back, we spotted a crocodile sunbathing on the rocks! It was so unexpected and cool to see a crocodile out there like that. Great finish to the Ulu Temburong national park itinerary for sure.
How can you book the same tour or look at other options I mentioned above from the same company?
Head to their website and if you are traveling in a busy period (mentioned above) please book it in advance.
Alternatively, look at the other 6 companies that are allowed to do tours into Ulu Temburong National Park and they are also the only ones to offer official accommodation in Ulu Temburong and along the Temburong River. Their names and contact details are displayed as you leave the Bangar ferry terminal.
How to get the best value for your money?
Before booking a tour, make sure the itinerary includes the activities you are interested in as, for example, some tours could offer canopy walks without the sunrise hike. And also the price per person vs in a group.
Note: You cannot go on your own into Ulu Temburong National Park! It is only possible to access the National Park and the Canopy Walk by boat or by helicopter if you have the funds (the road from Bangar town ends at the Outward Bound lodge).
Ulu Temburong National Park Itinerary