This trip was in collaboration with Brunei Tourism, Thank you for the amazing time! PS: all opinions are my own.
Brunei is one of the hidden gems of a place in Asia. Whether you are on a visa run or looking for a week-long escape, this country could be the one for you. Especially the Ulu Temburong National Park, the tranquility and peace I felt there is off the charts! So if you looking for a Brunei solo travel itinerary, read on till the end.
At first, I wasn't sure how many days I should plan for Brunei and when I googled, I found loads of people were saying there is not much to do and 1-2 days is enough but one thing I know for sure after traveling to 45+ countries, is 1-2 days is never enough.
Every country is beautiful in its own way and with a new culture, food, history, sightseeing and off-the-beaten-path places to explore, you definitely need more than 3 days. So, I went for jam-packed 5 days but in the end, I was wishing I was there longer. (maybe next time) Alright without further ado, let's begin!
Brunei solo travel itinerary
Day 1: Mangrove Sunset and more
I landed in the afternoon around 4ish and still had the rest of the day to explore. So, from the Badi'ah Hotel, you can either walk 20 minutes or order a car from Dart App (cost 5BND only!) and go to Mangrove Sunset Cruise on a Water Taxi to see the proboscis monkeys. The perfect time to go would be around 4:30 PM.
To get on a Mangrove Sunset Cruise, you need to approach any water taxi located by the jetty. The price for a tour to see the proboscis monkeys (and crocodiles and monitor lizards, if you're lucky!) should be around BND15-25 and should take about 30-45 minutes.
When you come back walk to nearby Frame Brunei Darussalam. It is a quite special view of the Mosque from here.

Then for the dinner I recommend going to Kaizen Sushi Restaurant Waterfront which is within short walking distance from Frame Brunei. Dart back to the hotel and good night's sleep.
Day 2: Kampong Ayer
After having my complimentary buffet breakfast at the hotel, I could have walked 15 minutes but I order Dart (again it was only 5 BND) to the water Jetty area where the water taxis are. You can ask to be dropped off at the "Kampong Ayer Cultural and Tourism Gallery" for your own self-guided tour.
This should be about a 1-minute boat ride and should cost no more than 50 cents to a dollar. Once you are there, you can ask for a walking tour map from the Gallery. When I was there they were out of the map, but you can also take a photo of the map outside the gallery. Plus there are signs everywhere so you will hardly get lost!
Kampong Ayer is an interesting area, with little wooden pathways leading to the historic settlements of the local people, a mosque, local handicraft shops all above the water! Famously known as the water village aka Venice of Asia! Main highlights include – Jabal Rahmah, Pottery House, Arch Maker, colorful houses, and Kunyit 7 Lodge.
When you wish to get back, flag the boat and pay 50 cents to a dollar to get back as well.
TIP: Make sure to bring an umbrella/hat and a bottle of water and use plenty of sunblocks! And be careful on the wooden walkways as the planks have large spaces in between them.
I had lunch at Mekong Cafe back in the city. They do Indian, Malay, and Chinese food. If you don't care much about the interior but want good food then go here.
After lunch, it was time to call Dart again and head back to the hotel. As I was headed to Temburong for 2D and 1 N, I left my carry-on suitcase at the concierge and only took a night bag with me.
Day 3: Back from Temburong and to Soto Pabo
I left Temburong around 2 PM and was back at the Jetty. A guide from Pan bright travel service was waiting for me and then he dropped me off at my hotel. It was 3 pm at this point, I checked in again at Badi'ah Hotel and rest for a few hours.
Here is the 2 days 1 night Ulu Temburong national park itinerary.
For the evening I recommend taking a Dart to "Soto Pabo" for a local sunset dinner. The "local sticky noodles" you see above on the picture is actually called "ambuyat" and it's actually just a starch dish made out of sago palm flour with hot boiling water stirred in. We also had the beef soupy noodles called "Soto". A write-up of local Bruneian delicacy on the "ambuyat" can be found here: https://sutera.co/the-story-behind-ambuyat/.
It is popular among the locals and it could get busy during the evening. So arrive a little early to get tables before sunsets and enjoy that amazing food with fantastic sunset views!
Day 4: Brunei Half-day Tour, Flower show, and more
After breakfast at the hotel. I was picked up by Pan Bright Travel Service for my half-day city tour to:
Royal Regalia Museum
Tamu Kianggeh
Waterfront Dermaga (if open)
Omar Ali Saifuddin Mosque
Taman Mahkota Jubilee Emas
Happy to let you guys know Mr. Lim the guide was fluent in English, knowledgeable, and respectful. He explained in detail the history of places, about the Sultan Omar, hotels and night market too. It was hot during the day, but we were driving around in a car with full blast AC and that made all the difference! Overall, 10/10 for the guide, what the tour included, and pickup/drop-off service. I highly recommend Pan Bright to organize your Brunei solo travel itinerary tours.
When I got back to the hotel, it was time to shower and get ready again! I took a Dart to "Rimba Garden Central" for the Brunei International Flower Show. It was such a pretty place full of different flowers, plants, trees, and they even had how-to grow plants workshops! Loved it!

TIP: The flower show doesn't run all year round so, I suggest checking the Brunei Tourism website to see what's currently on.

I would also like to take this opportunity to Thank you team over at Brunei Tourism Board and the Ministry of Primary Resources and Tourism for a pleasant stay in Brunei. I look forward to visiting Brunei Darussalam again!
Then for the evening, I went to the Empire Hotel to watch yet another Bruneian sunset. It was beautiful, to say the least, but there were a lot of couples too. It seemed like it was the local's favorite dating destination. Anyhow, you can have dinner at the Empire or back at your hotel.

As for me, one of my Bruneian friends invited me to the 30th Toyota Classics performed by the London Chamber Orchestra!! Her Royal Highness of Brunei attended the show and I got to see her in person too! It was an evening of beautiful music and delicious food. What a way to end my last night in Brunei!
Day 5: Bandarku Ceria and shopping
My last day was Sunday. And I didn't know the main road will be shut and open to pedestrians for the weekly Sunday "Bandarku Ceria" (translates to My Happy City).
So after breakfast, I took a leisurely stroll around the city center of Brunei.
It was weirdly exciting to see many people on the open road which made Bandar Seri Begawan more lively on Sundays. The area spanning from the Royal Regalia to the Waterfront is a car-free zone from 6 am to 10 am every Sunday.
Alternatively, you can take a Dart to The Mall Gadong to see a different commercial area in Brunei or do some last-minute shopping!
TIP: Ask for a late checkout if you have an afternoon or late night flight. Usually, the hotel approves it or you just have to pay for the day.
Travel tips to Brunei:
1 To find the cheapest flights to Brunei, book it through the most trusted sites such as Skyscanner or Momodo.
2 Get a local Sim card
After you land in Brunei international airport, get yourself a local BND25 sim card with Progresif from the Progresif Airport Counter, which should be on your left as you exit Customs.
3 There's no Uber in Brunei, Install Dart app
Download the Dart app from the App Store and Google Play on your day of arrival. It is Brunei's first ride booking app. Taxis are not only expensive in Brunei but there is no clear public transportation route. Even locals told me they aren't sure how to use the bus in the city and perhaps will take an hour to get from point A to B. So, I myself used the Dart app and found it very convenient and easy to use. Works exactly like Uber, with reliable and fast door-to-door service.
4 Good to know
Currency = Brunei dollar
Capital City = Bandar Seri Begawan is formerly known as Brunei town
Districts and their capital cities = Belait (Kuala Belait), Brunei-Muara (Bandar Seri Begawan), Temburong (Pekan Bangar) and
Tutong (Pekan Tutong)
Good morning = Selamat pagi
Good afternoon = Selamat petang
Goodnight = Selamat malam
Thank you = Terima kasih
You're welcome = Sama-sama
What is your name? = Siapa nama awda?
My name is = Nama saya Anna
Excuse me = Maafkan saya
Yes = Ya
No = Tidak
How much? = Berapa?
5 Where to stay in Brunei?
I stayed at the Badi'ah Hotel in Brunei Town (Bandar Seri Begawan) It is only a few minutes from the airport and not too far from the must-see places in town as well. Plus they provide pick-up and drop-off shuttle service from the hotel.
I stayed in the executive room and must say there was a lot of space! Huge King size bed, a nice comfortable leather couch, desk, and chair to work, water delivered daily and newspaper too if you are into it, and free wifi!
Buffet breakfast was fresh every day, mostly Asian inspired but there was an element of English with cakes, bread and you can order your eggs as you wish. There is also a swimming pool on level 3 (from memory) and a cafe/restaurant on the ground floor which I didn't get to visit because of my busy schedule but spend a few minutes checking it out. Overall, I liked this hotel, enjoyed my stay here, and recommend it to you on your visit to Brunei.
6 Is Brunei safe to travel to?
I solo traveled myself and didn't have any problem throughout my stay. Pretty much everyone spoke English, from a cab driver, tour guide to local on the street. Unlike other destinations in Southeast Asia, Brunei is probably the safest.
It could be because there is extremely low consumption of alcohol by visitors and none by locals, and with no clubs or bars, they seem to have ultra-low crime rates (apart from the occasionally petty theft).
7 Can I wear shorts in Brunei?
Although Brunei is an extremely conservative country, it's acceptable to wear shorts or even swimwear of your choice here. Having said that though, I would respect the culture and wear a long sarong that can be worn as a skirt or a thin crop top on top of my swimwear. I also wore all long skirts and half sleeves during my stay.
When is the best time to visit Brunei?
June – September is the high season but I recommend visiting between January and May. You will have dry and warm weather but not too hot. February and March are the driest months of the entire year though.
Read the rest of it here -> Brunei travel tips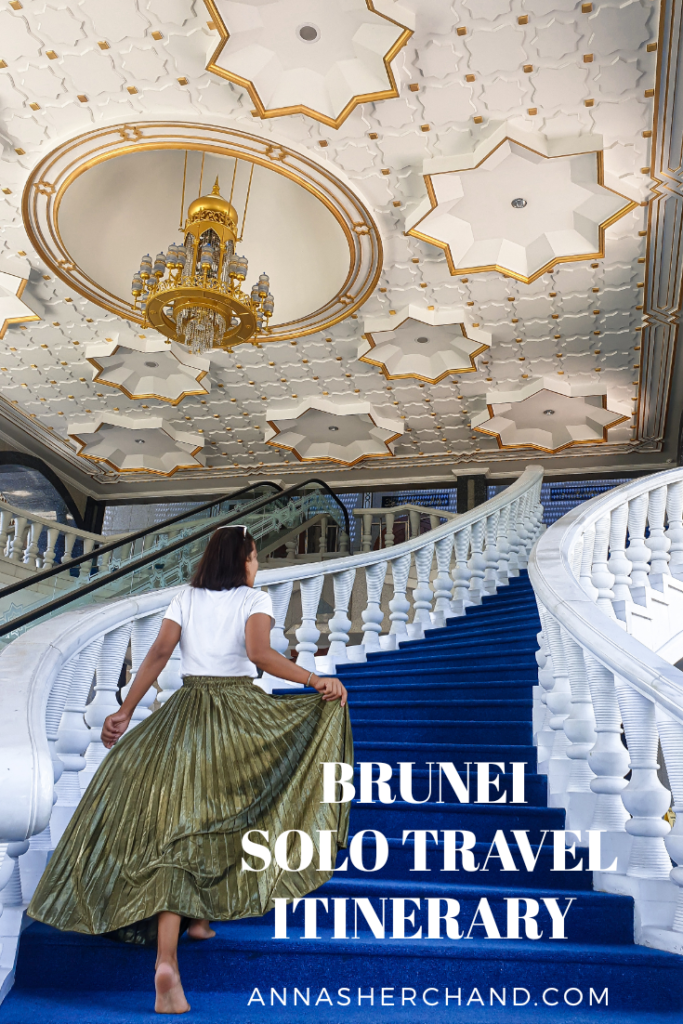 Brunei solo travel itinerary for 5 days