Looking for Caramoan tourist spots? You got it! Caramoan is the Philippines' next top tourist destination, thanks to Survivor, the TV series that introduced this paradise to the world. This town in Camarines Norte is a gateway to tourist spots full of beautiful beaches, stunning limestone cliffs, and mysterious caves of the Caramoan National Park.
This group of islands in the southern Philippines is also getting much attention lately from news outlets around the world like CNN. To quote CNN, "Hummingbirds, dense forests, limestone cliffs, waterfalls, and lakes—Caramoan Island is an idyllic corner of south-central Philippines." So to help you with your travel adventure, this travel guide covers 25 incredible Caramoan tourist spots.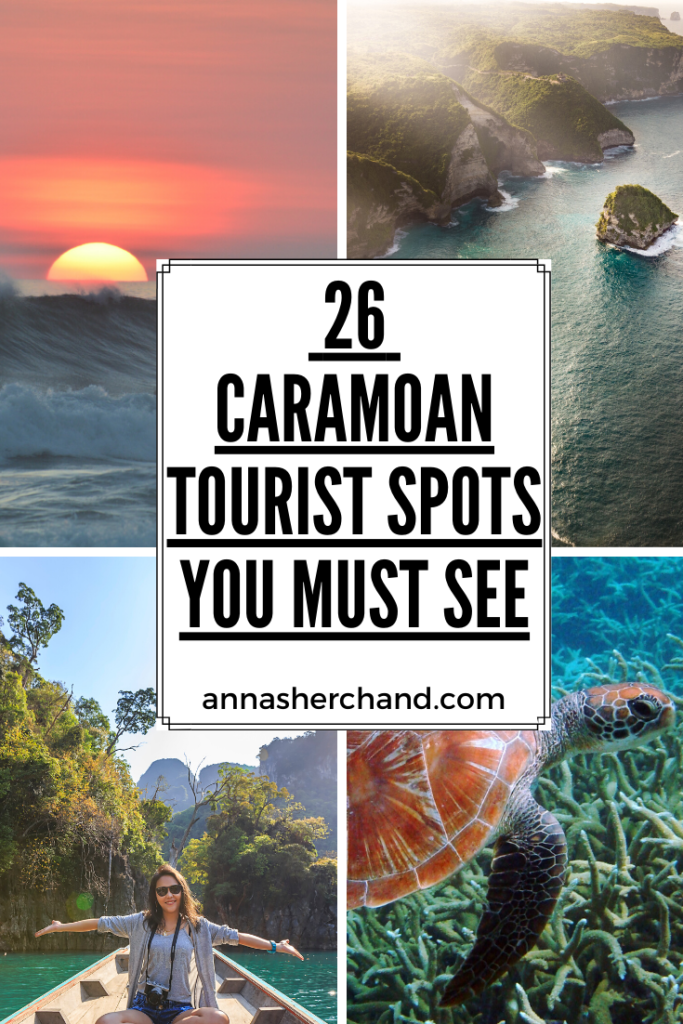 Best Tourist Destinations in Caramoan
1. Guinahoan Island
You can start your Caramoan island hopping at Guinahoan Island if you want to start from the farthest.
Upon arriving at this island, the locals will welcome you with smiles and will even guide you to the top of the island to see the lighthouse.
You need to walk for about 10-15 minutes to reach the tower, where you can see a fantastic view of the Pacific Ocean and Liwan Beach. Just remember to look at few places for Caramoan island hopping rates before you book.
2. Matukad Island
The water is clear, and the sand is soft and white on this small, verdant island. Aside from the white sand beach, one main attraction is the rock formation where you can overlook the lagoon. You can also have the best view of the sunset when you're on top of the rock. However, climbing on top of the rocks is risky, so you need to be extra careful.
3. Cotivas Beach
Cotivas Beach has one of the most transparent, bluest water you can see in the Philippines. Hence one of the most visit tourist attractions in Caramoan.
This place, lined with coconut trees, is a perfect place for snorkeling and swimming since the water is calm. Even though the sand is not as white as Matukad, it's still a great place to relax in Cotivas island.
There is an entrance fee of PhP50 or $1, and if you want to rent a cottage, it's also PhP50. Cotivas island is also worth having a look.
4. Manlawi Sandbar
From Cotivas Beach, you can reach Manlawi Sandbar in a 15-minute boat ride. During high tide, this sandbar is submerged but surfaces to be a fantastic 1-kilometer sandbar during low tide.
Even if it's high tide, you can still enjoy and swim in the chest-deep blue water. If you want to enjoy the scenery, you can use one of the eight huts, which float during high tide.
There is no entrance fee, but you need to rent a kayak for PhP100 for half an hour. If you decide to stay longer and enjoy the scenery, you need to pay PhP200 for an hour.
5. Sabitang Laya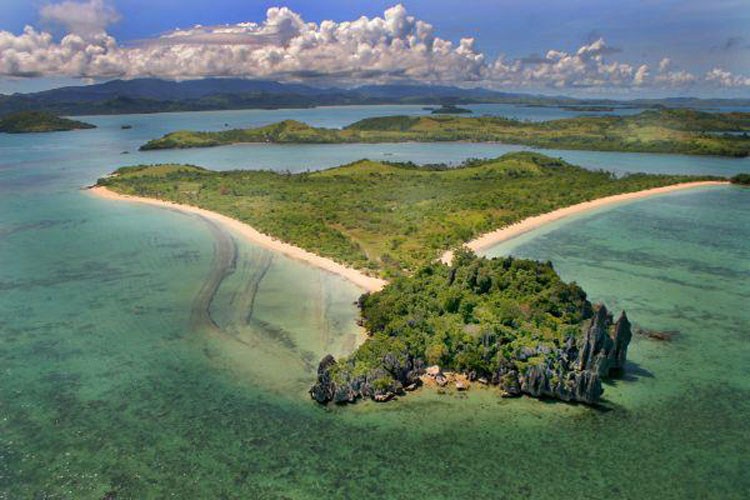 Some tourists consider Sabitang Laya as one of the best island beaches in the Caramoan Peninsula, not only because of its white sand and crystal blue water but also because of its campground.
Sabitang Laya is only 20 minutes away via boat ride that costs PHP1500 for six passengers from Bikal port.
The words "sabitang laya" means "a place to hang fishing nets." Before this island became a tourist destination, fishers use this area to fix their nets before fishing in the other parts of the peninsula.
The beach can be a perfect camping ground because of its semi-sandy grassland and shallow water.
6. Lahos Beach
One of the other best Caramoan tourist spots is Lahos Beach which is the twin sister of Matukad Beach. The beach has two shores, the east side, and the west side. The western part of the island has about 100-meter wide beach. The beach on the eastern side is only about 25 meters, but the waves are calmer.
Other prominent features of this beach are the two limestone rock formations, which are not meant for climbing, on both sides.
Since there are no trees to give shade on the island, you can rest on shadows cast by the rock formations.
However, this beach, from its name 'Lahos' meaning "to vanish," disappears during high tide. Lahos island is also worth exploring.
7. Kagbalinad Island
Kagbalinad Island is the perfect place if you want some privacy. Compared to Matukad Beach, this island has lesser visitors.
There are two shorter beaches rather than one long one, flanked by two limestone rock formations. The beach is ideal for swimming, scuba diving, and snorkeling.
8. Minalahos Beach
Just opposite Matukad Island is Minalahos beach, a small white-sand beach perfect for swimming and relaxing. At both ends of the beach are two towering limestones, and at the middle is a large rock. If you have that adventurous spirit, there is a secret passage to the other side, but you need to conquer your fear and climb the sharp rocks.
9. Gota Village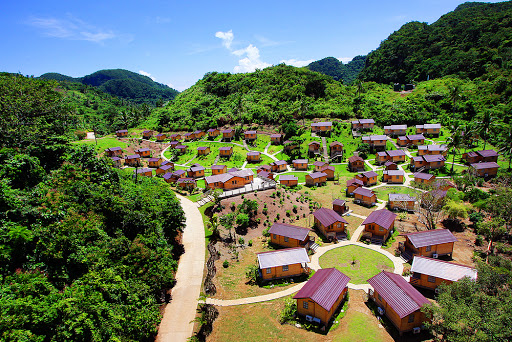 Gota Village is a project of the provincial government of Camarines Sur to attract more visitors to this fast-growing tourist destination in the southern Philippines.
If you don't mind paying extra for a more comfortable beach retreat in Caramoan, go for Gota Village. Compared to other beaches in the peninsula, Gota Village is more costly.
Gota Village Resort offers 131 forms of air-conditioned accommodation with minibars. Rooms open to porches. Bathrooms include a shower and free toiletries. Housekeeping is provided on request.
Lush hills, towering limestones, and two coves with white sand surround this islet. It's a jaw-dropping view you want to savor over and over again.
Since most of the time, the gota beach was occupied by a crew of the TV series Survivor, it is often closed for public.
At Gota Village, you can find big pieces of flat rock and, smooth rocks that cover a section between the shoreline and the sea. Also, there are no disgusting seaweeds that are plentiful in other islands.
10. Lahuy Beach
Lahuy Beach, which is approximately 10 kilometers long, can be compared to Boracay, minus the bars and noisy restaurants along the beach.
This island, about 3 kilometers at its widest point, is blessed with warm locals and quiet coves lined with white sand. It is dog bone-shaped and is located at the opening of the Pacific Ocean.
11. Pitogo Beach
Take a one-hour boat ride from Bikal jump-off point to reach Pitogo Beach. This island is a stretch of pebble shore with blue-tinged waters perfect for quenching the heat.
12. Hunongan Cove
Hunongan Cove has a private white sand beach just in front of Kagbalinad Island. You can rent a boat to go there to complete your Caramoan island hopping.
Like the other islands, it's water and sand are picture-perfect with the customary limestone rock formation on both ends to achieve the perfect view.
13. Tinago Beach
Tinago is the Bicol word for "hidden." This beach is indeed hidden from most people, including tour guides. You cannot see this cove when you cross the Caramoan peninsula. However, there is a narrow passageway found between two towering limestones.
So, if you want to go to this beautiful beach, be sure to tell your guide.
The water at the entrance to the lagoon is somewhat rough, but once you're inside the island, the water is calm and peaceful.
This area of the Caramoan peninsula is perfect for a picnic. You can grill your food under the trees while enjoying the pristine blue water of the narrow stretch of white sand on the island. Bear in mind, there are no stores to buy food, so you need to bring everything, even your picnic mat or tent if you want to stay overnight.
14. Tayak Beach and Lagoon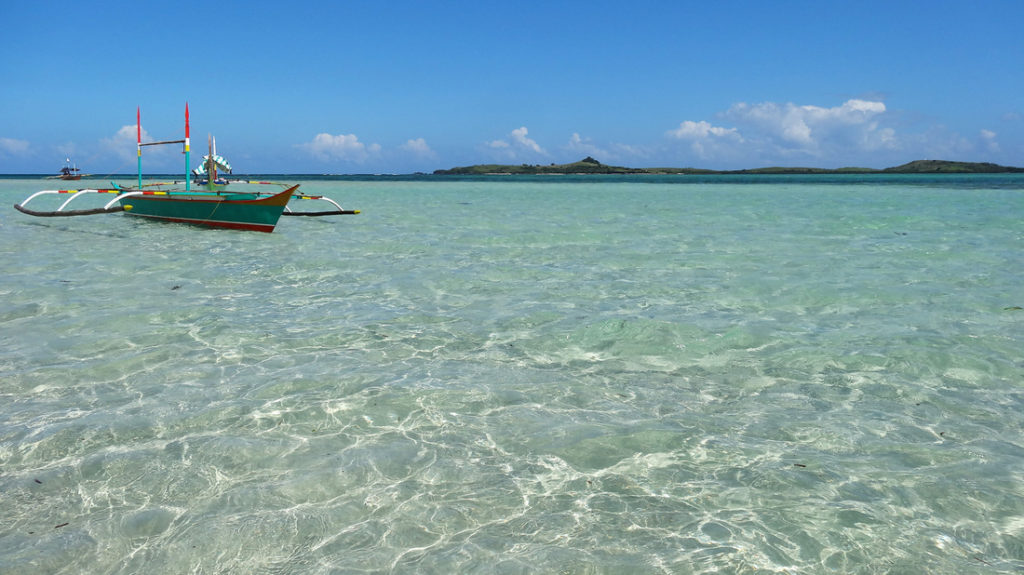 One of the other liked caramoan tourist spots is Tayak beach. It offers magnificent white-sand beaches and hence is a must on this list of Caramoan tourist spots. When at Tayak beach, don't forget to take a short walk and visit Tayak Lagoon. Here, you can find corals, fishes, and even turtles. If you're into some adventure, climb rocks, and see this fantastic lagoon waiting in silence.
15. Bulanbogang Underground River
If you want a further adventure in Caramoan aside from frolicking on the white sand beaches, try going to Bulanbogang Underground River.
Before starting your 10-minute underground adventure, the guide will provide you with life jackets and inflated tire tubes.
Once you enter the cave, it's pitch black; that's why the guides have their handy torches. The underground river is only about 30 meters, but it's worth the try.
16. Paniman Beach
From Guijalo Port, Paniman Beach is the nearest beach to the town and also where you can find a boat to rent for your island-hopping adventure. You can start your Caramoan adventure in this fishing island, too.
You can also find middle-class accommodations and some souvenir shops to buy something before going home, but if you want to discover the beauty of Caramoan, don't stay in Paniman.
17. Bagieng Island
This triangular-shaped island is the primary setting of the TV series Survivor; that's why most of the time, it is closed for the public. This island also has a creamy white sand stretch of coastline together with stunning rock formations. You may also find some hidden caves if you're lucky while taking a pleasant walk on the beach.
18. Layahan and Hugsad Falls
Aside from beautiful beaches, Caramoan travel also offers beautiful falls for those who want to dip in freshwater.
Because these falls are somewhat far, most people visiting Caramoan do not know about them. These two falls are close to each other, but the travel time, in this case, the trek time would be about two hours to get there.
So, you should have proper footwear if you plan to visit these two amazing natural sceneries.
19. Yupakit Beach
Although Yupakit Beach is a private resort, this is also a place to stay and pitch your tent and wait for the beautiful sunset.
20. Al Del Rio Beach Resort
Al Del Rio Beach Resort is near Bikal Port so that it can also be your first stop in Caramoan. This beach is a private resort with superb accommodation and food.
21. Tugawe Cove Resort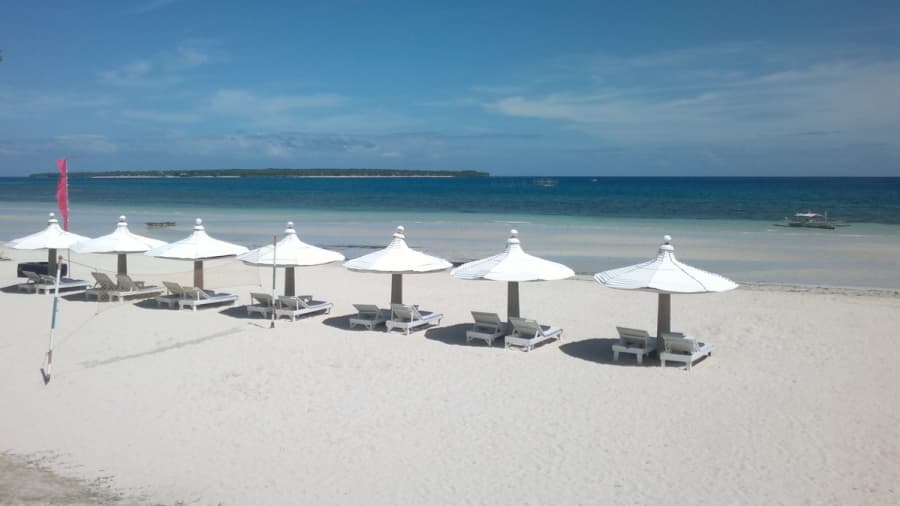 Tugawe Cove Resort was TripAdvisor Philippines Traveler's Choice and one of the Top 25 Small Hotels in the Philippines.
The resort offers varied water activities like bioluminescent plankton watching, snorkeling, kayaking, and swimming.
Since the resort is situated at the edge of Caramoan National Park, you will surely enjoy nature's best while watching birds hover and sing, strolling under green canopies, and looking at different floras around.
In Tugawe Cove Resort, you will enjoy a bath in one or both of the two infinity pools while savoring the picturesque view of the sea and the lush mountain. Aside from the infinity pools, the resort also features a private beach for its guests.
22. West Peninsula Villas
West Peninsula Villas is another luxury resort in Caramoan. It offers free Wi-Fi in all its 20 air-conditioned rooms and public areas. All the rooms open to a terrace and the resort also has a parking area and outdoor pool.
23. Michael Archangel Church
St. Michael Archangel Church was built in the 16th century during the Spanish colonization and is called the Red Church. Like other churches built during the Spanish regime, Michael Archangel Church features a baroque architectural style.
24. Trek to Mt. Caglago
From Paniman Beach, you need to hike for almost 150 meters to reach the first of the 530 steps to the peak of Mt. Caglago.
Once you're on top of this mountain, you can savor the 360-degree view of the whole Caramoan islands. Also, on top of Mt. Caglago is the statue of Our Lady of the Holy Rosary Mother of Peace.
It will take you more or less 30 minutes to reach the top, so be sure to take your dose of water to keep hydrated on your way up.
25. Omang Cave
Omang Cave is a great place to find beautiful stalactite and stalagmite formations in Caramoan. Hence it is included in this Caramoan tourist spots list. This cave is part of the Caramoan's National Park and is located between the villages of Ilawod and Paniman.
The cave looks like a church, and natural light passes through the cave's wide entrance. If you're in Gota Village, you need to traverse two rivers to go to Omang Cave.
26. Kulapnit Cave
And lastly, other unique places to visit in Caramoan is Kulapnit Cave. Something I should mention here is this cave is full of bats! And the cave got its name from the vernacular word, "kulapnit" which means bat.
If you're not afraid of bats, it's better to visit Kulapnit Cave before dusk with your flashlights and protective gear.
Some Reminders:
• Make sure your devices are fully charged or don't forget to bring power banks since there is no electricity during your island hopping.
• Bring Ziplocs or extra plastics to keep your belongings dry.
• Bring your food and water since there are only a few food sellers in the islands.
• Don't expect a reliable phone signal connection.
• Bring your snorkeling mask if you don't want to miss the chance of exploring the clear water.
• Bring a bag for your trash to keep the islands clean.
The official information website of Caramoan gives detailed instruction on how to reach this amazing place.
Whether it is a Caramoan budget trip or luxury one, reading about these Caramoan tourist spots is not enough; you need to pack your bags and hit the road. Have a fulfilling journey!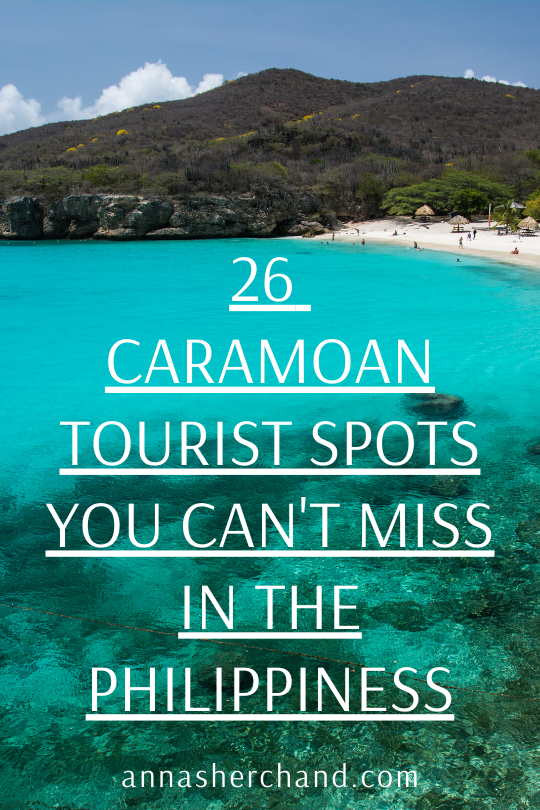 Let me know in the comments:
26 Caramoan tourist spots you MUST see