Let's kickstart Vietnam blogs with my stay at The Topas Ecolodge in Sapa, Vietnam.
Whether you are a digital nomad, traveling solo like me or in a group, if you are looking for luxury accommodation in Sapa, just check out the Topas ecolodge infinity pool first!
Topas Ecolodge is a luxurious accommodation option outside Vietnam's Sapa town, overlooking the spectacular scenic valley of northern Vietnam which is home to villages of the Tay and Red Dao minorities. The lodge is located 18 kilometers from Sapa town in the Hoang Lien mountains. It boasts only 25 individual bungalows (hence important to book asap) which sit atop two hills, with the magnificent views of mountains and rice terraces on a clear day.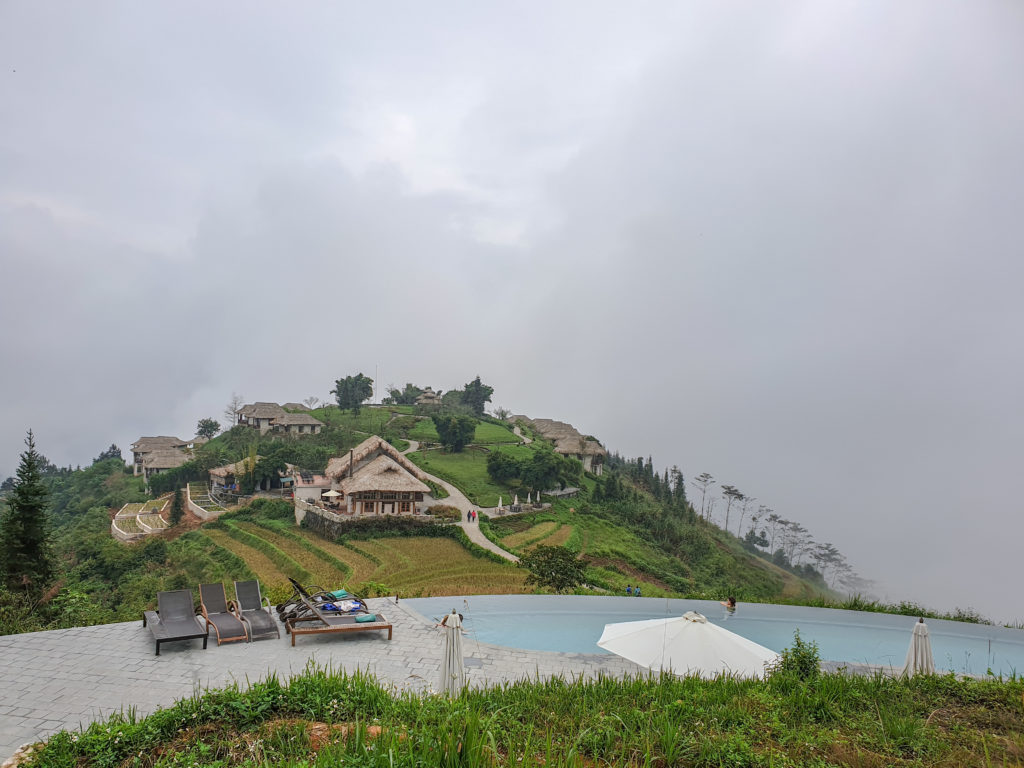 I also liked the fact that Topas Ecolodge is based on sustainable principles. They have implemented a wastewater facility to avoid pollution in the local area and 95% of their employees come from the surrounding villages offering them opportunities for employment. They also use local products and goods in order to bring economic benefits to the local community. I think it all goes to show the lodge wants to have a minimum impact on the surrounding environment and that they are a responsible environment-friendly brand.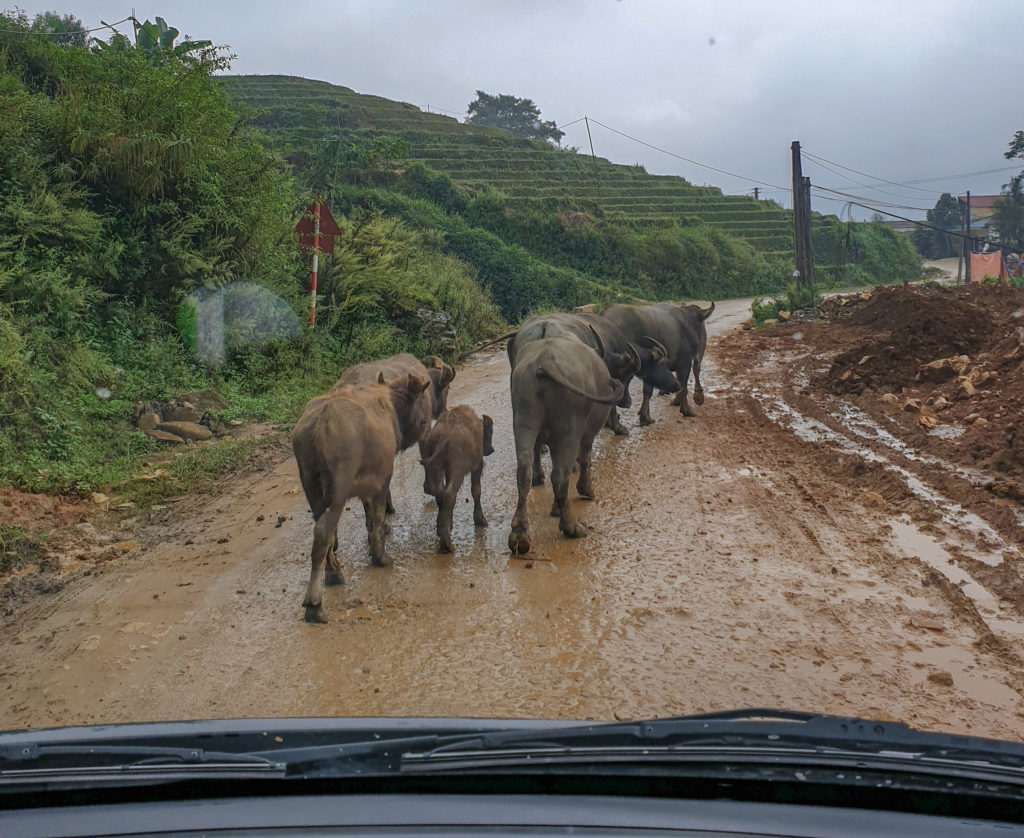 Now, let's start with my experience staying at Topas Ecolodge in Sapa, Vietnam
Hotel Address: 21 Muong Hao, Sapa, Lao Cai
Room Type: Premium Executive Bungalow
Total Room: 25
How to get here: It takes 5.5 hours by car, 9.5 hours by night train from Hanoi or 7-8 hours bus ride from Hanoi. Then 45 mins taxi or shuttle from Sapa town to the hotel
Topas Ecolodge Review, Luxury Accommodation in Sapa, Vietnam
Check-in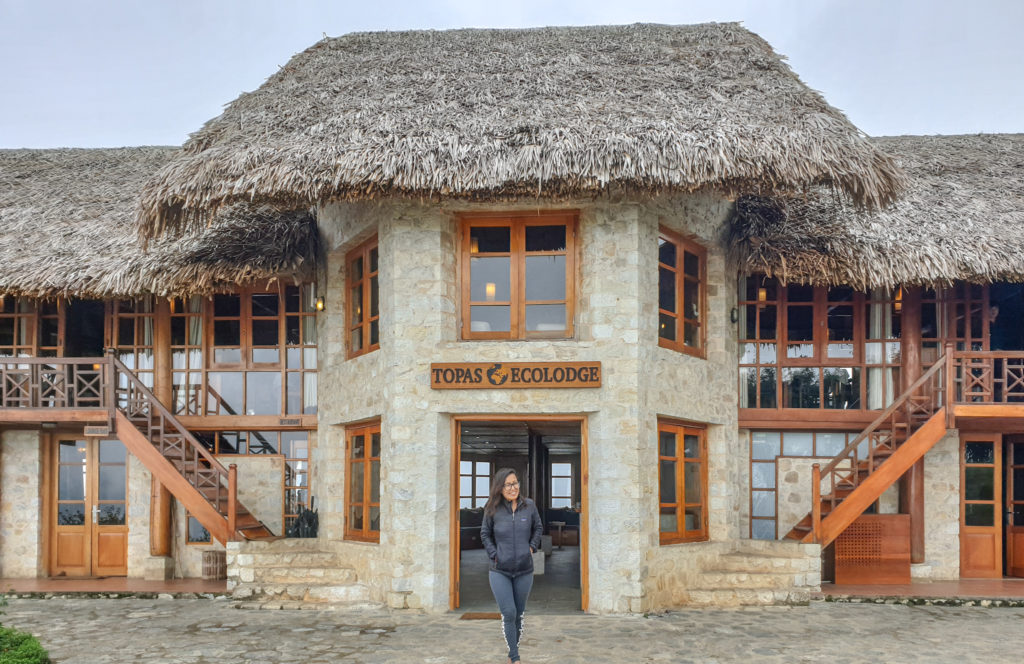 After taking the first-morning bus from Hanoi, I arrived Sapa in the afternoon. Managed to catch the last shuttle service from their office in Sapa town and 45 mins later I was at the lodge. As the road is under construction, the ride was bumpy and tiresome but the views along the way make up for it somehow.
If you have a history of motion sickness, bring panadol or take motion sickness pills in case you feel sick after the car ride up the mountain. Once you are at the lodge, It takes further 7-8 mins to get to the main lobby/reception area giving it a secluded privacy vibe. You can also see the infinity pool and mountain views along the way. It really is like a fairytale location complete with misty mountains and winding, cobblestone paths. My check-in was smooth, the staff was polite and I was handed the room key straight away. On the picture, the right side is the "reception" area, left is the "lobby/ bar area" and upstairs the whole floor is the restaurant.
Dinner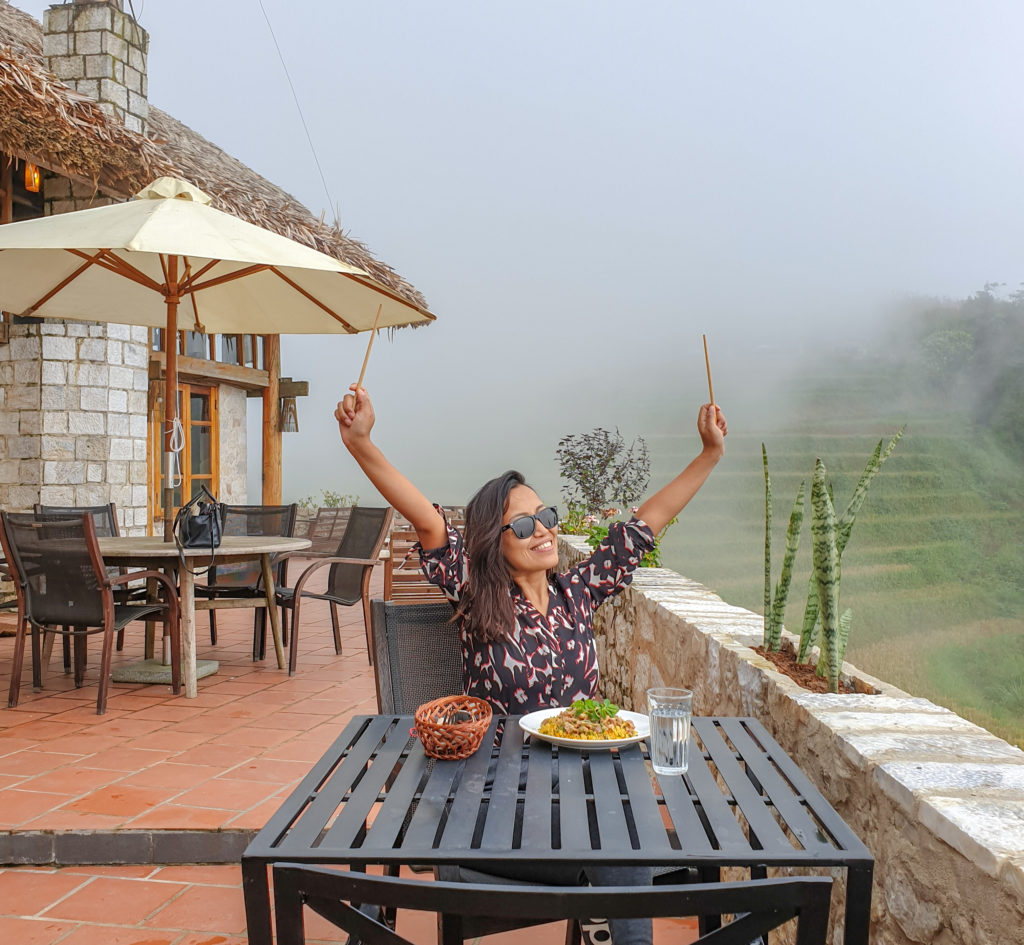 I was tired after being on the bus all day. So, I decided to have an early dinner and look at how happy I was! The dish I ordered is called Com Rang ga which means Chicken fried rice. It tasted great and even more so with that misty rice terrace view.
Premium Executive Bungalow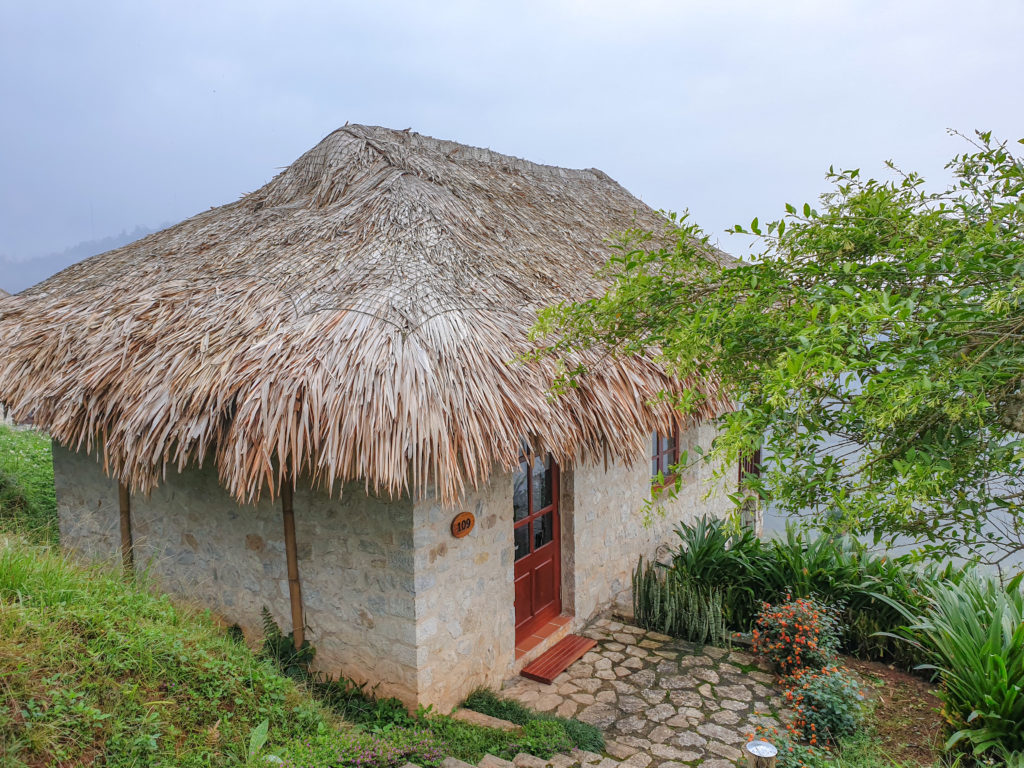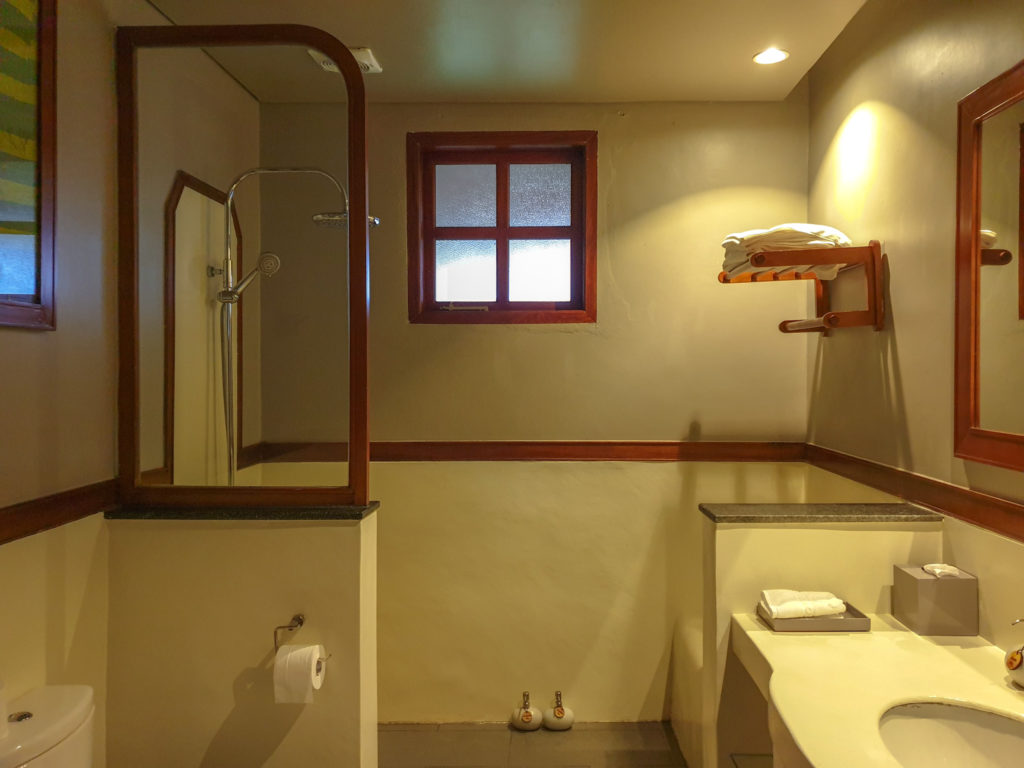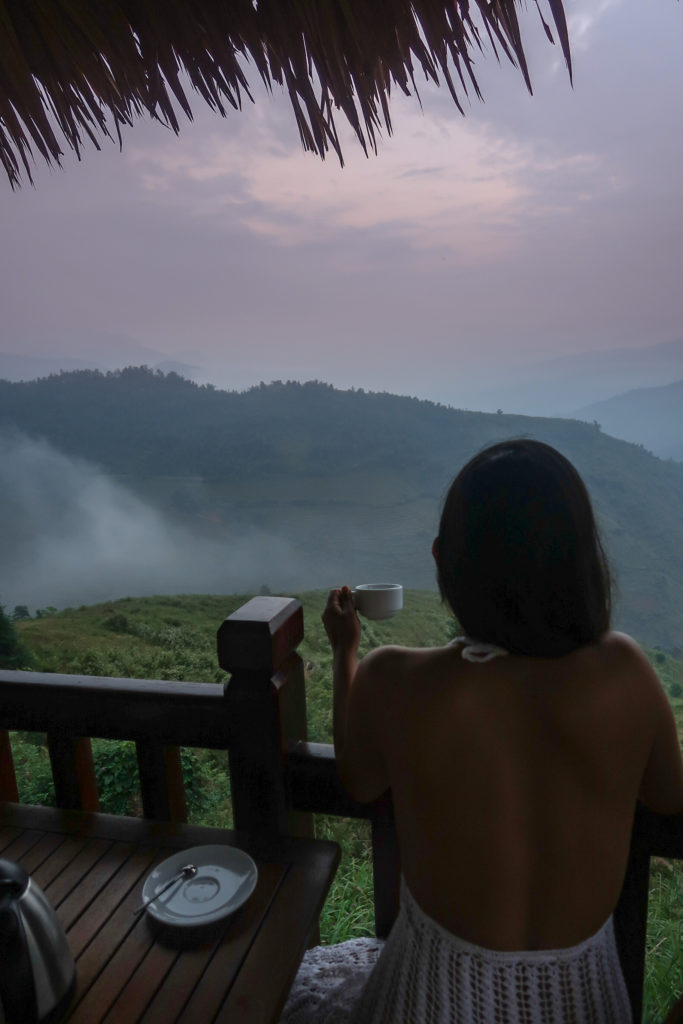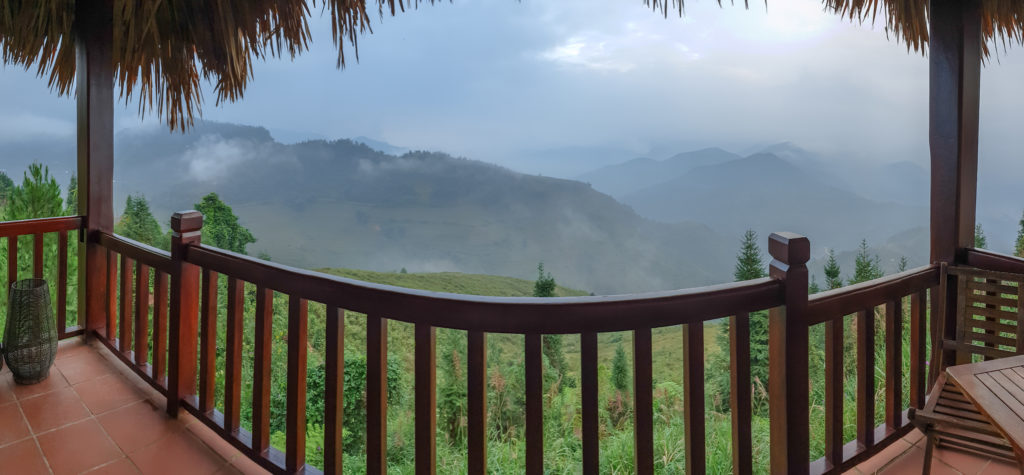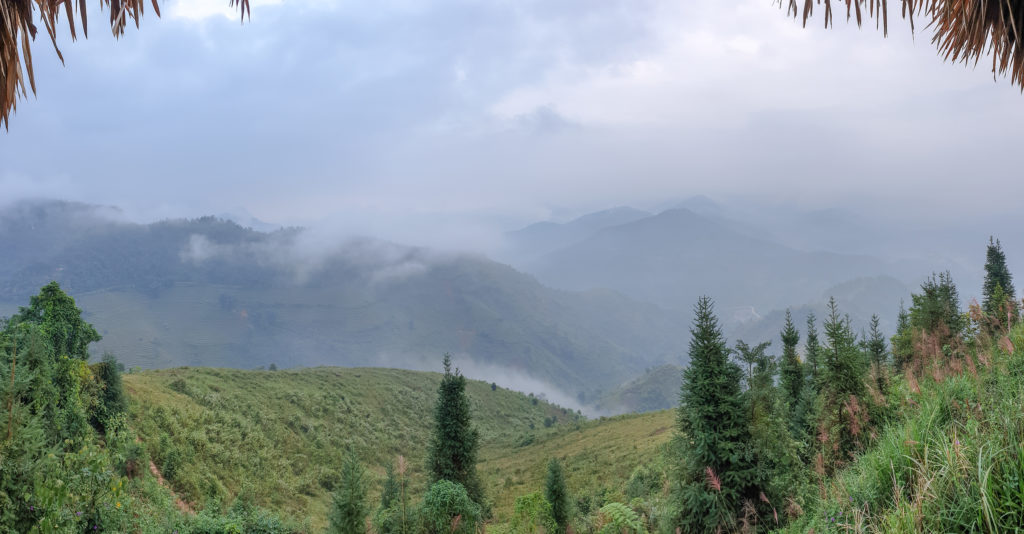 Now, it was time to check out the room. I had a pretty private hut to myself and the room was named Premium Executive Bungalow. Glad to report Bed was comfy (came with mosquito nets) and pillows were smooth too. The bathroom came with a standard hot and cold shower, towels, and room also had a safety box, minibar, iron board, and working desk and table. It was clean and the balcony offered a great view of the surrounding mountains and valley.
It was a perfect place to savor the scenery from the comfort of my balcony chair! I sat there for a good hour of drinking tea and reading my book before mosquitoes came around. If you are heading to the north of Vietnam, trekking hiking, don't forget to carry mosquitoes repellent. It was such a satisfying feeling of going to bed with the view of the mountains, the sound of nature and quietness.
Heated Outdoor Infinity Pool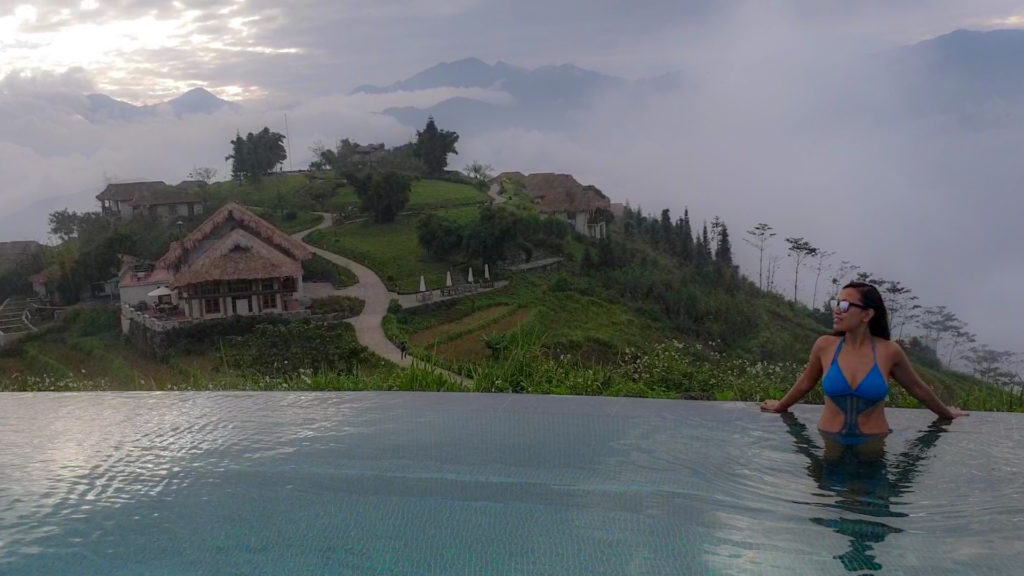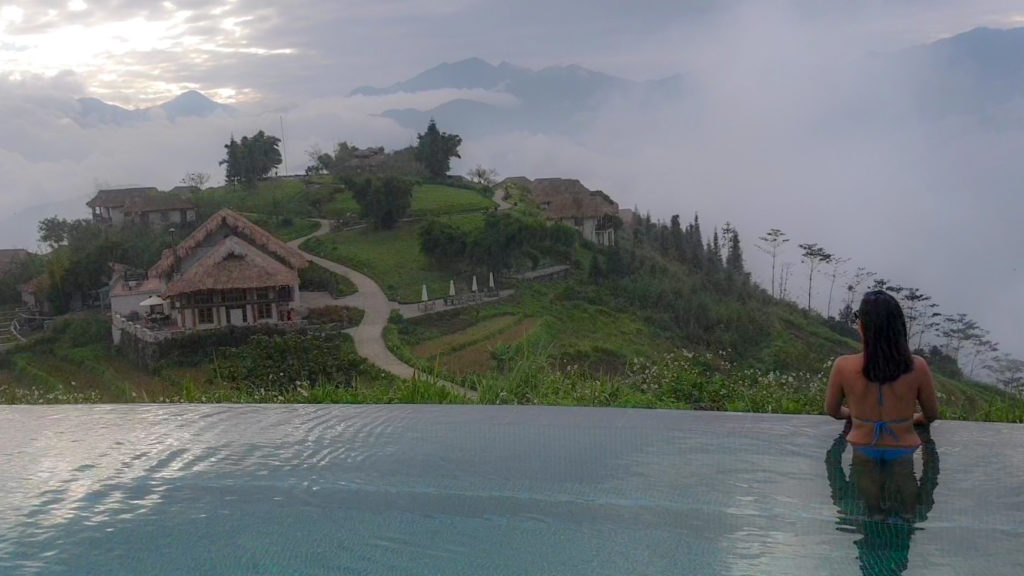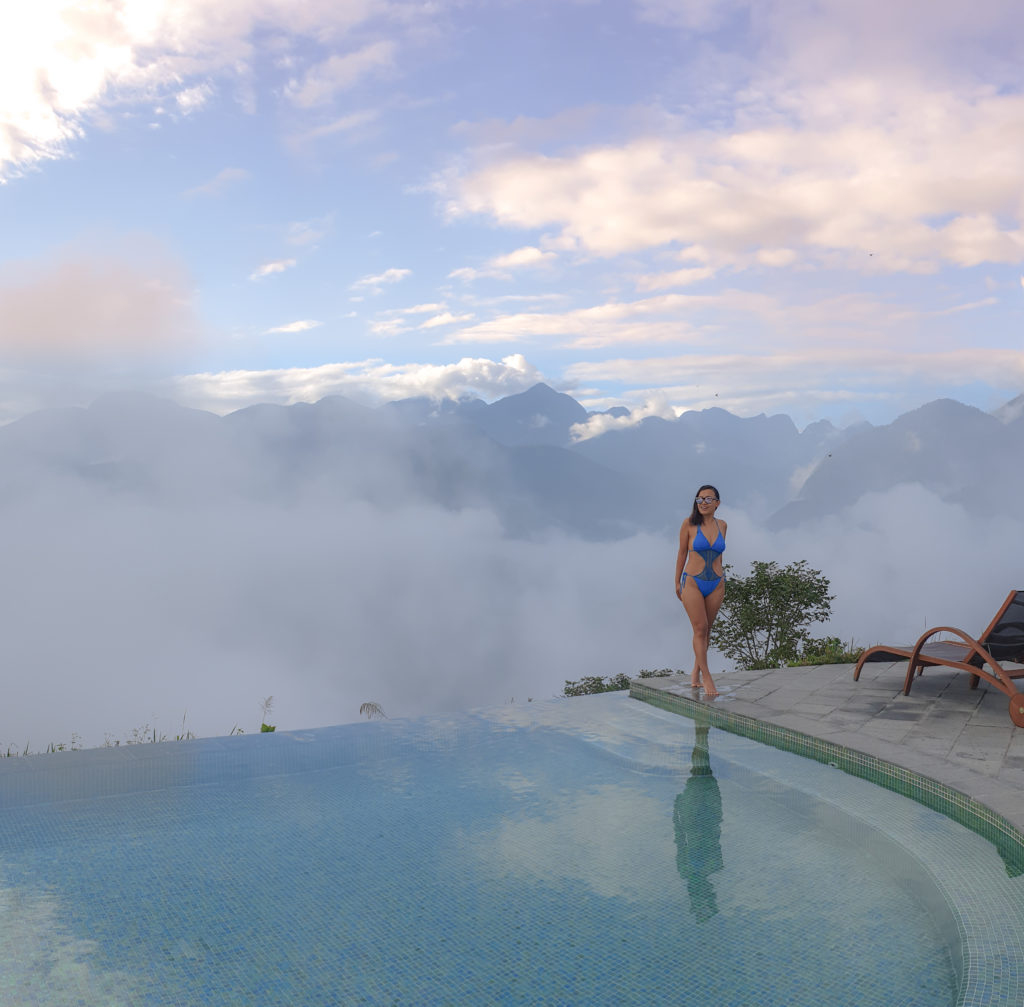 The next morning, the first thing I did was go to the Topas ecolodge infinity pool! Without a doubt, it was the most awaited moment of the whole stay! It is a heated infinity pool boasting amazing views of the surrounding mountains and rice terraces. But it was a foggy misty early morning and none of that serene views was visible. I was disappointed but I waited a little more and after some time, the sky opened up for a bit and I could see the blue sky, gorgeous giant mountains and the serene beauty of this place. I was a happy person instantly!
Breakfast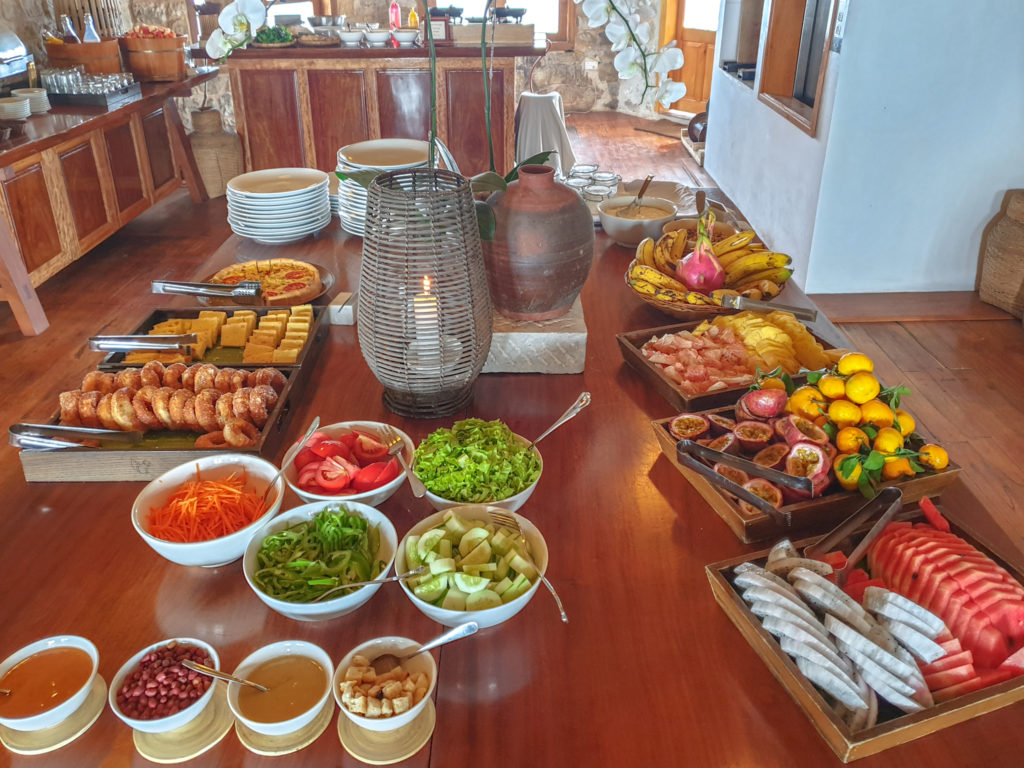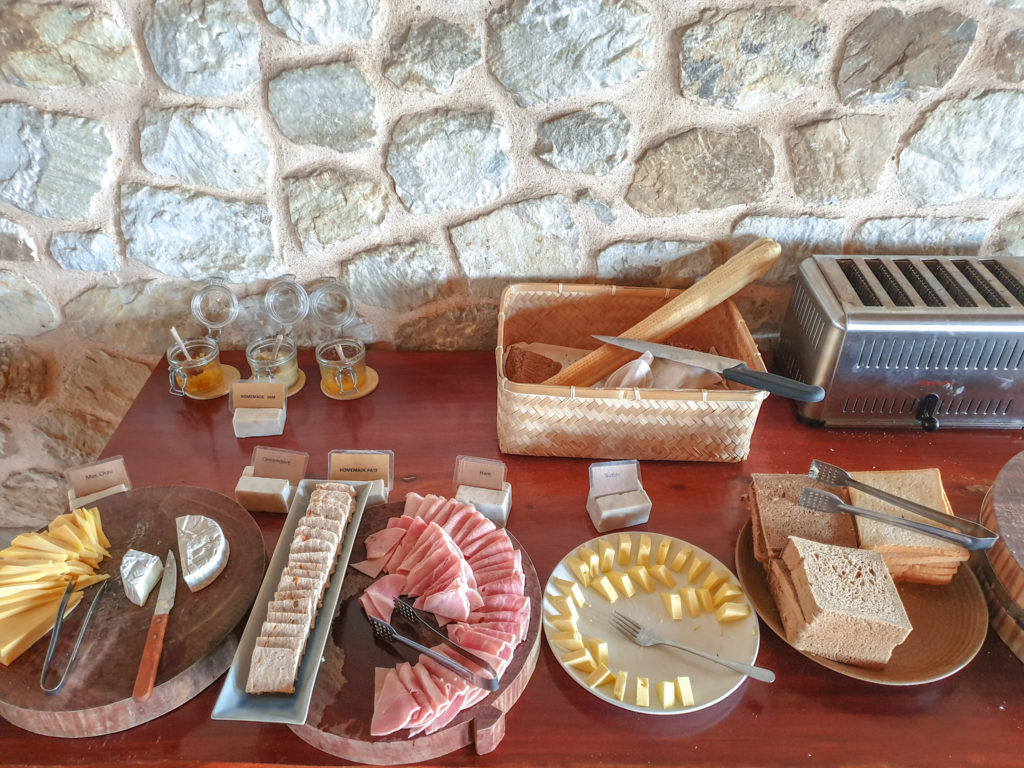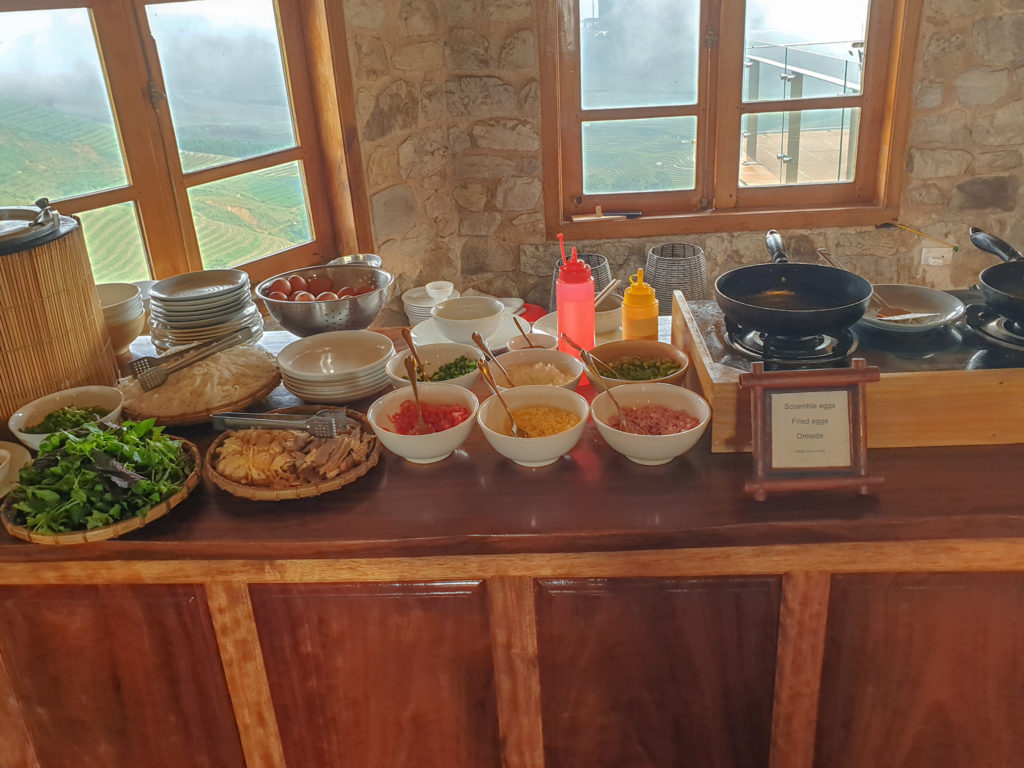 Breakfast is my favorite meal of the day! I was delighted to see a wide range of selection. Such as western breakfast (eggs, toast, bacon, mushrooms), Vietnamese Breakfast Pho, Cheese Platters, Baked goodies, Asian meals, fresh smoothies and more. It was amazing to have an outdoor breakfast with the misty mountains and the beautiful rice terrace view. I think it is a signature Sapa breakfast!
Facilities and Activities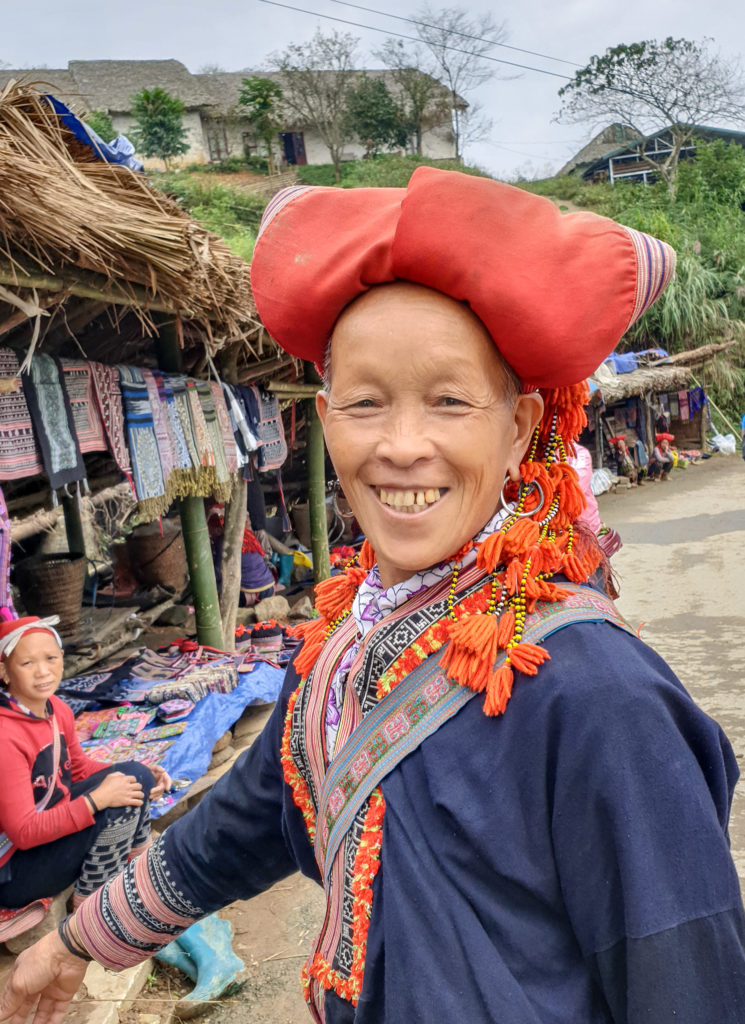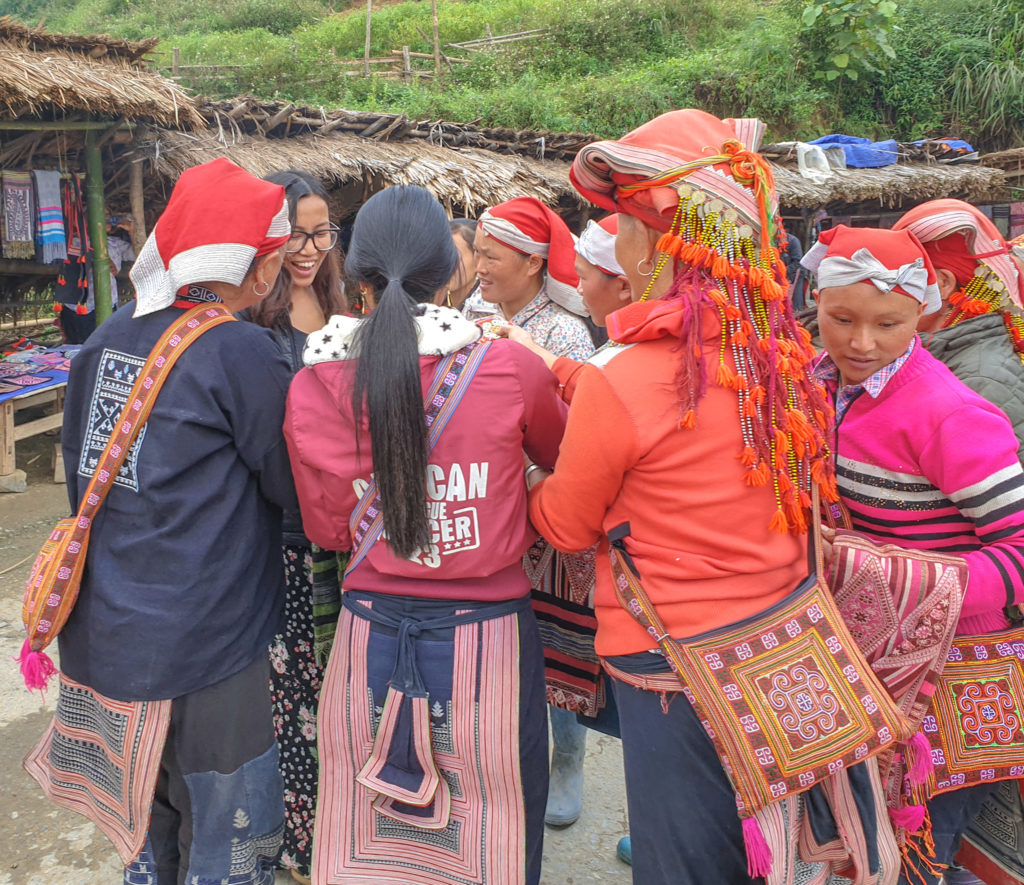 Topas Ecolodge comes with convenient and handy facilities. Such as Laundry, Spa, Complimentary Shuttle service and a wide range of vigorous activities such as mountain biking, hiking, running, trekking to the ethnic villages to something gentler like setting a campfire with BBQ dinner. They even have a handicraft shop just outside the lodge on the left. Just be prepared to get surrounded by all the ladies trying to sell their beautiful artwork!
Travel Tips to Sapa Vietnam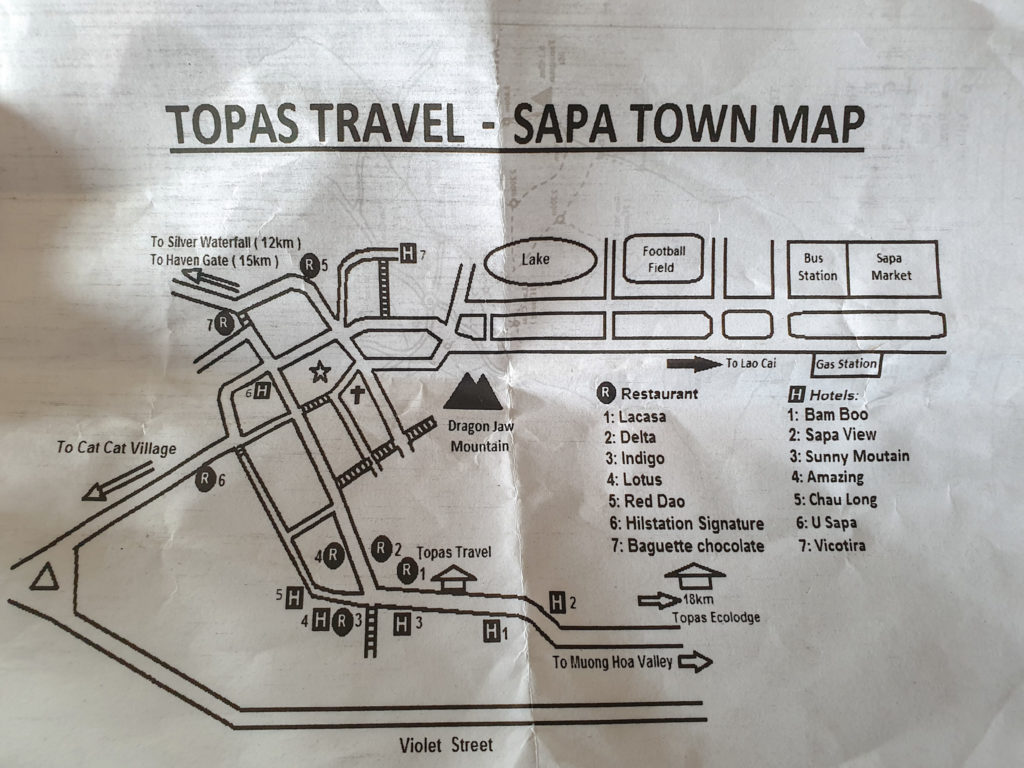 If you want to save 150000+ VND in a taxi, the lodge has an office in Sapa town where they can pick up guests to take them to the lodge. It is actually a complimentary shuttle service offered 3 times a day to Sapa town and back. I suggest ringing/emailing the lodge to pin down the exact timetable for the shuttle service.
If you have a history of motion sickness, bring panadol or take motion sickness pills in case you feel sick after the car ride up the mountain.
If you are heading to the north of Vietnam, trekking hiking, it would be useful to bring mosquitoes repellent.
If you are someone who needs constant internet, load the data on your phone beforehand because WIFI only works in the main lobby building.
Final Thoughts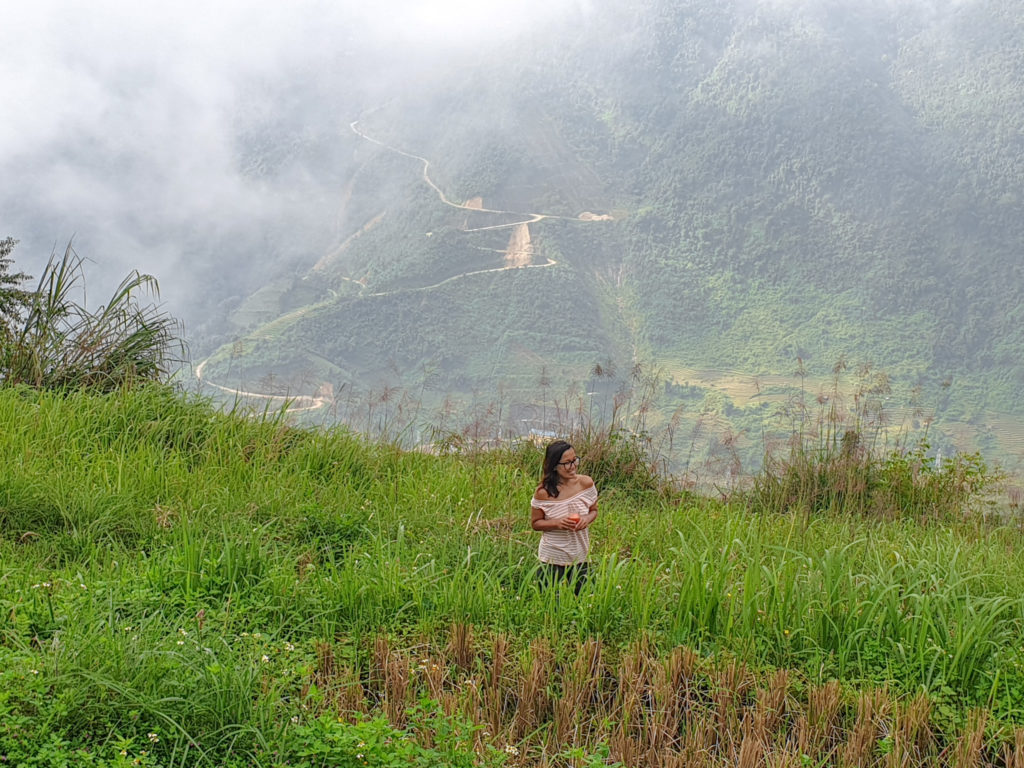 In my eyes, no trip to Vietnam is complete without seeing the beautiful rice terraces, stunning Mountain landscape, trekking and meeting the H'mong locals in Sapa, northern Vietnam.
Whether you prefer the quiet life of the lodge or wish to join more active activities such as hiking, trekking, bicycling in the local area, Topas Ecolodge has something for everybody. It is a full-service lodge with a range of activities, friendly staffs and security taking care of you 24 hour a day, a restaurant which serves meals all day as well as the bar, free Wifi internet connection, heated outdoor infinity pool, Spa and a small souvenir shop where you can buy local handicraft mainly from Red Dao, Tay, and H'mong minority.
I believe you get so much more than a comfy bed and a clean room in Topas Ecolodge. It is a luxurious experience and location that you won't forget easily. Thank you Topas Ecolodge for having me.
Do yourself a favor, experience this luxury in remote Vietnam and have a story to tell! And don't forget to take loads of pictures at the Topas ecolodge infinity pool!
What I used to take these photos:
Canon PowerShot G7 X Mark II Digital Camera
This has been my favorite Camera so far. I love how my pictures come out crisp and colorful. It also has a screen which is useful when vblogging. You can check out what I meant on my Instagram which is here.
Accessories For Canon GX7 Mark || Check it out here
This is the good old Go pro that I take with me everywhere. I recommend it because it is small, lightweight and waterproof. I have had made many memories with this trusted item and looking forward to more.
Accessories For Go Pro Hero 4 Check it out here
I have been using SanDisk since my first camera which was back in 2009. They build quality memory cards. I recommend getting at least two, just in case something happens to one of them.
Do you think it's a hassle of plugging your camera into your computer? This memory card reader will fit cards of all sizes and make an easy transfer to your computer. The reader supports all popular SD memory card formats, including SD™/SDHC™/SDXC™ memory cards, UHS-I SDHC/SDXC memory cards, and microSDHC™/microSDXC™ memory cards. It is also compatible with the latest UDMA 7-enabled CompactFlash cards.
Let me know in comments:
Topas Ecolodge Sapa Review