Medellin is known as the City of Eternal Spring for its idyllic climate. Its metro area has 300+ neighborhoods so it can be confusing where to stay especially if you are visiting for the first time. And if you don't like where you are at the start of your trip, it could leave a bad taste in regard to the whole city. Hence I am writing this blog hoping it will help you decide where to stay in Medellin. I will also cover some of the must-sees in Medellin below.
If you follow me on Instagram, you would know I solo traveled to Medellin, Colombia recently. It was my first time traveling there and in fact, it was my very first country in the whole of South America too! So I was cautious about where to stay and what neighborhood would be the best suited for me.
I wanted to stay in a safe area but also not that far from downtown Medellin but not the party central El Poblado metro station either. Somewhere with a reasonable budget, but also where I could meet other travelers. With that being said, I have put together below many options from backpacker hostels, boutique hotels, even luxury hotels, and 5-star hotels too!
Where to stay in Medellin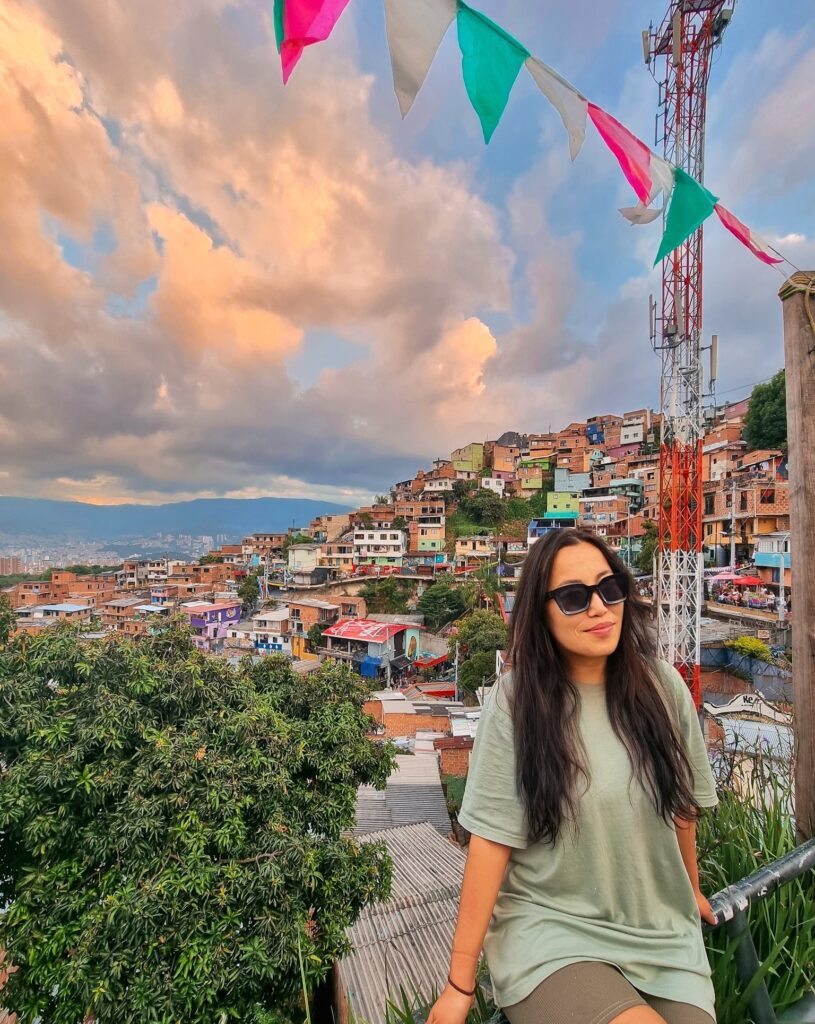 But first, let me explain the main neighborhoods a bit.
Choosing 1 location from 300+ neighborhoods seems like an impossible task. Realistically though, there are only a handful of neighborhoods most travelers and ex-pats will want to choose from.
Laurels:
I am not a huge party fan (been there done that), so I liked staying in Laurels and highly recommend it over El Poblado because it was quieter than El Poblado, but still offered a street full of bars and restaurants called 70s avenue. I also felt completely safe here whether at 5 am or 11 pm. There are some nice cafes, supermarkets, and bakeries too. 1 even accepted Bitcoin as payment! Stroll a few streets back from 70s avenue for moms and dads shop for some of the cheapest places to eat! Ex: Bandejo paisa for 10000 COP whereas in 70s avenue it was 70000 cop but note the portion is smaller of course. From Estadio station, it is only a few minutes' walk and the train goes straight to San Antonio. So in my book, it is a pretty central place to stay.
El Poblado:
It offers more options for backpackers hostels, hotels, restaurants, and more parties. One could say it is more upscale than Laurels but I found equally better cafes, coworking spaces in Laurels as in El Poblado. But if want to be in the middle of all the tourist cafes, parties, businesses El Poblado would be more suitable for you.
La Candelaria (Old Town):
This would be the best option if you are short of time and want to mainly see the main sights of Medellin. It would also probably be the cheapest area to stay in.
Envigado:
I think it is more suitable for ex-pats or perhaps family too as it is a quieter neighborhood than Laurels or El Poblado.
Now without further ado, here are the recommended places to stay in all of the four areas above.
NOTE: You can get to the hostels in Laurels and El Poblado via bus right outside the airport but you would need to switch to train at San Antonio. If this is too much hassle suggest uber from the airport.
Laurels
Backpacker Hostels
The Wandering Paisa (This lively hostel, set in the popular Laureles neighborhood near bars and clubs like a couple of blocks away from all the noise, 5 mins to Estadio station, a 14-minute walk from the Atanasio Girardot Sports Complex, and 3 km from art exhibits at the Museum of Antioquia. Offers free salsa classes
Rock Hostel (5 mins walk to Estadio station, residential area with diverse restaurants, scattered salsa bars & high-energy Carrera 70 clubs 5 mins away) Offers evening music and BBQ comes with a price tag 25000 cop
Hostal Rich (Set in a low-key residential area, this laid-back hostel is a 5-minute walk from the Estadio train station, 3 km from Botero Plaza, and 4 km from the Museum of Antioquia)
Ayenda 1234 Imperio 70 (Residential area with restaurants, some salsa bars & nearby high-energy Carrera 70 clubs)
Mid Tier Hotels
Hotel Casa Laureles (Lively central district with a university campus, salsa clubs & Atanasio Girardot sports complex)
Hotel Parque 70 (In a tree-filled area, this simple hotel off a street lined with bars and eateries is a 3-minute walk from Estadio train station, 6 minutes on foot from Atanasio Girardot Stadium, and 5 km from Joaquín Antonio Uribe Botanical Garden)
OBO Hotel (Residential area with diverse restaurants, scattered salsa bars & high-energy Carrera 70 clubs)
Hotel Egina Medellin (On a tree-lined street filled with restaurants, this casual hotel in a redbrick building is a 6-minute walk from a tram stop, 3 km from sculptures in Botero Plaza, and 4 km from the art-filled Museum of Antioquia)
VPV Suites (Lively neighborhood with La Setenta student nightlife, convivial cafes & Teatro Laureles comedy)
Hotel Casa Mayor la 70 (4-minute walk from Floresta train station, 5 km from the Museum of Antioquia and 6 km from the Botanical Garden of Medellín)
Luxury Hotels
Factory Lofts (Middle-class residential area with long, densely shaded San Joaquín Park & scattered eateries)
Apartamentos Casa Margarita (Set in Medellín, 1.7 km from 70 Avenue and 4.4 km from Pueblito Paisa)
Hotel Dorado la 70 (Surrounded by shops, restaurants, and nightlife on a bustling street, this informal hotel is a 3-minute walk from the Estadio metro station and a 12-minute walk from sports at Estadio Atanasio Girardot)
Hotel Medellín Gold (a few minutes from factory lofts)
El Poblado
Backpacker Hostels
Los Patios Hostel (Leafy suburban area with colorful hostels & hip eateries, plus salsa classes on offer & parties)
Purple Monkey Hostel (Spare dorms with shared or en suite bathrooms, plus free breakfast, a guest kitchen & a rooftop bar)
Masaya Medellin (a few mins walking distance to Parque de El Poblado and the nearby Parque Lleras, an Upbeat area with busy nightlife & restaurants, plus Parque El Poblado plaza & Carrera 43C graffiti.)
Rango Boutique Hostel (across from a park is an 18- minute walk from Poblado Train Station, 3 km from Aburrá Valley, and 4 km from Santa Fe Zoo)
Poblado Park Guest House (a quieter place compared to hostels above but around the same area)
Mid Tier Hotels
Luxury Hotels
Hotel Dann Carlton Medellin (An 8-minute walk from Parque Lleras, this genteel high-rise hotel is 3 km both from the Medellin Modern Art Museum and from the Castle Museum)
Art Hotel Medellin (2 minutes on foot from shops and restaurants along Parque Lleras, and is 3 km from the Medellin Museum of Modern Art)
InterContinental Medellin (offers views of the Andes Mountains is 2 km from bars and restaurants at Parque Lleras, 5 km from the Aeropuerto Olaya Herrera and 6 km from sculptures at Plaza Botero)
The Click Clack Hotel Medellin (8-minute walk from Parque El Poblado, 3 km from the Medellin Modern Art Museum and 22 km from José María Córdova International Airport)
La Candelaria (Old Town)
Backpacker Hostels
Hotel Natural (Busy downtown with skyscrapers, a sensory garden at Pies Descalzos Park & nearby Plaza Botero's statues)
Ayenda 1254 Mi Colombia (Walking distance to Berrío Park and the Rafael Uribe Uribe Palace of Culture)
Hotel San Esteban Center (Walking distance to the Rafael Uribe Uribe Palace of Culture and the Botero Plaza)
Boutique Hotels
Hotel Nutibara (Landmark 1940s hotel offering eateries, cafes & a wine cellar, plus breakfast & Wi-Fi)
Ayenda 1246 3H Hotel (Ayenda is a hotel chain running in Colombia, Peru, and a few others. Guests can enjoy the hot tub and Turkish bath on this location)
Hotel Calle Real (Walking distance to Berrío Park and the Museum of Antioquia)
Hotel Gallery (Understated rooms with bright murals in a hip hotel offering free breakfast & a Creole snack bar)
Luxury Hotels
La Quinta by Wyndham Medellin (Located in a busy downtown with skyscrapers, a sensory garden at Pies Descalzos Park & Plaza Botero's statues)
Magenta Loft (same as above)
Tranvia 40 (2.1 km from Pueblito Paisa and 3.1 km from 70 Avenue)
Envidago
Backpacker Hostels
Apartamento envigado (one-bedroom apartment from $40)
Hotel Casa Madero (double room from $40, Medellín is 11 km from Hotel Casa Madero, while San Cristóbal is 15 km away. The nearest airport is Olaya Herrera Airport, 9 km from the hotel, do note there are more than 1 airport in Medellin though)
Boutique Hotels
Arame Hotel (Nutibara's Hill is 7.2 km away and 70 Avenue is 9.3 km)
Exclusivo apartamento en envigado ( This apartment has 1 bedroom, a flat-screen TV, and a kitchen and Medellín is 7 km from the apartment)
Luxury Hotels
Cabaña campestre cerca a Ecoparque El Salado, Envigado (Medellín is 11 km from Cabaña campestre cerca a Ecoparque El Salado, Envigado., while Guatapé is 46 km away. The nearest airport is Olaya Herrera, 9 km from the accommodation, and the property offers a paid airport shuttle service.)
Casa espacios libres y frescos, primer nivel (This apartment is fitted with 3 bedrooms, a flat-screen TV, and a kitchen. Towels and bed linen are offered in this accommodation)
Espectaculares Apartamentos Deluxe ( Medellín is 11 km from the accommodation, while San Cristóbal is 14 km from the property)
LA OCULTA COUNTRY HOUSE (This villa comes with 7 bedrooms, a kitchen with a fridge and an oven, a flat-screen TV, a seating area, and 8 bathrooms equipped with a hot tub. Towels and bed linen are featured in this accommodation)
Things to do in Medellin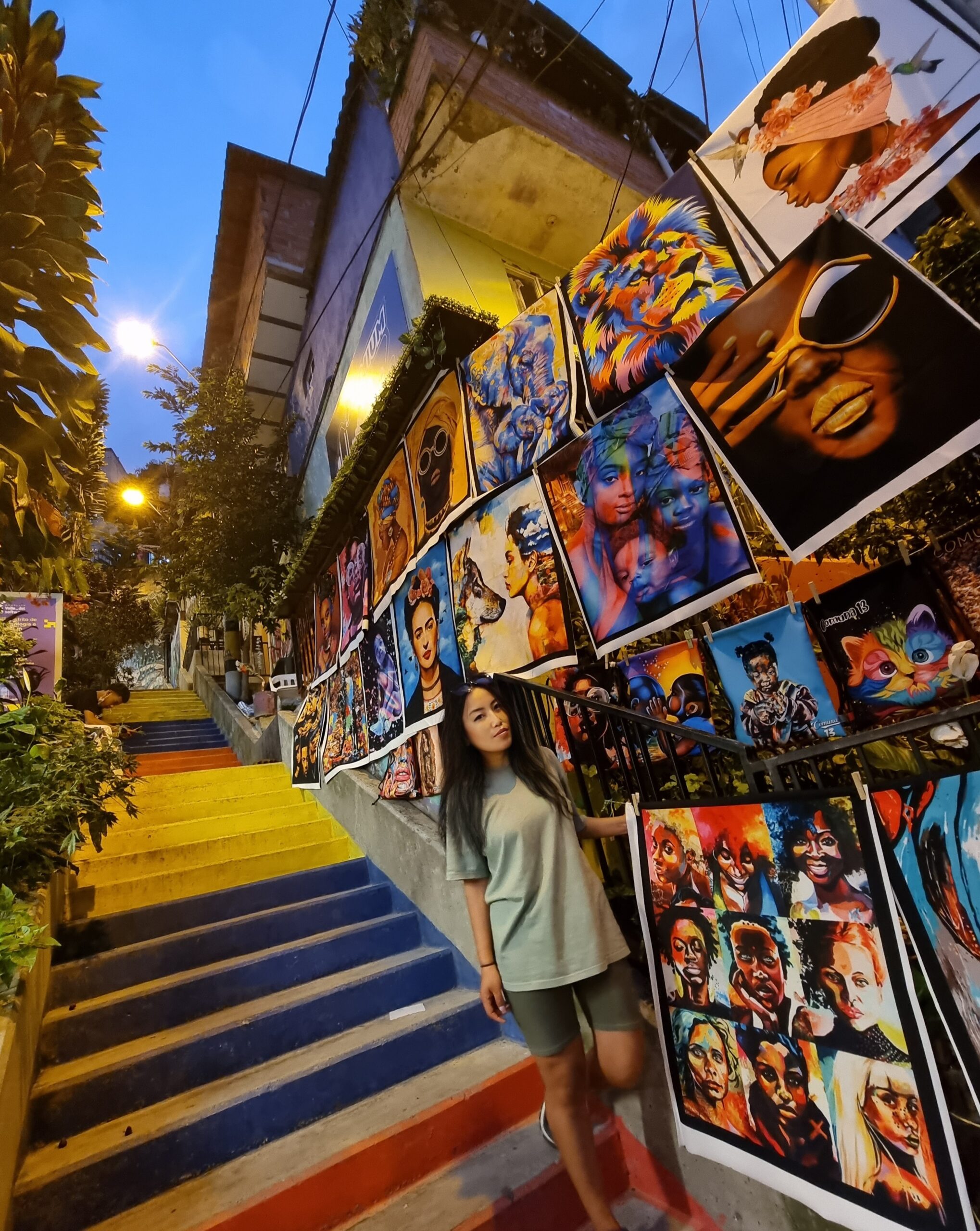 1. Publeto Paisa
3. Take the Metrocable Up to Parque Arvi
4. Comuna 13
8. Medellin Paragliding Experience
9. Medellin Hacienda Naples Theme Park
10. Hike to the hill of 3 crosses
11. Parque Explora and The Botanical Gardens
12. Parque Lleras nightlife
13. Medellin to Guatape tour with a boat ride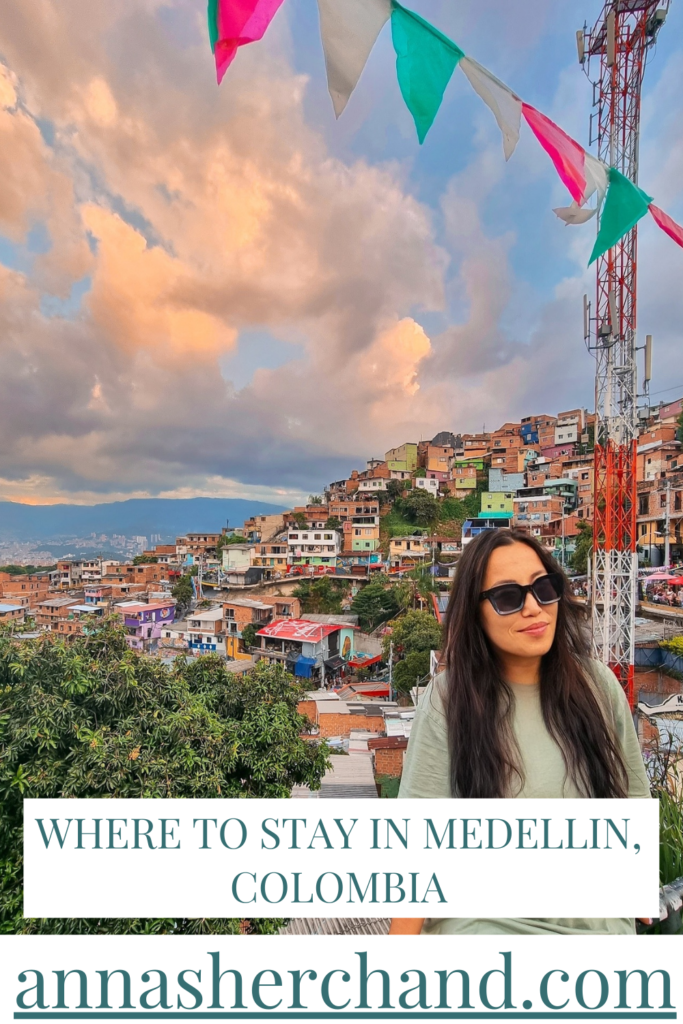 Suggested posts:
Where to stay in Medellin, Colombia