Baba Beach Club Hua Hin Hotel review is here everybody!
So last week I landed back in the country of smiles, Thailand. As much as I love being on the go travelling around the world, I always enjoy coming back to Thailand for unwinding and reenergizing.
As you probably know Bangkok is one of the busiest city in Thailand. But only 2 hours south is Hua Hin, a laid back, quiet but energetic town. It is located on the Gulf of Thailand, in the southern Thai province of Prachuap Khiri Khan. Years ago, it was a quiet fishing village, but now it has grown into a beautiful seaside resort area.
This beachside town especially became popular when the Thai royal family built summer palaces around the 90s and visited during their holidays. Since then a lot of Bangkokian frequently visit Hua Hin for their luxury stay as well as international visitors.
Hua Hin is famous for its luxurious beachfront hotels, quiet beaches, water sports activities like kitesurfing, jet ski and you can even ride a horse on the beach!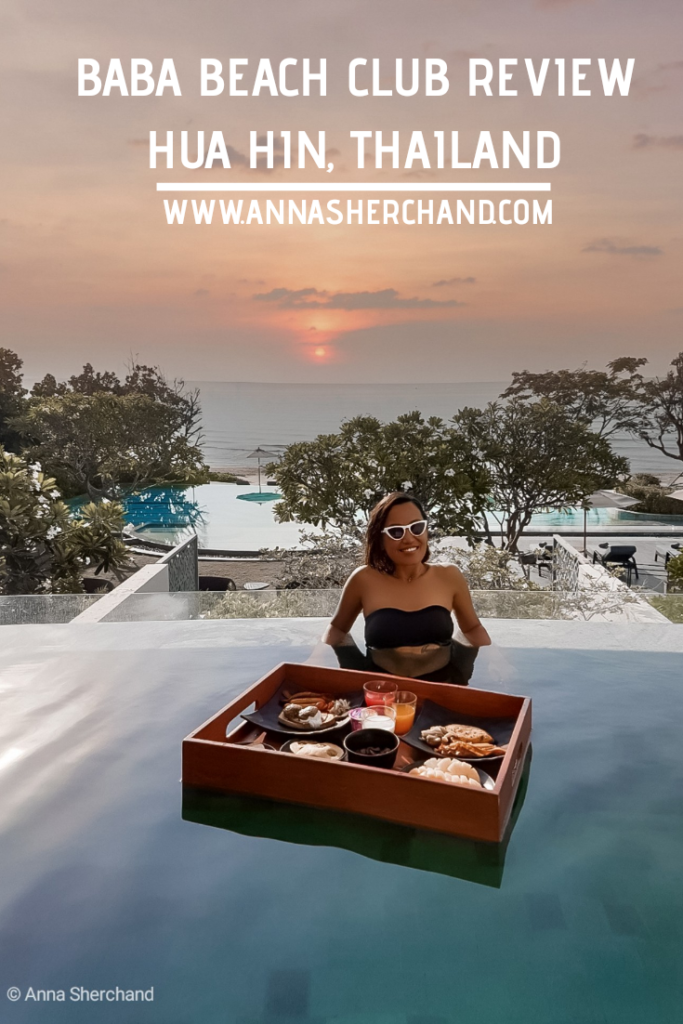 If you want to rewatch my Hua Hin stay, check out the "Hua Hin" highlight on Instagram.
Read this for Thailand 2 week itinerary.
Baba Beach Club Hua Hin Hotel Review
Now, let's start with my experience staying at Baba Beach Club Hua Hin by Sri Panwa, which is a bit off the main road but with private beach access.
Hotel Address: 758 Phetkasem Rd., Cha Am, Phetchaburi, 76120, Thailand
Room Type: Beachfront Pool Suite
Other: Beachfront Pool Suite (Ground floor), Beachfront Penthouse, 3 and 5 Bedroom Luxury Pool Villa
Property Tel: +66 32 899 130 Fax: +66 32 899 131
Reservation Tel: +66 76 371 000 Fax: +66 76 371 004
Email: huahin@bababeachclub.com
How to get here: Please the various ways you can get here at the end of the review
Now, without further ado, let's go!
Beachfront Pool Suite 5-star Hotel Review
You may have heard about the famous Baba Beach Club – luxury beach club hotel in Phuket. Well, this is their sister a 5-star Baba Beach Club in Hua Hin managed & developed by the same luxury pool villa hotel and residential estate, Sri Panwa.
Both luxury hotels offer resort-style beachfront living of the highest quality and immaculate design.
Check-in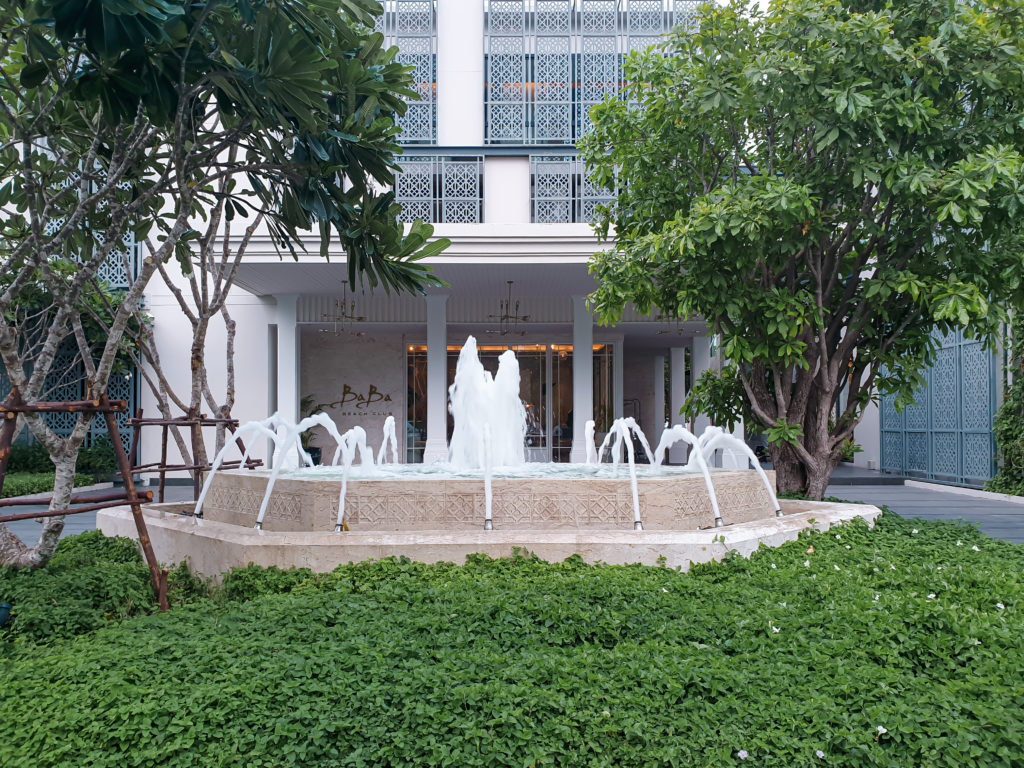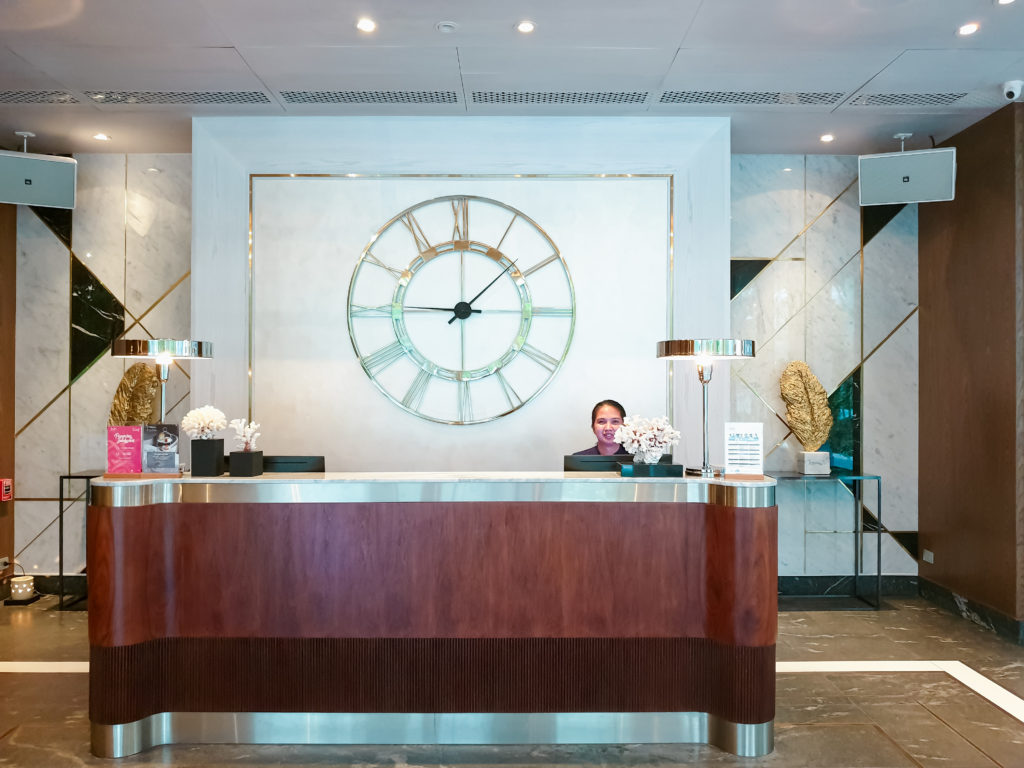 As soon as I enter the property of Baba Beach Club Hua Hin, it was a luxurious feeling. The exterior of the hotel with lush greenery, beautifully designed interior, even the colour of the walls, and the gentle manner of the staffs, it was a 5star feeling!
I checked in just in time for an afternoon nap! By then, I had been on the road for about 10 hours as I left Bali, landed in Bangkok and did straight 2 hours van ride from the airport to Hua Hin. So I was exhausted and ready to hit the bed! There is nothing I love more than going to nap with the ocean view!
It helped the check in was quick and I was pleased with the aromatic refreshment towel and welcome drink on arrival.
Beachfront Pool Suite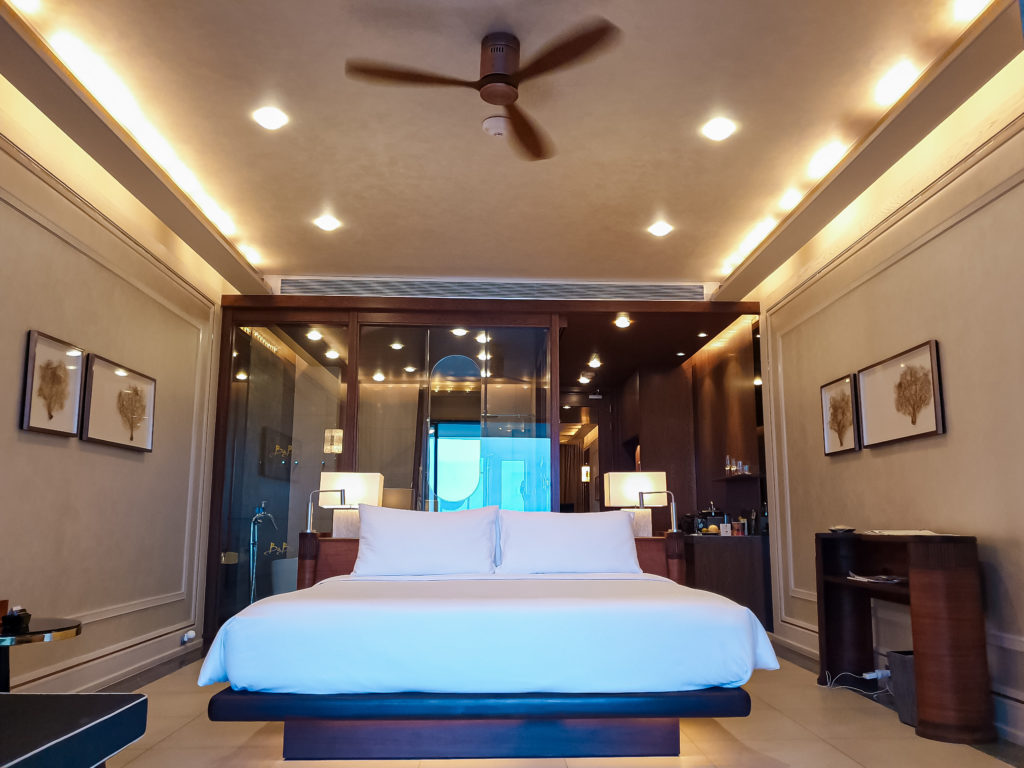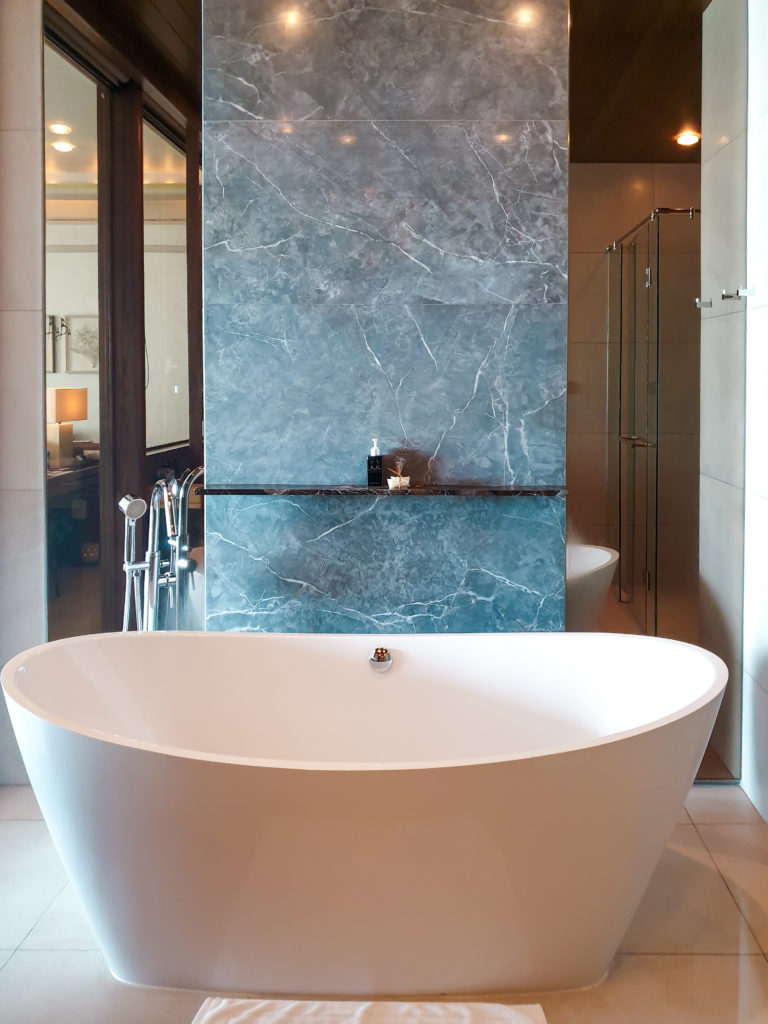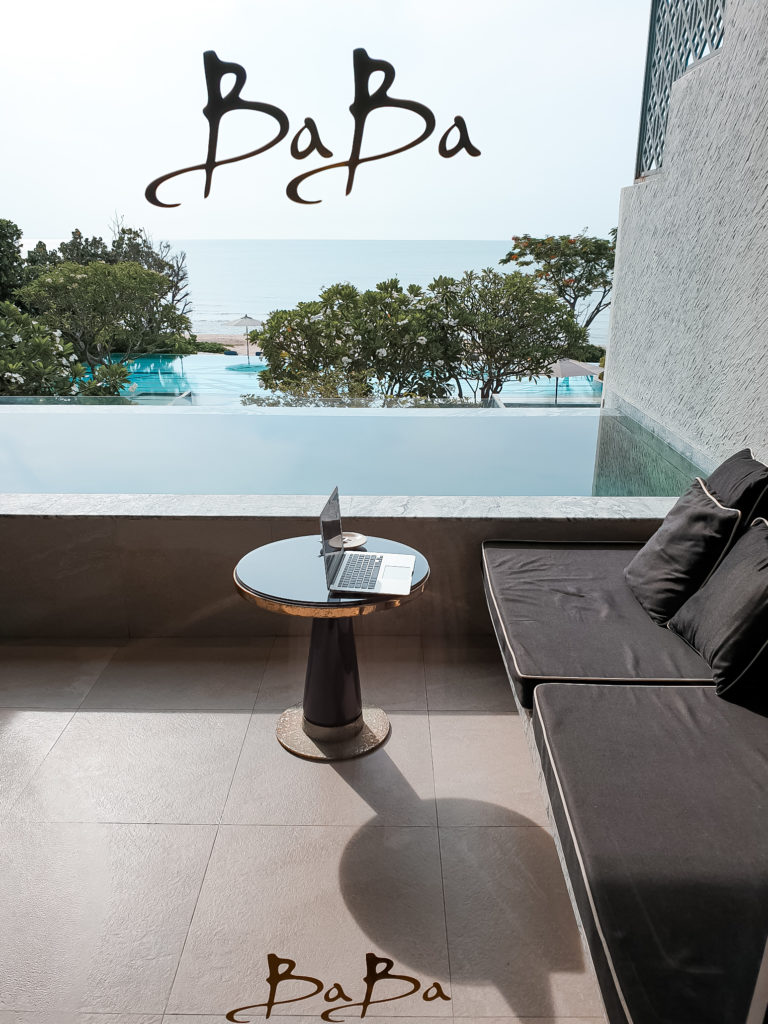 I then followed my personal butler to my room. She showed me around the suite, told me where everything is and even how to use the remotes! They were three different ones for different use! Personally, I enjoyed the state-of-the-art entertainment system.
Baba Beach Club is a music lovers hotel guys, so throughout the property, you will hear some awesome tunes playing. Needless to say, the in-room iPod was filled with carefully curated playlists and sharp sound system!
Along with the tunes, my beachfront pool suite included 73 sq. m. space that offered a private balcony with a gorgeous view of the infinity-edge pool, the main entertaining pool and the ocean! And the second best thing? A huge beautiful bathtub and the third best thing? A complimentary mini bar! It's any hotel guest's dream come true to have a free In-room mini-bar, Nespresso machine and snacks that would be replenished daily!
I also appreciated the thoughtfulness and decor of the suite, with the use of high-quality wood and environment-friendly toiletries.
Before I forget there was also a welcome tropical fruit basket and of course the unlimited wireless/broadband Internet!
The bed was dressed with the finest linens and it was ocean-facing! It was such a luxurious feeling to be able to go to sleep looking at the ocean and the stars at the same time!
Floating Breakfast – Room Service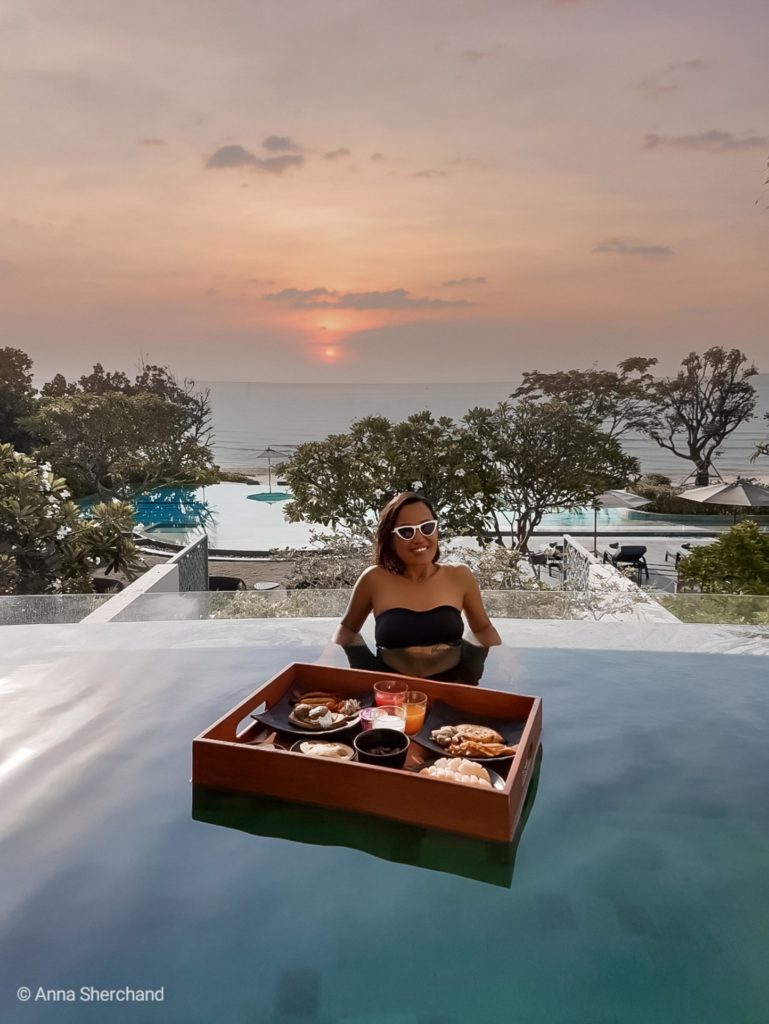 If you are in Baba Beach Club Hua Hin, Floating Breakfast is a must. The night before you can pick what you want for the breakfast and time you want them to bring it. I recommend trying out Baba Beach Club's signature egg benedict with truffles, and banana pancakes.
It was a phenomenal experience to wake up, walk out to private infinity pool and go for early morning sunrise dip, followed by the delicious floating breakfast and a few hours of work all done before noon! It must have been the Baba vibes, I felt inspired to write throughout my stay!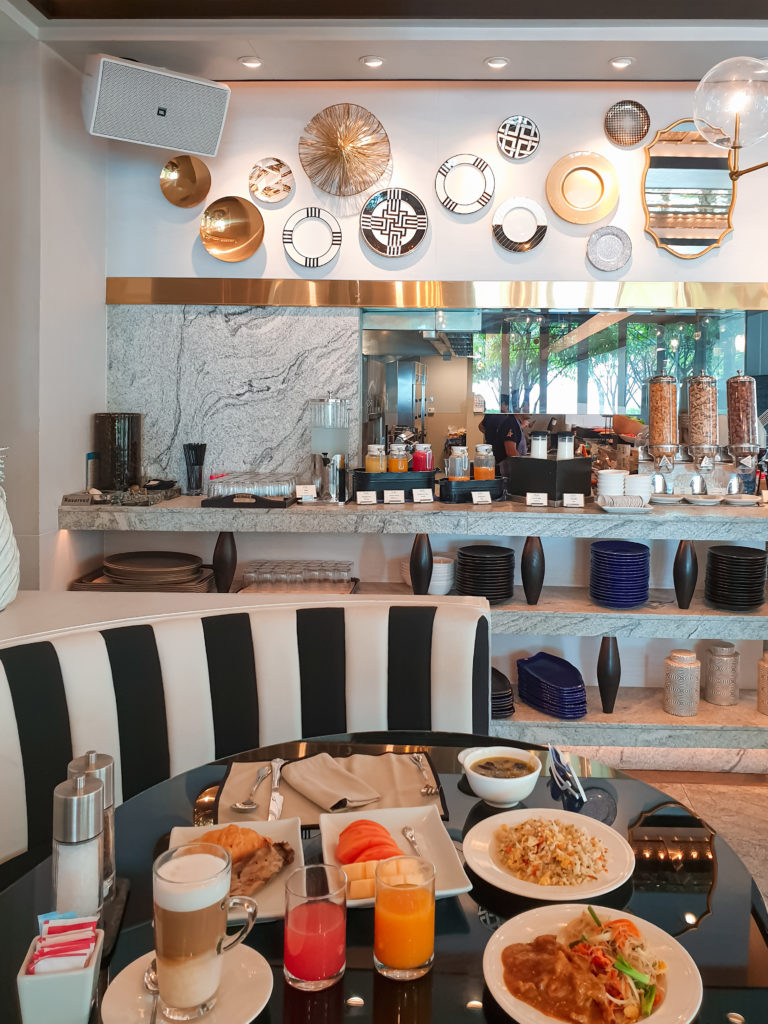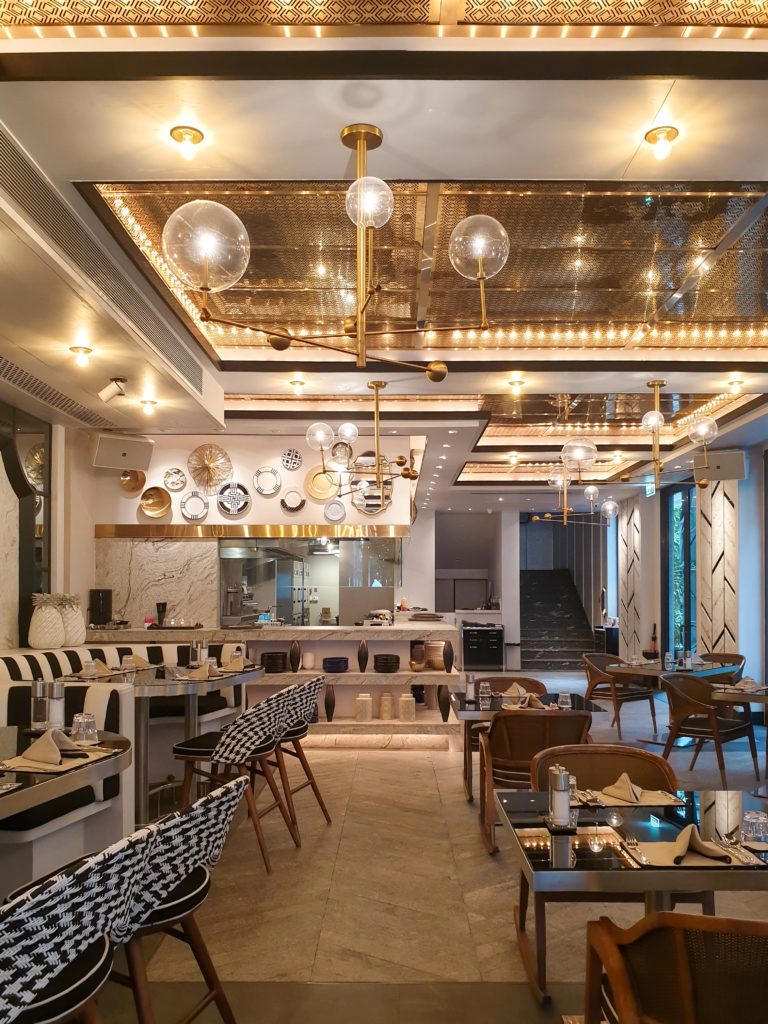 Alternatively, you can enjoy the buffet restaurant at the Baba Beach restaurant. Again, the interior was just gorgeous- high-quality specifications and design.
Swimming Pool and facilities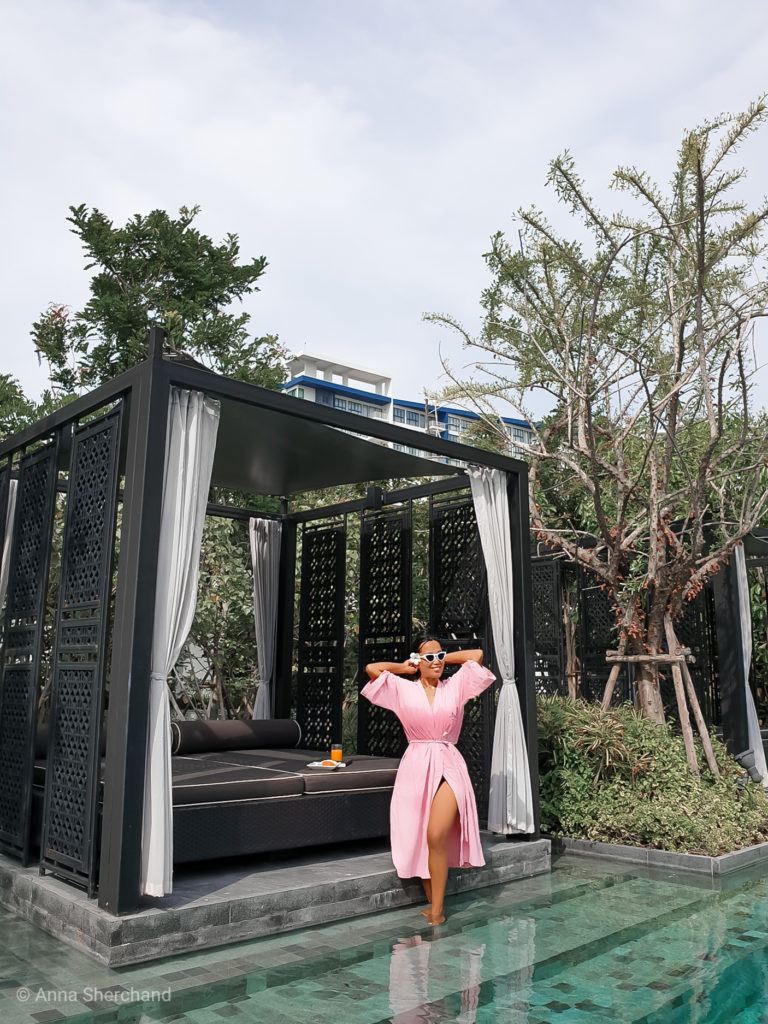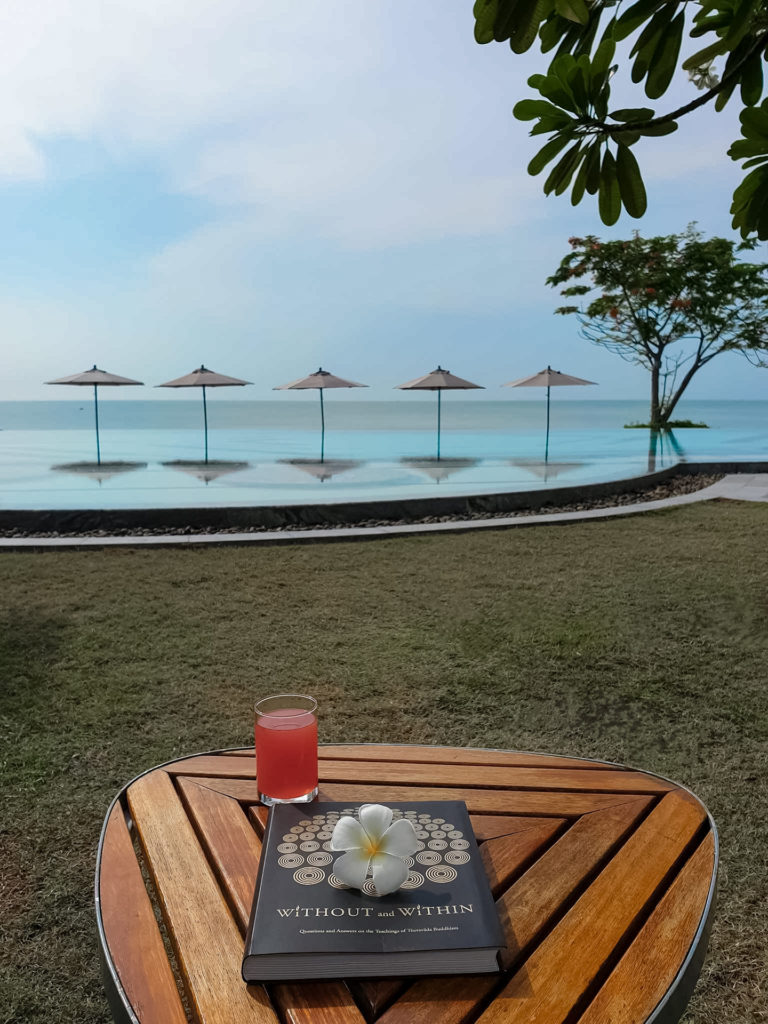 What do you do after your leisurely breakfast? Check out the facilities and enjoy the swimming pools! Baba Beach Club boasts not 1 but 2 pools! 1st is the main entertaining pool with its signature look and the second one is the lovely garden pool. Bring a good book, work on your tan or take a dip and watch the world go by!
Being a beachfront resort, fortunately, it took less than a minute before my toes were in the sand!
Right next to the main pool, you have the Baba Beach Club cafe and eatery but they also do drinks. Talk about convenience! Watch out for their happy hour special deals!
It was also easy to access the fitness centre and beach activities from the suite.
Leisurely Lunch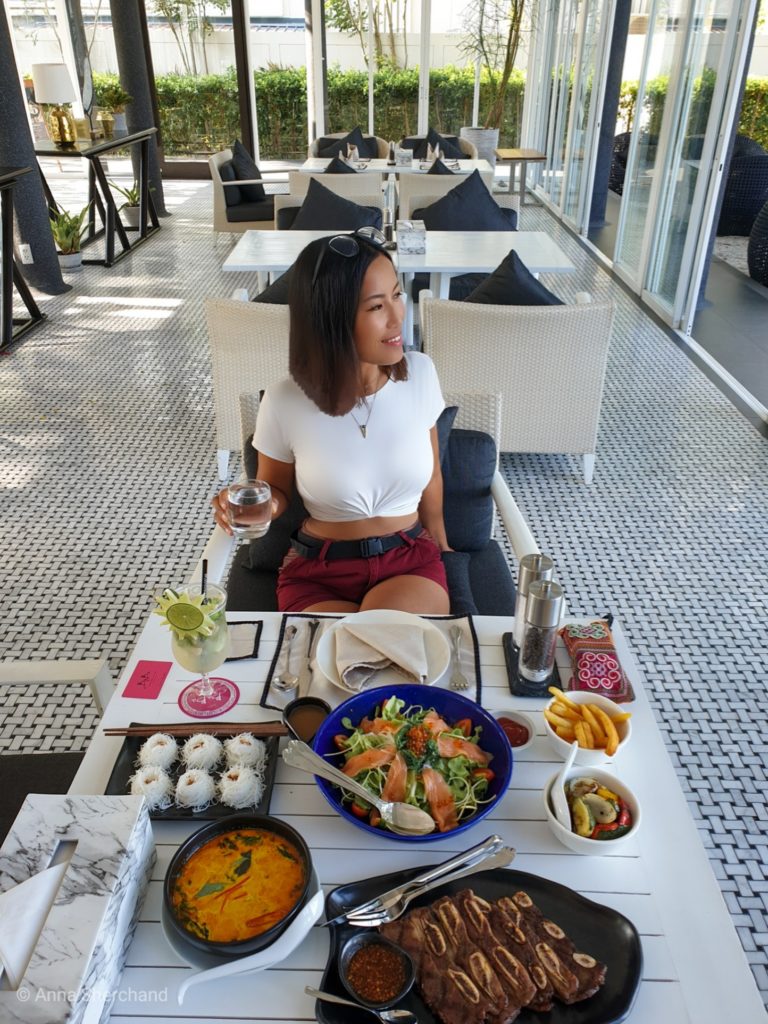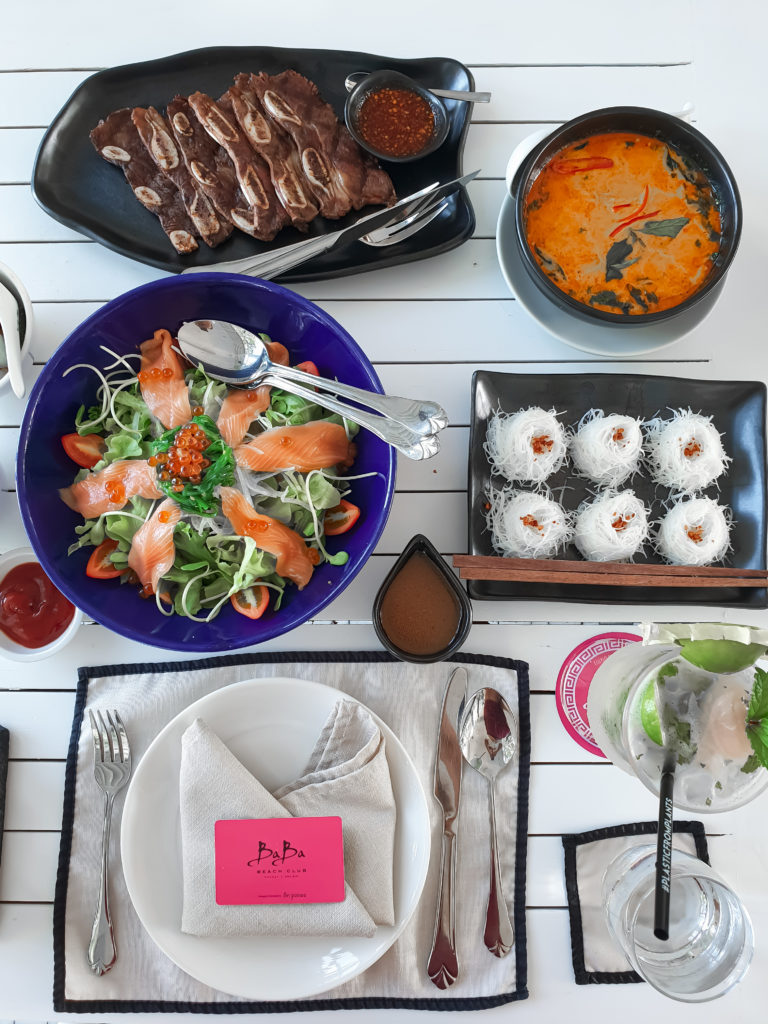 All that swimming calls for a great lunch which you can have it in Bann Chok Restaurant. It has a green calm atmosphere and offers a peaceful ocean view.
Here I was having, Kalbi Long Bone (the steak), Crab meat in yellow curry with noodles, Sake Salad (salmon, ikura, hiyashi wakame, assorted vegetables and miso dressing) and the sides.
Staffs were awesome and on top of things. They spoke great English and were always there if I needed help!
I highly recommend the venue and the menu too.
Hope this Baba Beach Club Hua Hin Hotel Review helped you make up your mind.
Final Thoughts
If you visit Thailand and you love luxury resorts with excellent service you want to stay at the Baba Beach Club Hua Hin. You should stay here for three simple reasons; the beachfront suite, beach, and the service. The beach is one of the cleanest beaches you will ever visit and a cozy but stunning beachfront suite featuring the private Infinity pool. The service, let me say, they bow when you enter the room or when someone takes your order, they bow! You will be treated like a royal! Something I did not mind.
Thank you Baba Beach Club Hua Hin for a super relaxed stay. I can't wait to be back!
Best travel tips for that perfect Hua Hin itinerary
1. Install Grab App
Forget paying overcharged metered taxies, not only in Thailand but almost everywhere in Asia, everyone uses Grab. (Uber doesn't work in South East Asia). For my readers, here is the discounted ride with Grab! Just register using this referral code GRABANNASMATE, and save your hard-earned money. You can also use this link: https://r.grab.com/grabannasmate
2. Airport to Hua Hin- Private Transfer Service
How nice it would be to know, your professional driver will be waiting for you on arrival with a personal welcome sign and leave busy Bangkok Airport stress-free! The private transfer run from both Don Mueang Airport and Suvarnabhumi Airport. Book it here.
You can also book a shared minivan from Suvarnabhumi Airport to Hua Hin (not available from Don Mueang Airport at the moment). It is a shared shuttle bus service between Hua Hin, Suvarnabhumi Airport and Bangkok downtown area. You can sit back and relax without the hassle, as your transport plan has been sorted out for you. If this is for you, book it here.
4. Islands to Hua Hin
In case you are in one of the Thai islands, and wondering how to get to Hua Hin. You can now book a high-speed catamaran and coach transfer to Hua Hin from Ko Tao, Ko Samui, and Ko Pha Ngan. You can relax in the knowledge that you have insurance and emergency assistance is included. The catamaran offers AC and comfortable seats too. Here it is.
5. Where to stay in Hua Hin?
Please refer to Baba Beach Club Hua Hin Hotel Review above.
I have also put together detailed travel resources right here. Save money, learn what and how.
6. What to pack for Hua Hin?
Hua Hin is a tropical paradise, so I recommend light clothes, flowy/airy skirts/pants work and a light jacket for super early morning hikes, and runs. A swimsuit is a must as well as the usual sunscreen, hat, mosquito repellent and sunglasses.
If you forget some of these items, you can also buy them in the town itself. Just don't forget to bring the charging plug specific to Thailand though or better yet, bring the international one with multiple plugs.
7. When is the best time to visit Hua Hin?
August and September you can expect rainfalls but it is occasional, otherwise great tropical weather. During the summer months of March, April and May would be a tropical climate with high humidity.
8. What else is there to do?
I recommend the full day at Vana Nava Water Jungle, Asia's first water jungle! You can enjoy 19 thrilling rides, as well as numerous restaurants, beach hut cafes and shopping options inside the waterpark. Check it out here.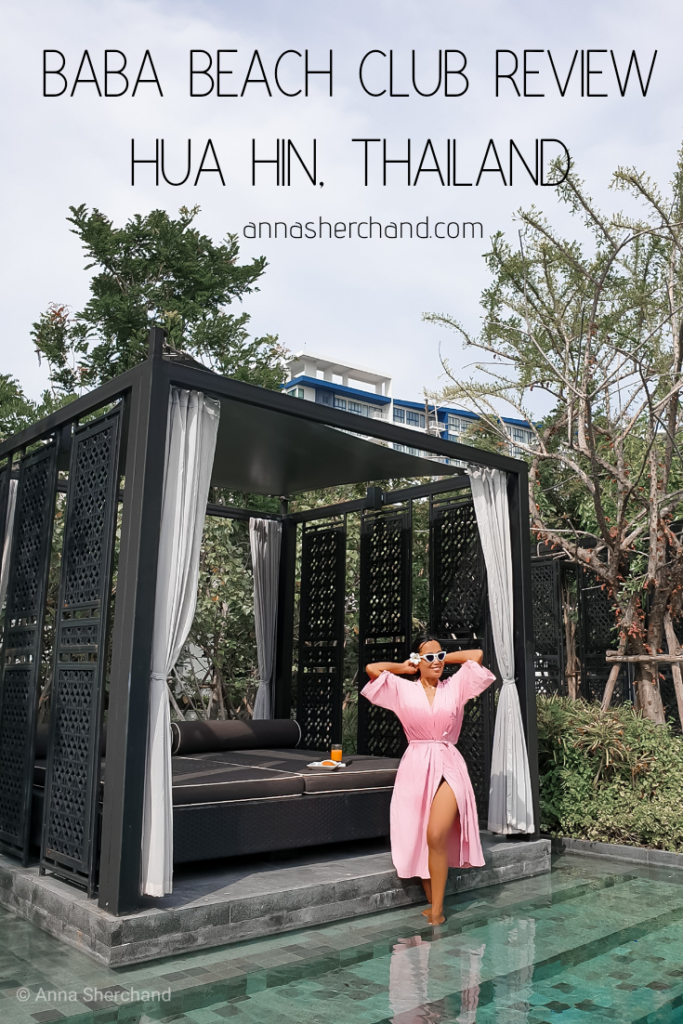 Let me know in comments-
I have detailed travel resources right here. Save money, learn what and how.

If you like this article, follow my Adventures on Instagram, Facebook, YouTube, Twitter and Pinterest, but most importantly sign up to my E-mail list to keep up with updates and travel posts!
Baba Beach Club Hua Hin Hotel Review