Finally, the most awaited The Barai in Hua Hin by Hyatt Regency Hotel review is here. If you are wondering what it's like to stay here, I have got you covered. I am also sharing tips for Hua Hin at the end of this article, so keep reading!
As you probably already know Bangkok is one of the busiest cities in Thailand but only 2 hours south is a peaceful, laid back town called Hua Hin. It is located on the Gulf of Thailand, in the southern Thai province of Prachuap Khiri Khan. Years ago, it was a quiet fishing village, but now it has grown into a beautiful, energetic seaside resort area.
This beachside town especially became popular when the Thai royal family built summer palaces around the 90s and visited during their holidays. Since then a lot of Bangkokian frequently visit Hua Hin for their luxury stay as well as international visitors.
Hua Hin is famous for its luxurious beachfront hotels, quiet beaches, water sports activities like kitesurfing, jet ski and you can even ride a horse on the beach!
If you want to watch it in action, check out the "The Barai" highlight on Instagram.
Read this for Thailand 2 week itinerary.
THE BARAI Spa and Residential Suites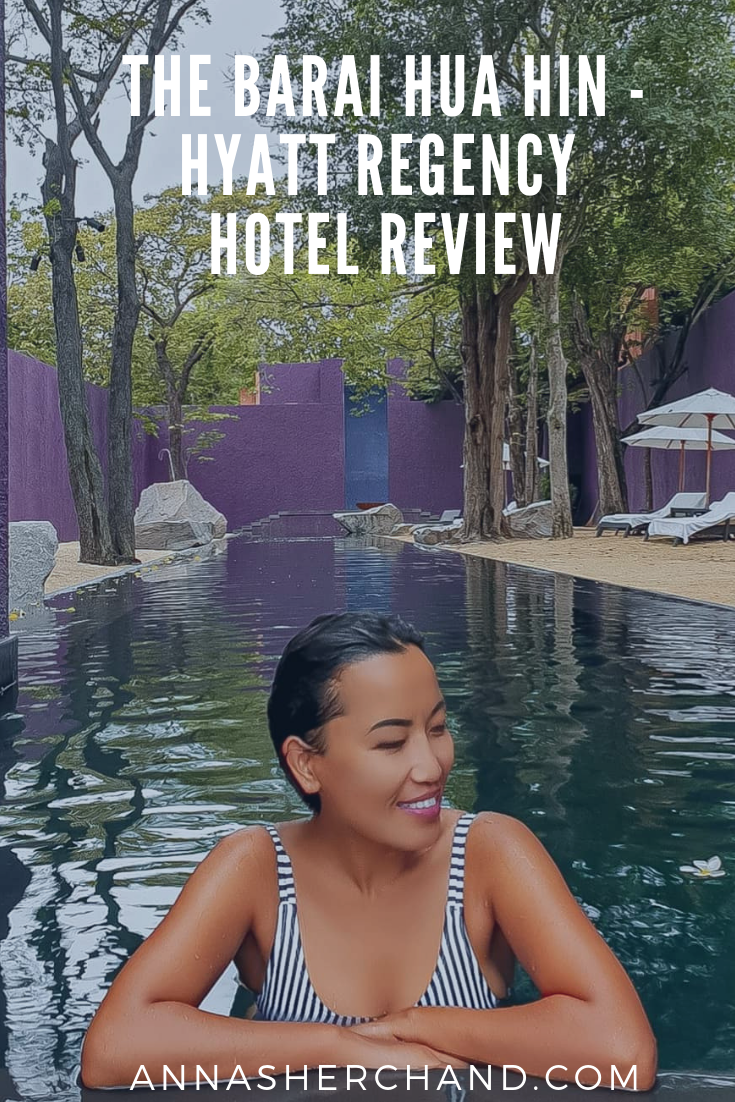 Now, let's start with my experience staying at The Barai by Hyatt Regency Hotel.

Hotel Address: 91 Tambon Nong Kae, Amphoe Hua Hin, Chang Wat Prachuap Khiri Khan 77110, Thailand
Room Type: http://www.thebarai.com/suites/
Total Room: 8 exclusive residential spa suites and 18 exotic treatment rooms within 18,500 square meters of beachfront land adjacent to Hyatt Regency Hua Hin resort.
Property Tel: +66 3 251 1234
Email: TheBarai.hrhuahin@hyatt.com
How to get here: Please read the various ways you can get here at the end of the review

Now, without further ado, let's go!
The Barai by Hyatt Regency Hua Hin Review
THE BARAI provides eight exclusive residential spa suites and 18 exotic treatment rooms within 18,500 square meters of beachfront land adjacent to Hyatt Regency Hua Hin resort. They also offer an award-winning spa in Hua Hin.
THE BARAI is not just another 5-star luxury hotel, I felt it was more like a dream home. The wonderful feeling of peace and tranquillity, beautiful architecture and colors to suit different moods. Luxury residential spa accommodation, extensive spa treatments, signature massages, yoga sessions, fitness and lifestyle programs. THE BARAI is a journey of the mind, body, and spirit, with luxury and delicious food to enjoy along the way.
1. Check-in
As soon as I arrive, I was greeted with smiling staff and my personal Butler at the reception of The Barai. After a long flight and 2 hours van ride, I appreciated the welcome drink and hot/cold towels to refresh. Check-in was smooth, quick and shortly after I was following my Butler to my suite.
2. The Barai Balcony Suites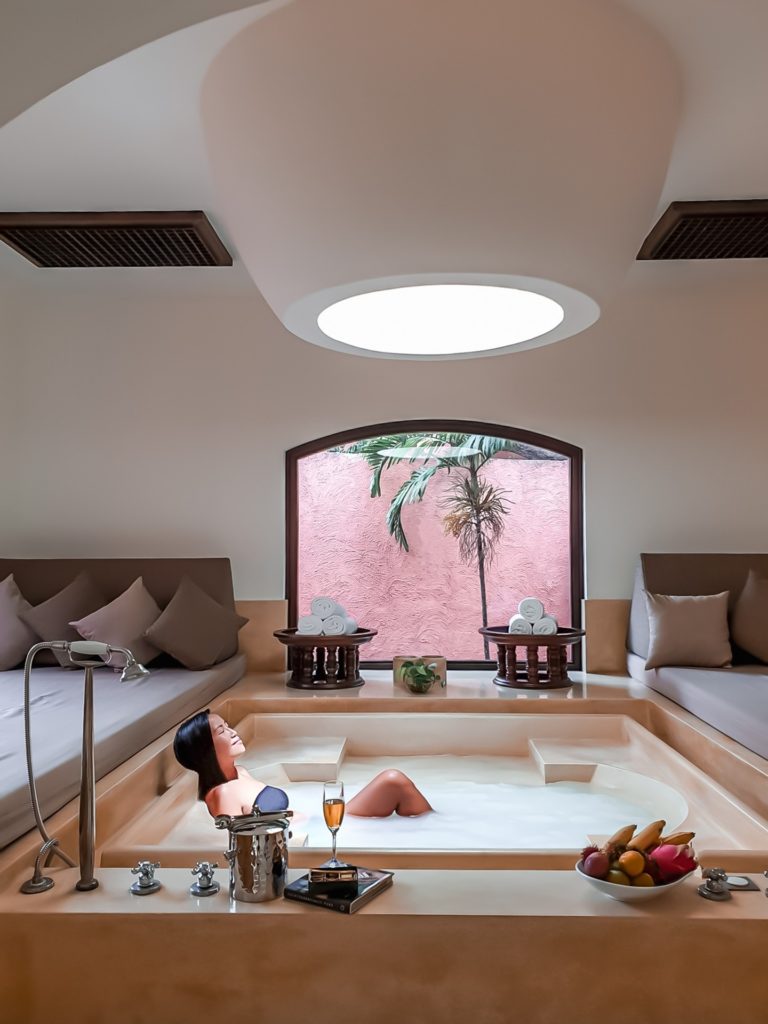 As I entered my suite, I was blown away with the size and details! The 149-square-meter suite offered a private spa INSIDE the suite, steam room, dining area and balcony facing the Gulf of Thailand.

I loved an over-sized king bed, individual walk-in closet (there were 2 separate ones – for him and her), vanity area, private spa treatment and working area (loved the welcome to The Barai sign made with leaves). Every corner was well thought out and there was also a coffee machine!

The suite also came with personalized butler service, complimentary WIFI premium Internet access and complimentary laundry service for two items per day (excludes dry cleaning). It was a home away from home and my most luxurious hotel stay to date!
If you book this suite, don't forget you may also be eligible to get a 60-minute massage for two persons per night at THE BARAI* with in-suite Aromatherapy Steam and in-suite Aromatherapy Milk Bath.

3. Breakfast/Lunch at the McFarland House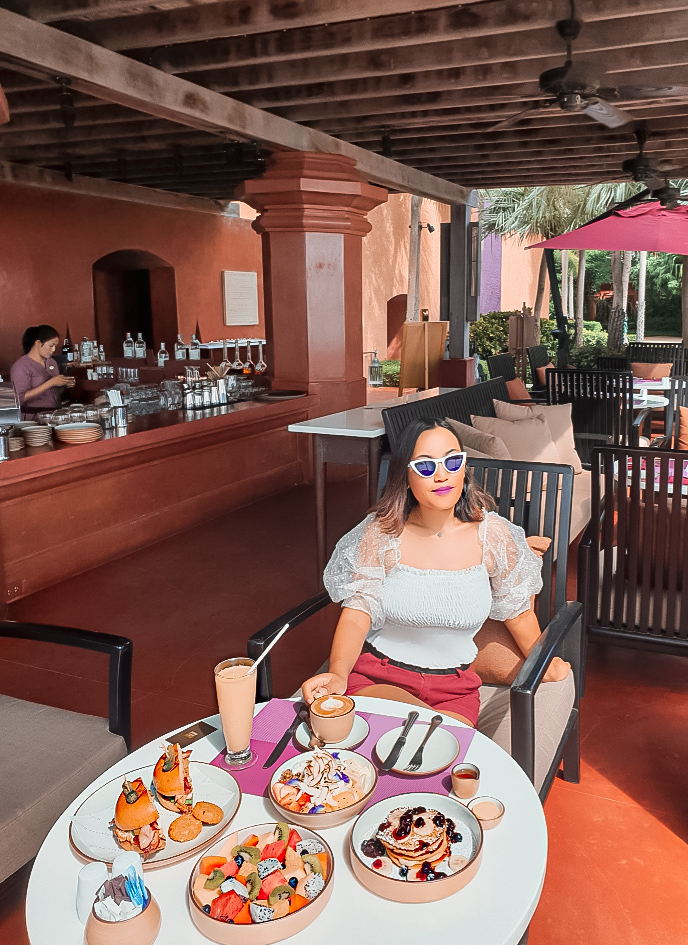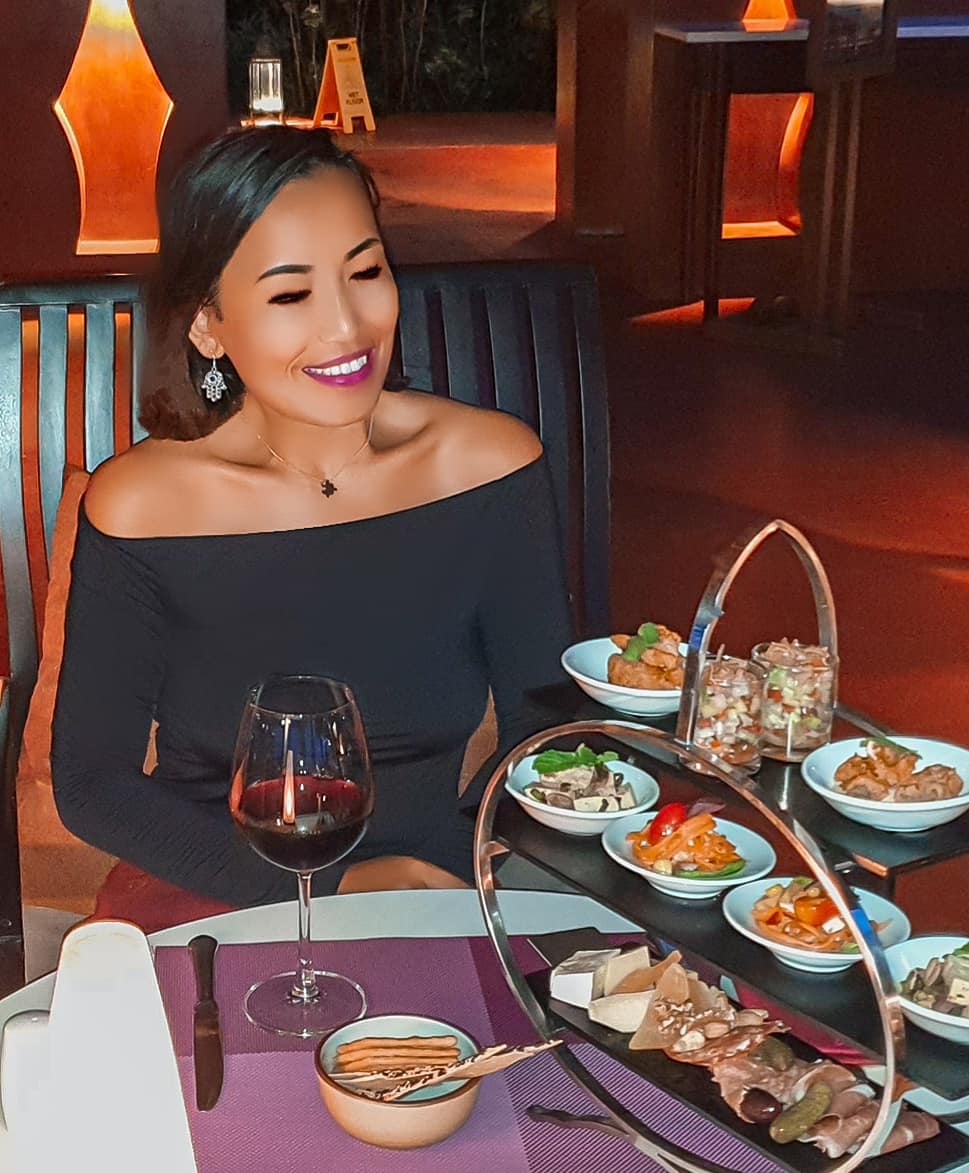 The original McFarland House was built in early 20th century historical pavilion and definitely Instagram worthy restaurant with its red walls and delicious-looking food. They serve modern European cuisine along with healthy wellness options. It's the signature outlet at Hyatt Regency Hua Hin & The Barai.

The location, food and drink and the excellent service cannot be beaten. And the best part is except the hotel guests, McFarland House is open to outside visitors as well.

You can enjoy daily breakfasts, brunch, all-day hot and cold beverage and evening pre-dinner drinks and snacks at McFarland House. There was also an excellent singer setting the vibe singing during the brunch and dinner time. My advice is if you are intending to go, book a table as it is always busy.
4. Swimming pool and the facilities
I loved how The Barai had a calendar full of activities for hotel guests! So, you are never bored because there is something for everyone.

Some of the activities I participated in include Yoga in the morning at the Tranquillity pool, an encounter with bunnies, and Thai Dance class. All the activities were fun and I learned a great deal in an hour! You can watch The Barai highlight on Instagram to see it in action.
5. Final Thoughts
The Barai sets the bar high for the 5-star hotel with its immaculate design, delicious food and excellent service. Staff bow down when they take your order, when you enter the room and every time they see you! They were polite at all times and on my every single encounter with them. I am glad to report their attitude added a lot of positivity and happiness during my stay.

The Barai in Hua Hin is everyone's dream hotel. I genuinely had the best 5-star hotel experience and have no doubt they deserve 10/10. I hope you get to have this royal experience once in your life too.
Best travel tips for that perfect Hua Hin itinerary
1. Install Grab App
Forget paying overcharged metered taxies, not only in Thailand but almost everywhere in Asia, everyone uses Grab. (Uber doesn't work in South East Asia). For my readers, here is the discounted ride with Grab! Just register using this referral code GRABANNASMATE, and save your hard-earned money.
2. Airport to Hua Hin- Private Transfer Service
How nice it would be to know, your professional driver will be waiting for you on arrival with a personal welcome sign and leave busy Bangkok Airport stress-free! The private transfer run from both Don Mueang Airport and Suvarnabhumi Airport. Book it here.
You can also book a shared minivan from Suvarnabhumi Airport to Hua Hin (not available from Don Mueang Airport at the moment). It is a shared shuttle bus service between Hua Hin, Suvarnabhumi Airport and Bangkok downtown area. You can sit back and relax without the hassle, as your transport plan has been sorted out for you. If this is for you, book it here.
4. Islands to Hua Hin
In case you are in one of the Thai islands, and wondering how to get to Hua Hin. You can now book a high-speed catamaran and coach transfer to Hua Hin from Ko Tao, Ko Samui, and Ko Pha Ngan. You can relax in the knowledge that you have insurance and emergency assistance is included. The catamaran offers AC and comfortable seats too. Here it is.
5. Where to stay in Hua Hin?
Please refer to Baba Beach Club Hua Hin Hotel Review above.
I have also put together detailed travel resources right here. Save money, learn what and how.
6. What to pack for Hua Hin?
Hua Hin is a tropical paradise, so I recommend light clothes, flowy/airy skirts/pants work and a light jacket for super early morning hikes, and runs. A swimsuit is a must as well as the usual sunscreen, hat, mosquito repellent, and sunglasses.
If you forget some of these items, you can also buy them in the town itself. Just don't forget to bring the charging plug specific to Thailand though or better yet, bring the international one with multiple plugs.
7. When is the best time to visit Hua Hin?
August and September you can expect rainfalls but it is occasional, otherwise great tropical weather. During the summer months of March, April and May would be a tropical climate with high humidity.
8. What else is there to do?
I recommend the full day at Vana Nava Water Jungle, Asia's first water jungle! You can enjoy 19 thrilling rides, as well as numerous restaurants, beach hut cafes and shopping options inside the waterpark. Check it out here.
Let me know in comments-
What did you think of this 5-star luxury hotel review?
Would you like to stay at The Barai Hua Hin?
In case you are thinking about going to Sydney, read the Master Travel Guide to Sydney– everything from visa, wifi, food and all are covered.
Heading to Bali next? Read 2 weeks Bali itinerary here.
If you are planning Myanmar travel. Check out the Bagan guide itinerary Day 1 here, Day 2 here, and Day 3 here.
I have detailed travel resources right here. Save money, learn what and how.

The Barai Hua Hin Review- Hyatt Regency Hotel