Are you looking for Furama city centre reviews? You are in the right place! Not only that I have also included brief review about staying in their sister hotel, Furama Riverfront.
I was lucky to visit Singapore again for the 2nd time and stayed at the iconic Furama City Centre and Furama Riverfront. Both hotels are within the walking distance of 10-15 minutes from each other and situated in the heart of the vibrant Chinatown area, it's in a great location and within walking distance to the CBD, and Riverside MRT. Bus services are close by and Taxi stands just outside the door too.
Singapore is a modern city with the headquarters of many Multinational Companies, rich culture, long-standing history, delicious food, and picture perfect setting of the background contrast between the old temples and the new modern buildings. One of the Asian country with architecture and skyscrapers that are better designed and impressive. Hope you saw Singapore Stories on my Instagram. If you want to rewatch the whole thing, click here ->  
check out the "Singapore" stories on Instagram.
  Note: This piece has been updated in 2019.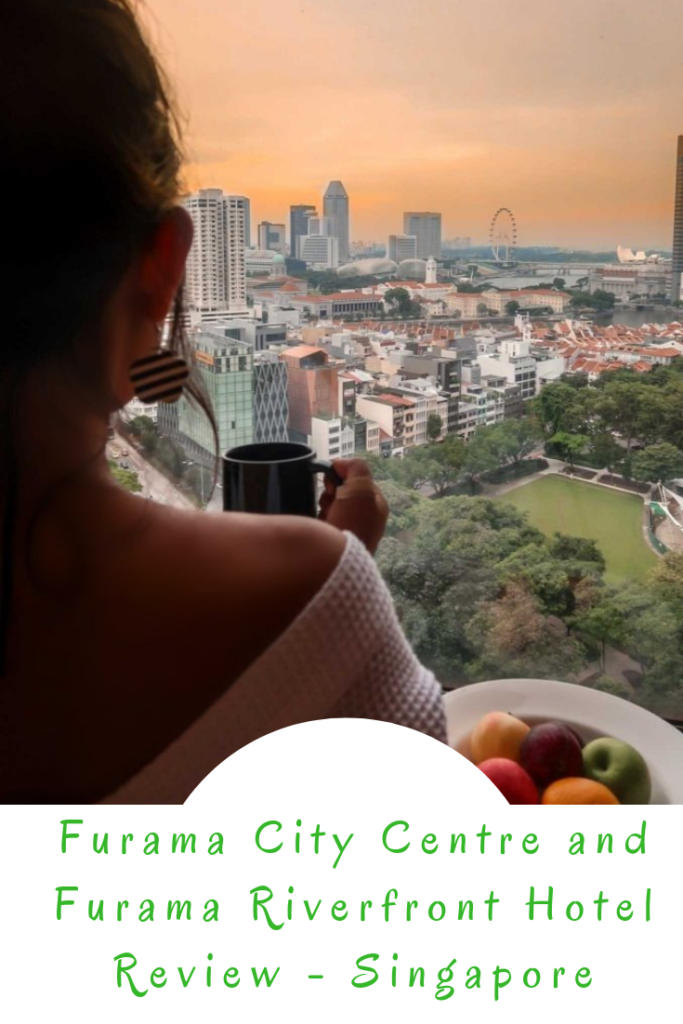 Now, let's start with my experience staying at The Furama City Centre which is a 3-minute walk from   and   Stations
Hotel Address:
60 Eu Tong Sen St, Singapore 059804
Room Type
: Executive Premier Room
Total Room:
445
How to get here:
Use Grab, taxi or from Changi Airport Station take the East-West Line towards the Tanah Merah Station and get off at Expo Station. Change to the Blue line (downtown line) towards the Bukit Panjang station and get off at Chinatown Station. Take Exit D and once you are out of the station, head north then take the first right to small alleyway full of restaurant, at the end of it, you should see the Furama City Centre in front of you.
Furama City Centre Reviews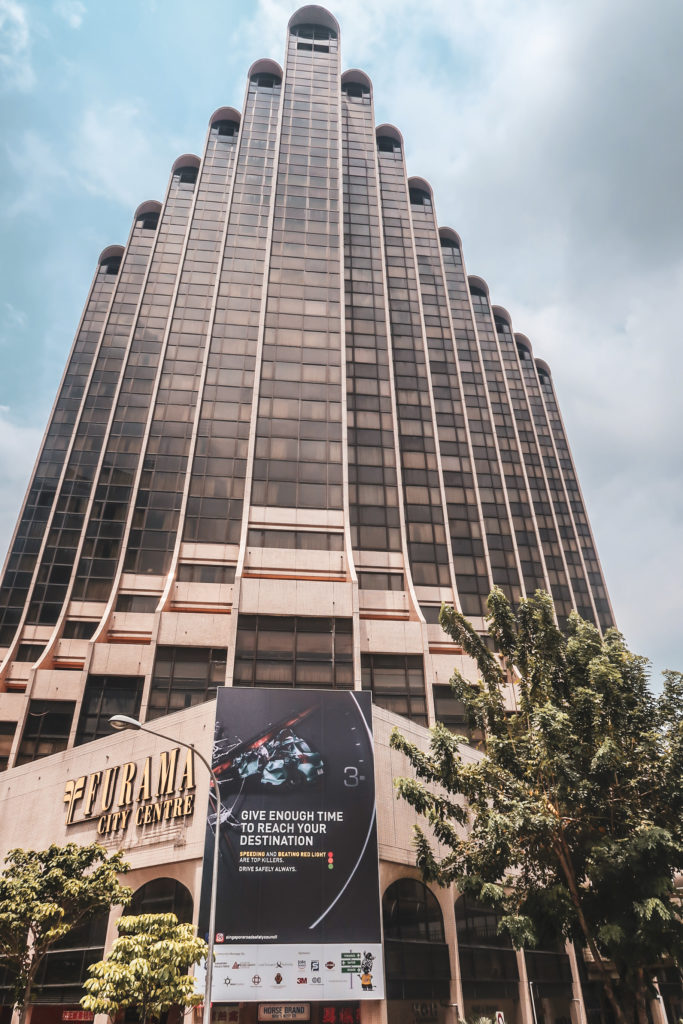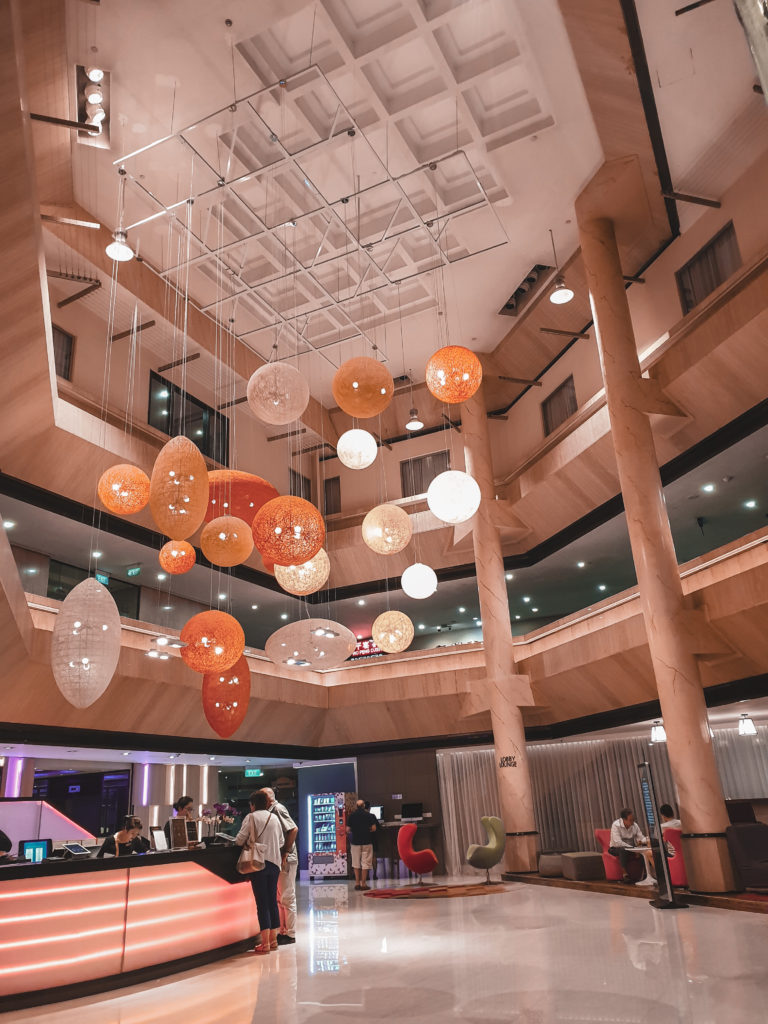 Check-in at Furama city center
It was a rainy morning when I landed around 3:30 am Singaporean time. Walked into the taxi rank and went straight to the hotel. I had confirmed a few days earlier if it was okay to check-in at 4 am and the answer was positive. So, little tired after 8 hours flight I was looking forward to the comfy bed and the executive premier room. I noticed there was a construction happening for Tiffany restaurant at the hotel but the Colorful pretty reception area made up for it. Check in was quick and the staffs were smiley and welcoming.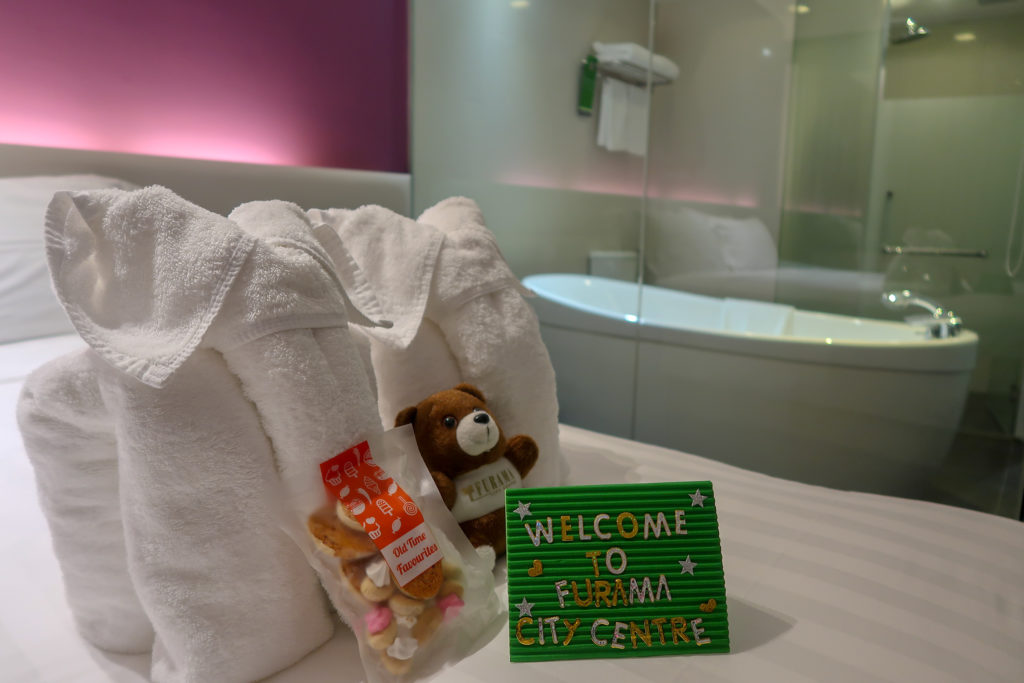 Executive Premier Room
A little cute teddy bear, personalized welcome note and good looking macrons were waiting for me in the room! I was pleased with the welcome and happy to report that the mattress wasn't too hard or too soft, just in between, Pillows were 2 soft ones and 2 hard ones each and everything was clean. The room also had a gorgeous view of Singapore Flyer, Esplanade Theatre, Art Science Museum and more.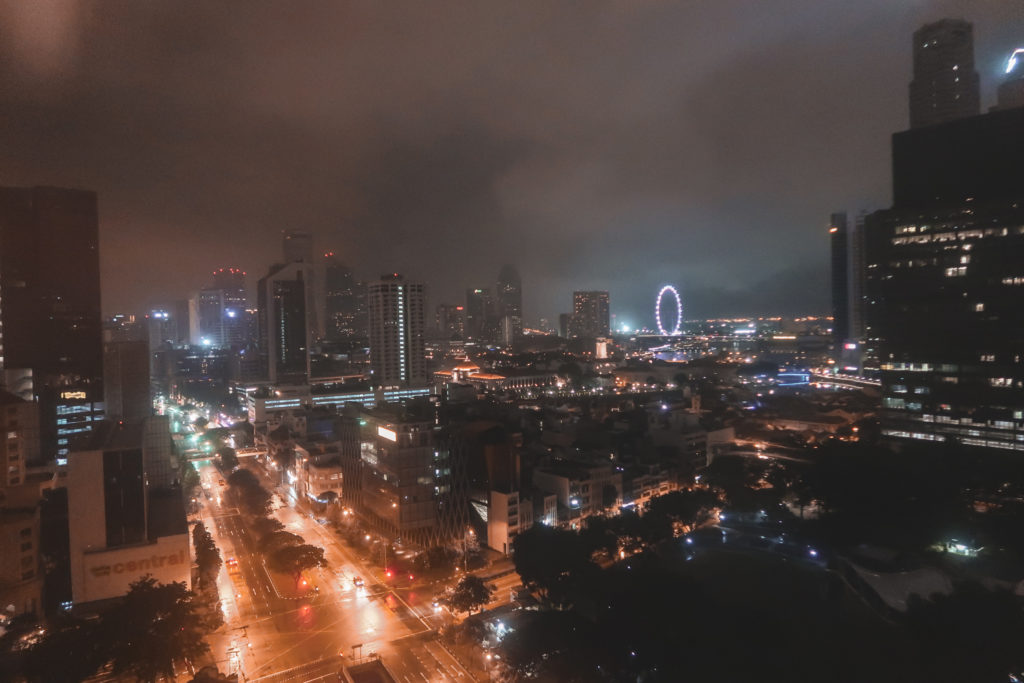 This executive premier room was voice activated which meant I had an invisible butler (Amazon Echo Dot) that could do things for me like closing the curtains, switching off the lights, turning on and off the TV and more. In fact the hotel states it is the FIRST hotel in Singapore to introduce this feature! I must say it is impressive as I didn't even have to lift my finger! Talk about convenience. I had a lot of fun using it and recommend staying in the executive premier room to enjoy this feature. The room had modern décor and large windows that came with a tea/coffee maker and TV with cable channels.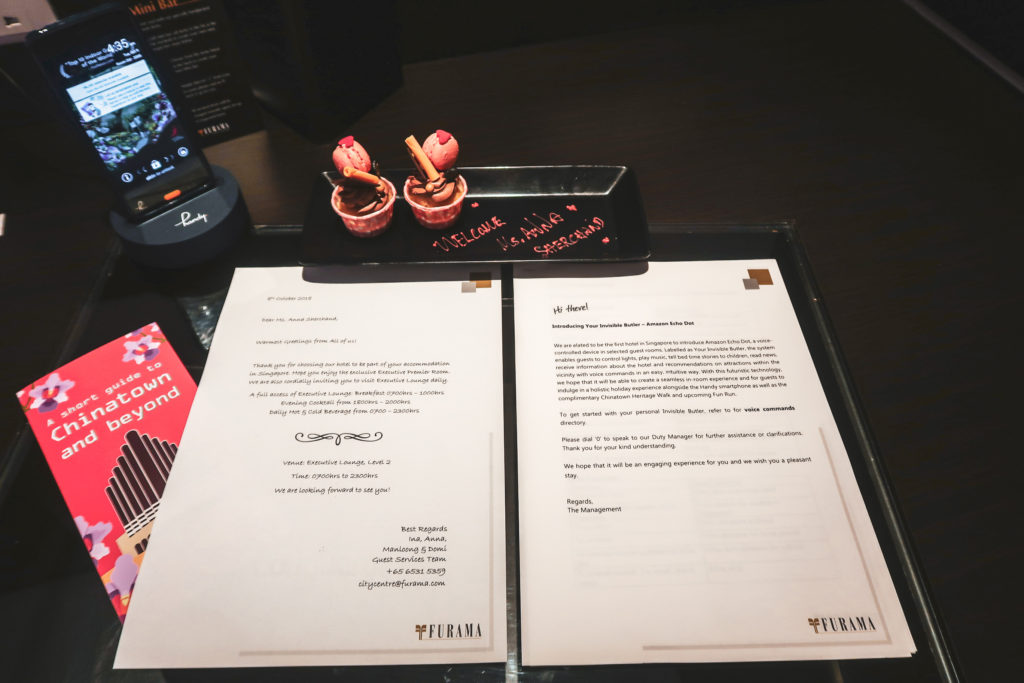 Another great thing that is worth mentioning is, Furama Hotel offers a "
Handy device"
to its guests. Let me explain. Handy is a mobile phone that guests can take out with them when exploring outside the hotel and can use the unlimited data that comes with it
for FREE
! I found it be extremely helpful to track train times, buy sight tickets, google information on the go and more. I didn't have to bother with buying a new sim card and loading it with credit or data as Handy also comes with free local calls and messages. How amazing is this service?!! It set the bar high for the luxury hotels standard in my opinion.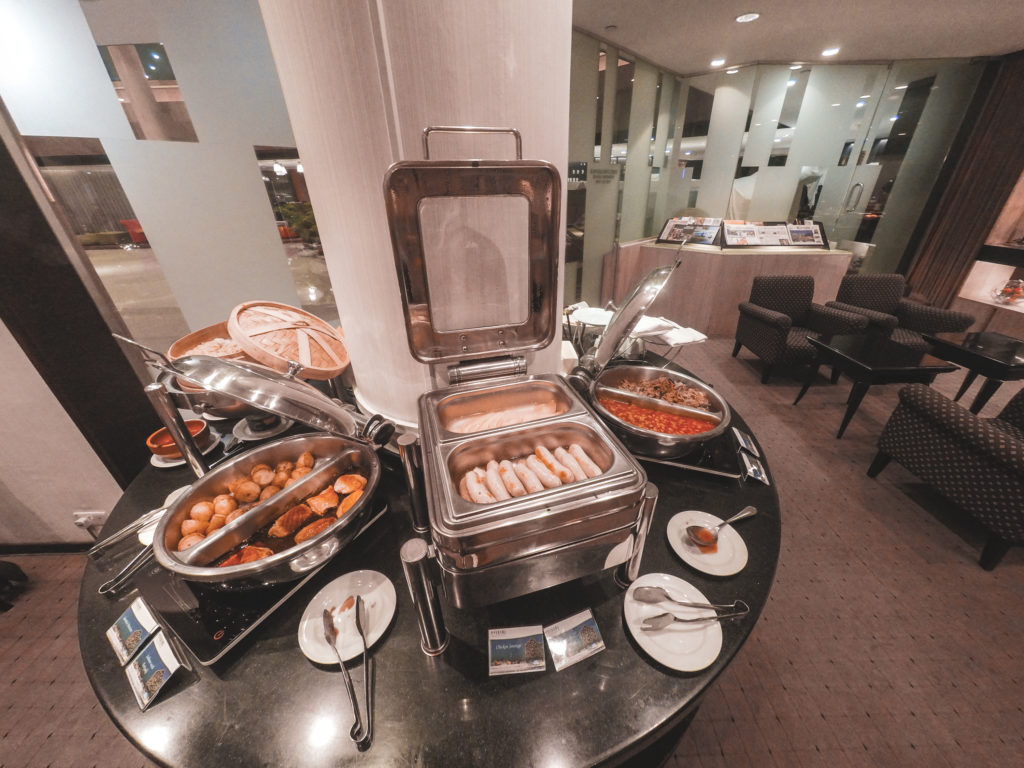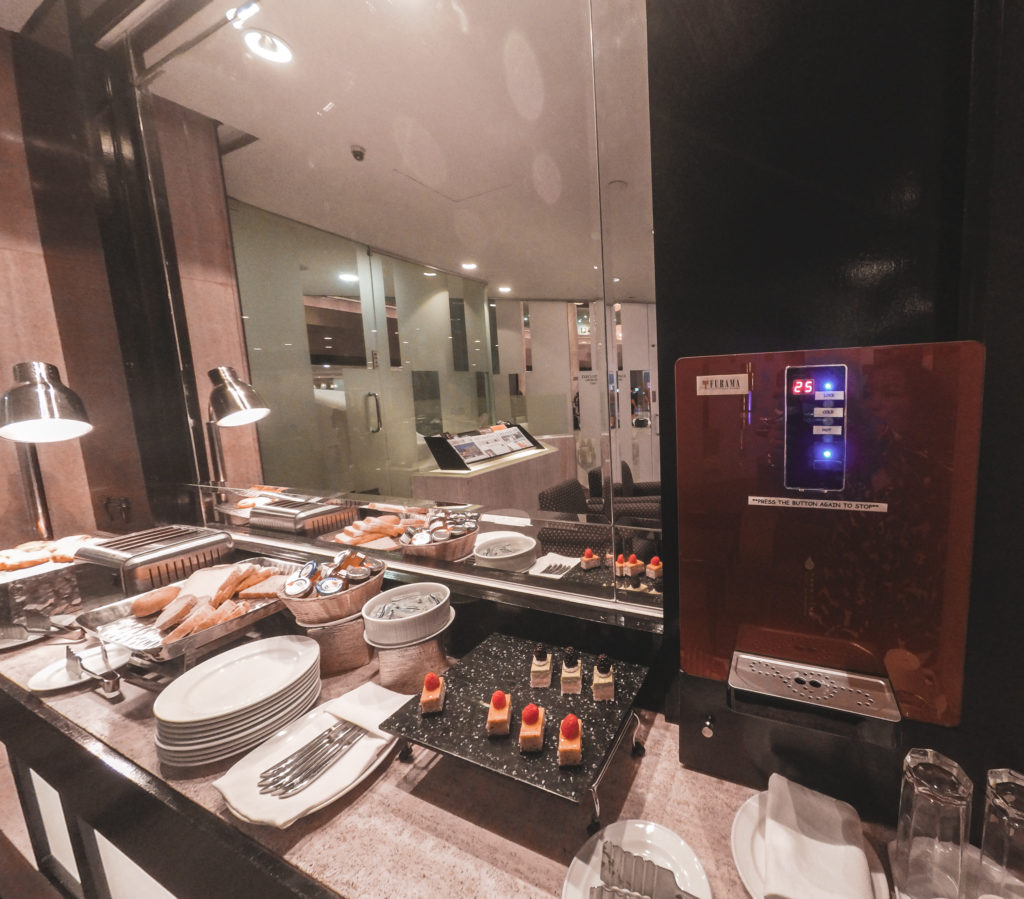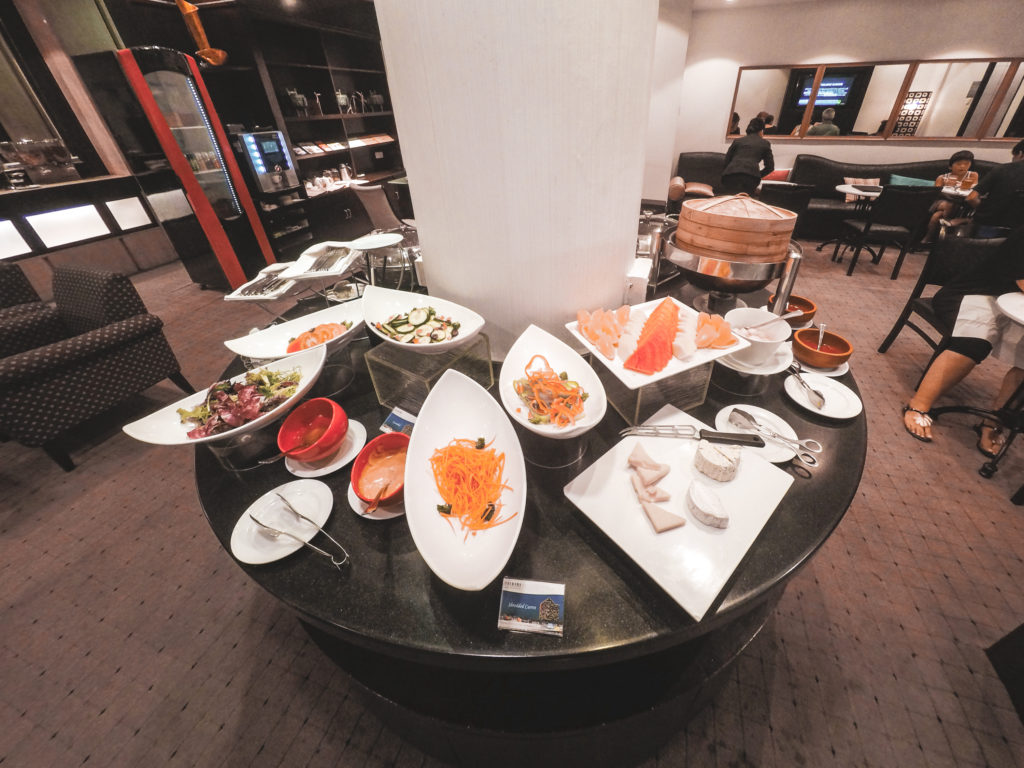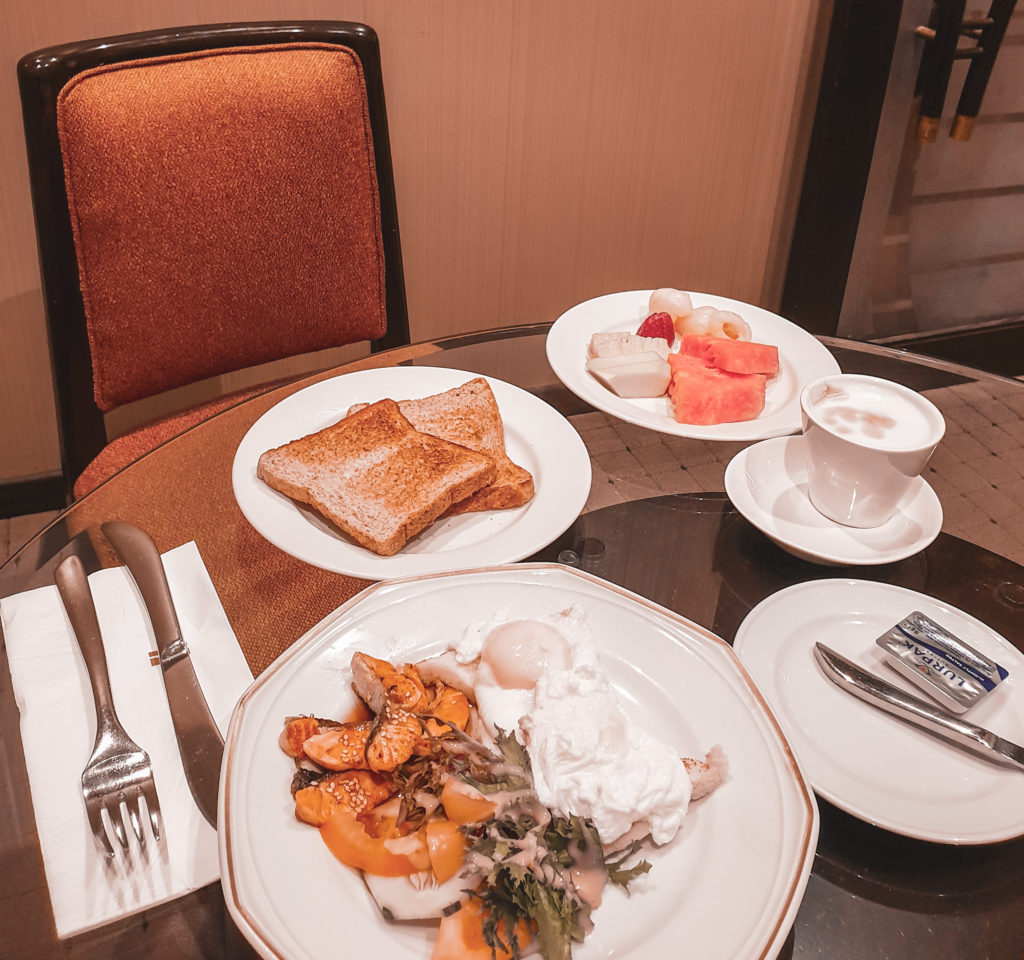 Buffet Breakfast at Furama city center
Next morning, I head to the executive lounge for breakfast (7-10am) and there were many varieties on buffet breakfast but you can also order Al la carte from the menu. I had teriyaki salmon with a sunny-side-up egg, toast, and a flat white. Food was tasty but coffee can be improved. I am a heavy coffee drinker back home in Sydney and know the good coffee from the bad. The flat white here didn't taste like the actual flat white. Barista coffee would have been great but the staffs' politeness and friendliness made up for it. After breakfast, I was out to explore Singapore.
Cats and Dogs cafe in Singapore 2021
Singapore itinerary for 3 nights and 4 days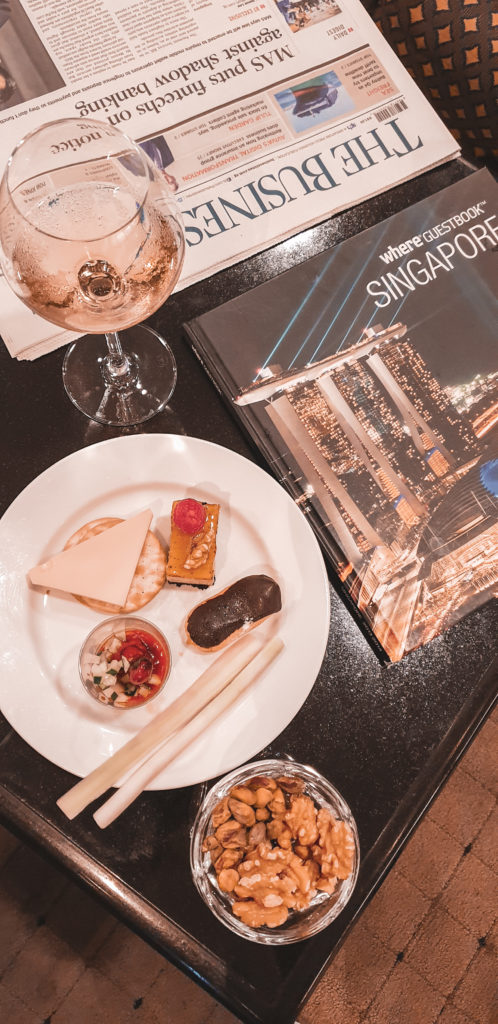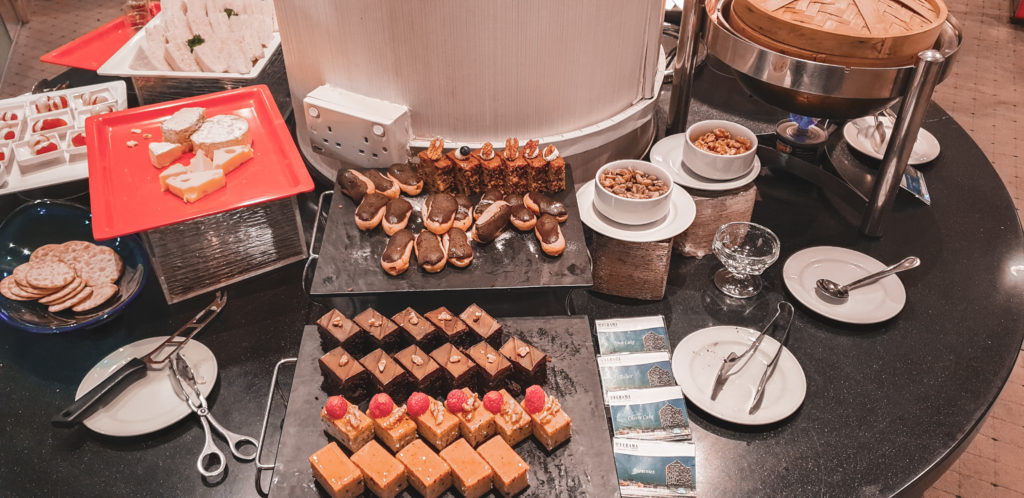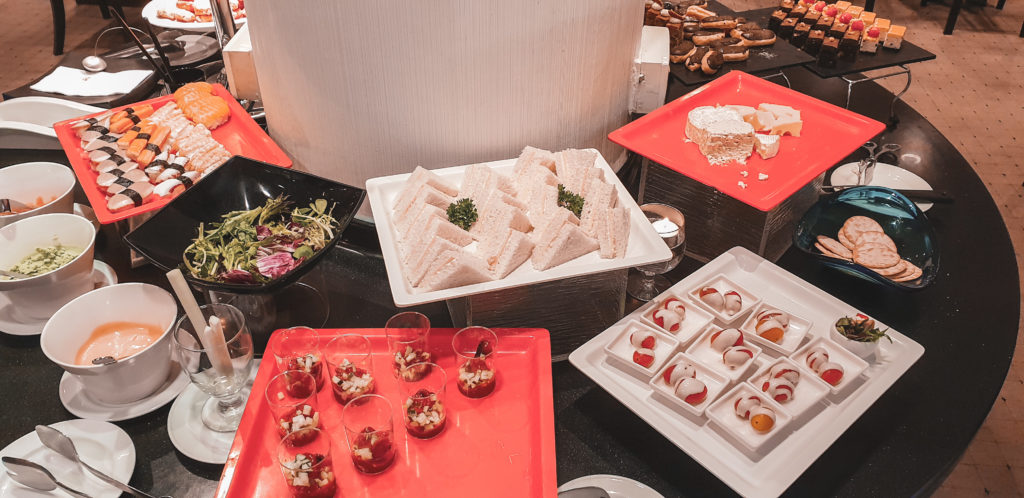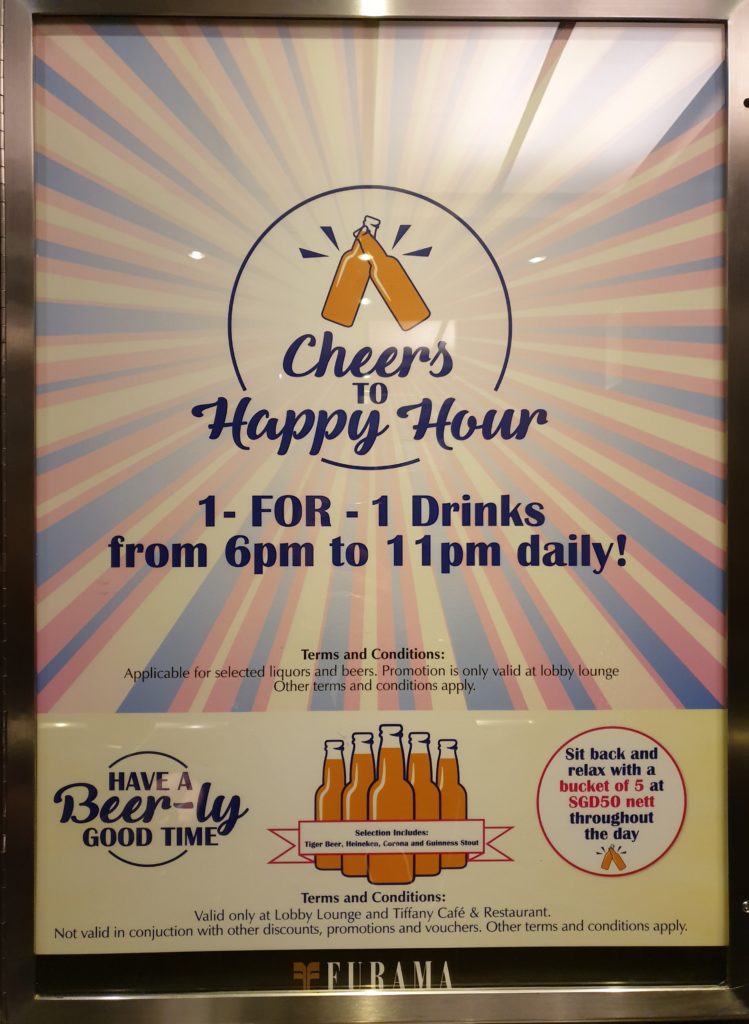 Evening Happy Hours
In the evenings 6-8pm, you can attend a happy hour in the same executive lounge. I was expecting just a couple of drinks but was impressed to see the hotel had many varieties of snacks, desserts and drinks available for guests. It was clear that the Furama Hotel is generous and is doing everything to make sure guests have the best time at the hotel.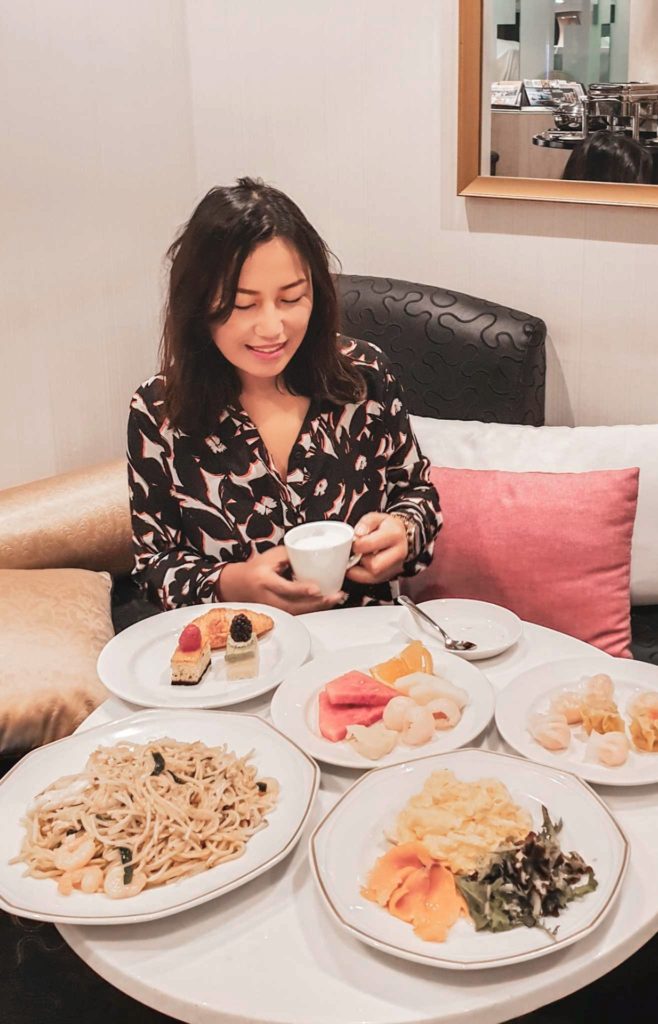 Breakfast
The next morning, I tried more of the food and fresh fruits at the breakfast buffet. I must say, it was great to try the local's favourite breakfast hoikkan noodles, salmon, dim sum and more. I changed the coffee order to Cappucino and it was slightly better than flat white the day before.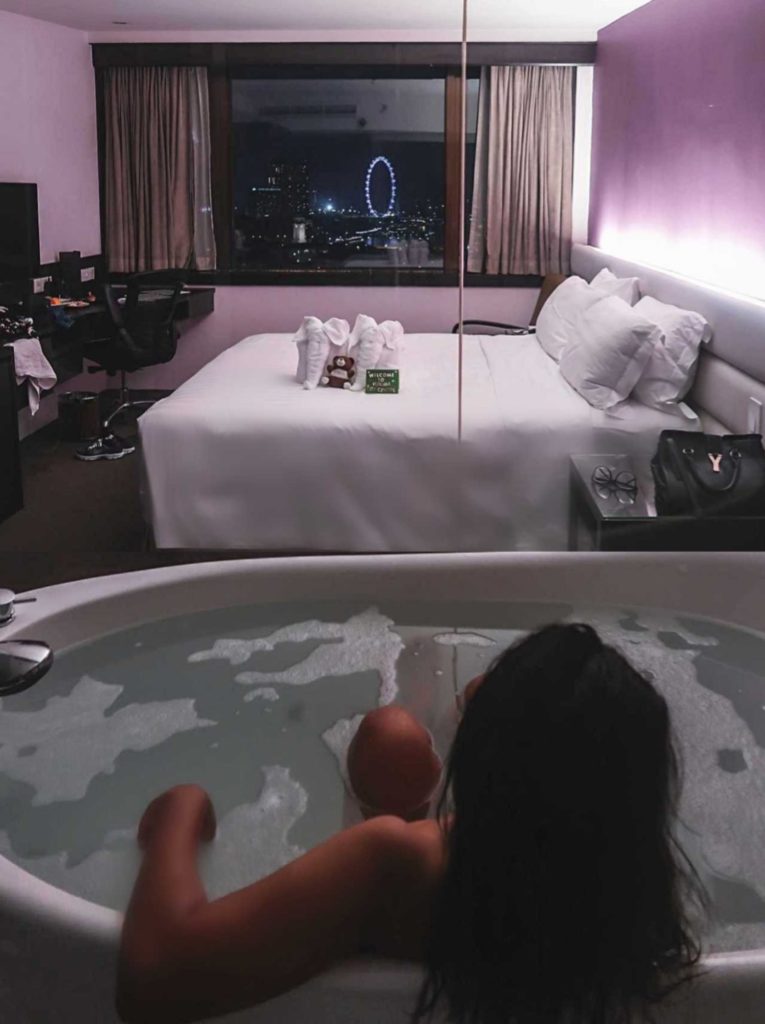 Window View
After exploring all day out in humidity, the bathtub was a perfect setting to wind down and relax. The view from the window is unbeatable and breathtaking day or night. It really does gives you that Singaporean vibes. It was a relaxing way to end the day before bed but one thing I add here is- if you must have bath bubbles then this won't work for you as the hotel doesn't offer bath bombs. So, I had to use the shampoo and as you can see it didn't have the same effect but it was enjoyable nonetheless.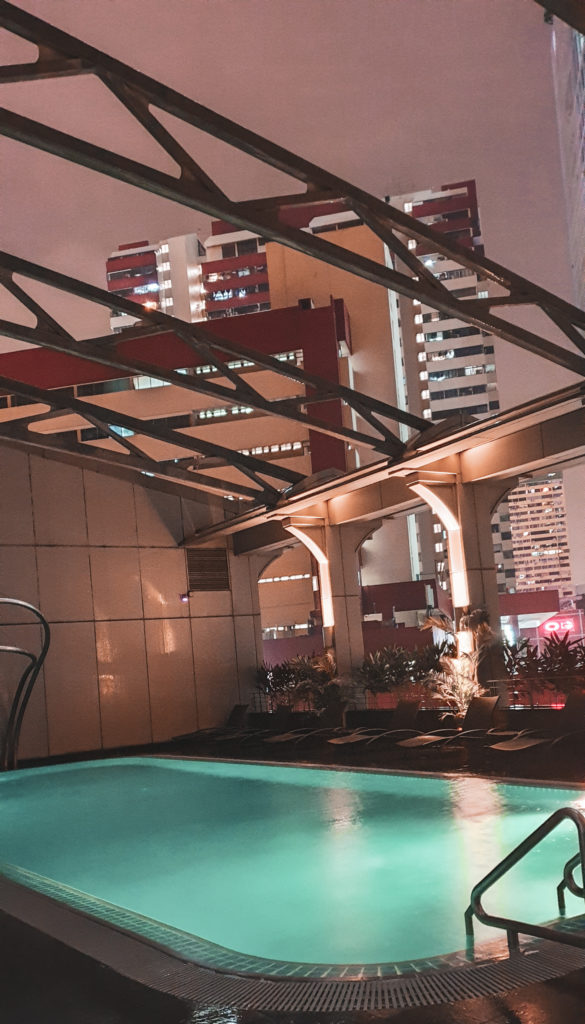 Swimming Pool and facilities
Furama City centre also boasts a swimming pool, massage at the Spa, free parking, laundry, dry cleaning facilities and FREE WIFI throughout the property. You can also work out at the fitness centre, currency exchange and car rental services are also available for guests. And before I forget you can also enjoy the daily Hot & Cold beverage (7-23pm) for FREE in the executive lounge. I 100% recommend Furama city Centre if you are a convenience person like I am. I would rather pay more and stay in a modern decor, room with a magnificent view and mainly where it is easy to move around than a far away places and waste time on commuting. Furama City centre is right in the heart of the city centre but with no noise pollution in the rooms and is a perfect spot to start exploring Singapore.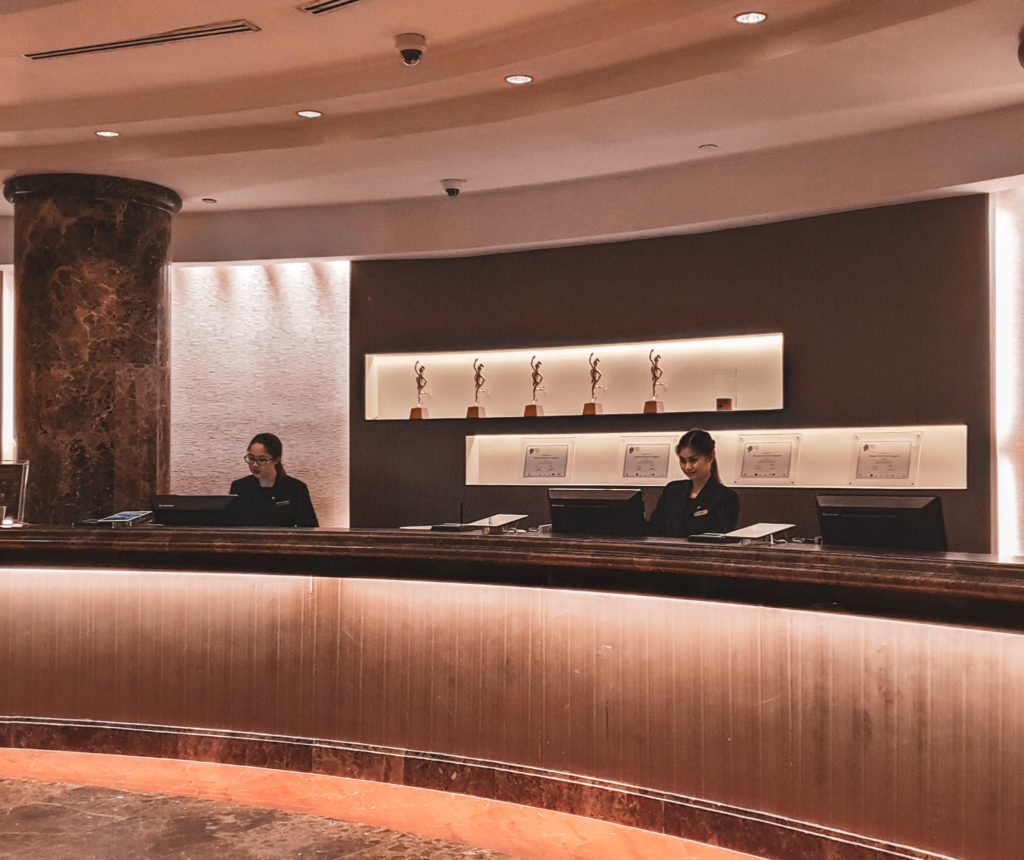 FURAMA Riverfront Review, Singapore
Now, the second night I checked in to Furama Riverfront.
Hotel Address:
405 Havelock Road, Robertson Quay, 169633 Singapore
Room Type:
Premium Room Furama Riverfront is located between the colourful Chinatown and  . If you would like to experience both hotels then it is only 15 minutes walk from the Furama City Center to the Furama Riverfront hotel. As the name suggests, the hotel sits along the river banks of   and you can walk along the river to the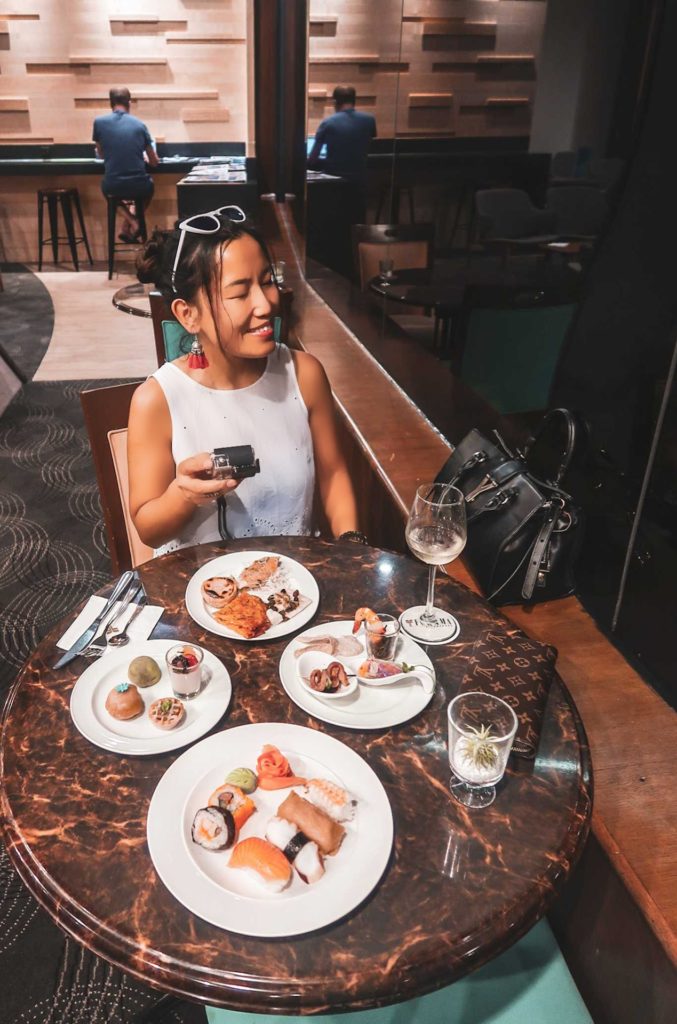 Evening Cocktail hours
After exploring all day, I arrived late in the afternoon but just before the tail end of happy hour. Furama Riverfront's happy hour also runs from 6-8pm. The best thing about it was they had even more varieties and options for snack covering larger space than Furama City Centre and beautiful decor added to the vibe as well.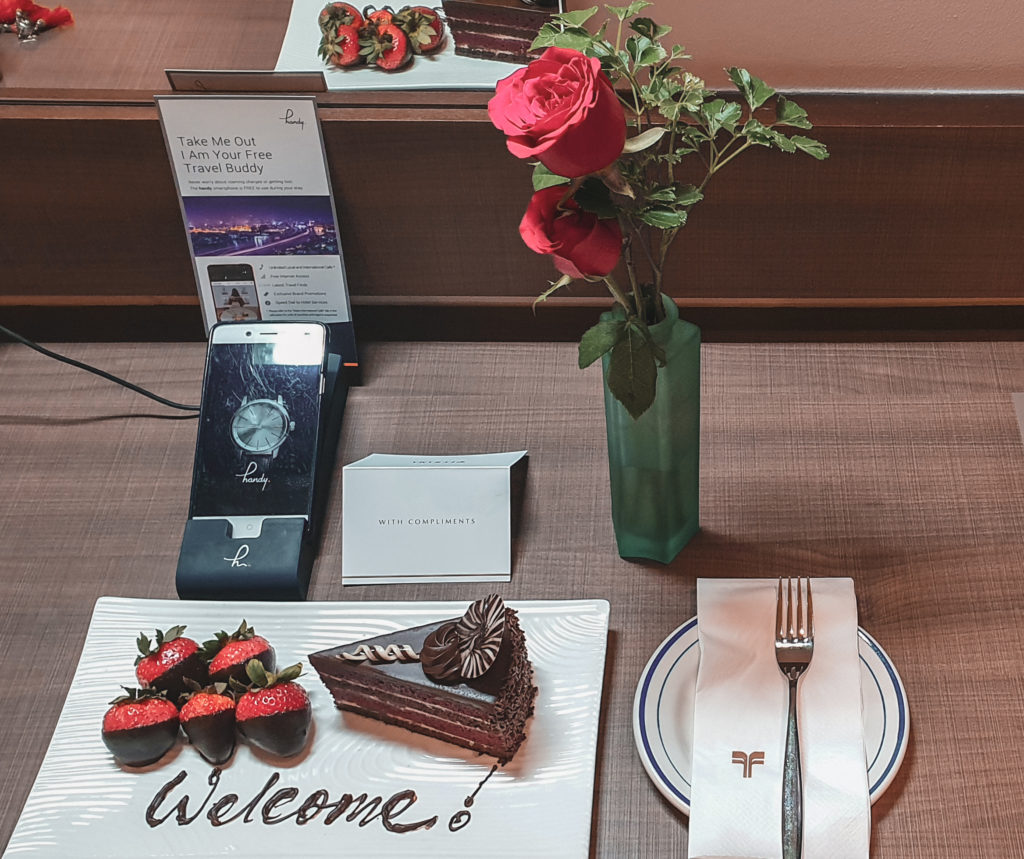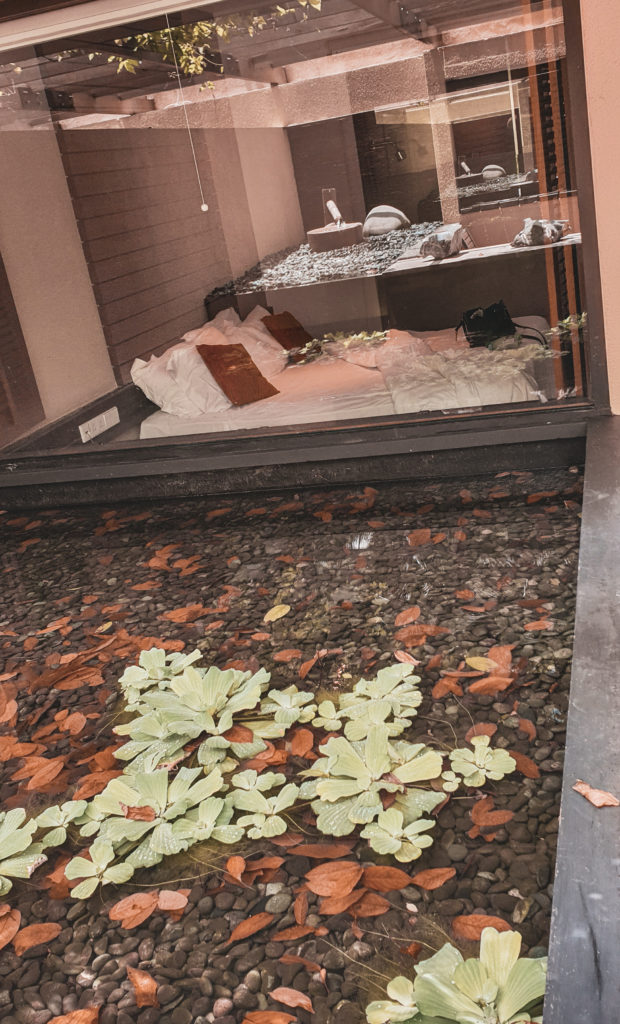 Premium Room
After the delicious snacks and well aged old French wine, I headed to my room and got pleasantly surprised with the chocolate covered strawberries, tasty cake and personalized welcome note! My room even had a lovely little courtyard and direct access to the swimming pool as it was on the same level. All my tiredness faded away, as I discover every corner of the room and was happy to see "handy" again in this room.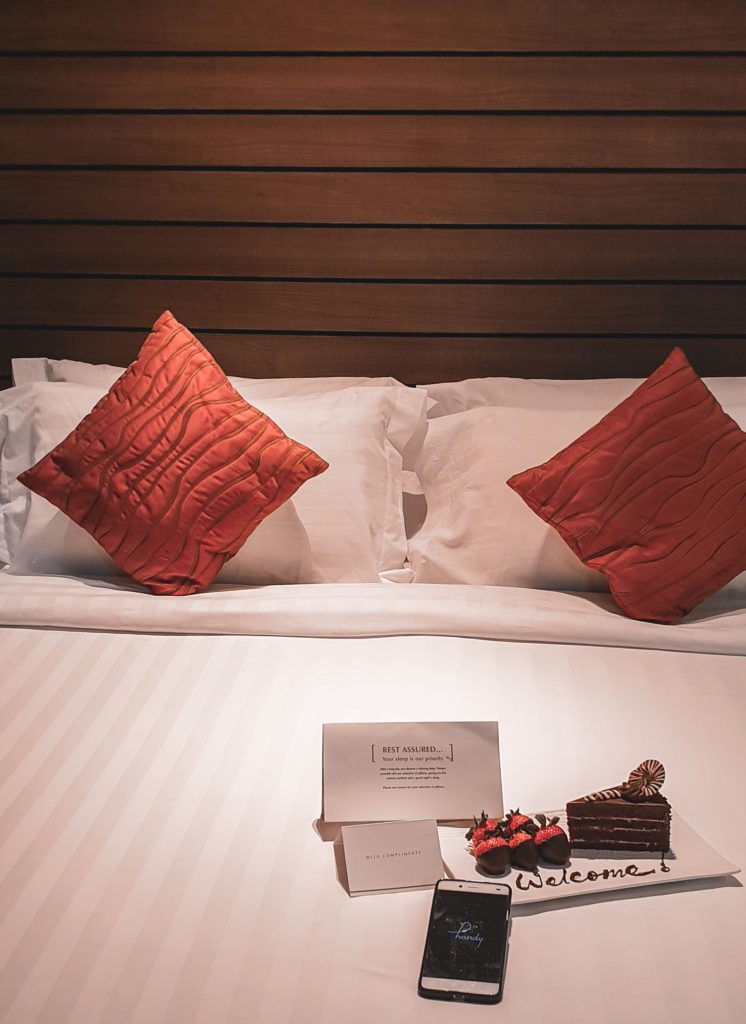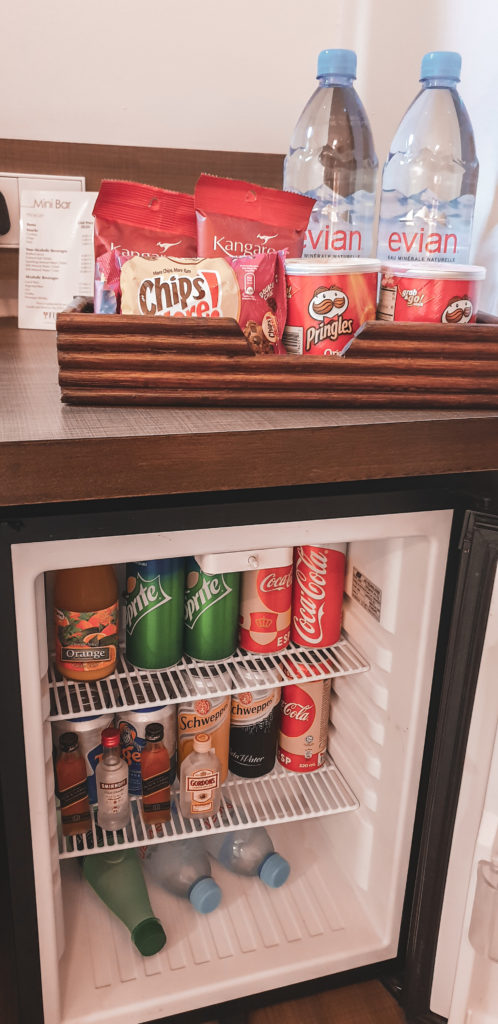 As clean freak as I am,  I checked bedsheets, pillow covers, towels, bathroom, and even courtyard everything was spotless. If cleanliness is your priority, both Furama City Center and Furama Riverfront got 10/10.
Talking about the room, it was stylish and equipped with cable TV and a coffee/tea maker. 24-hour room service was provided and En-suite bathrooms came with free toiletries, toothbrush and toothpaste. Although there wasn't a bathtub, the swimming pool was so close to the room it made up for it. (3 steps to the pool from the room)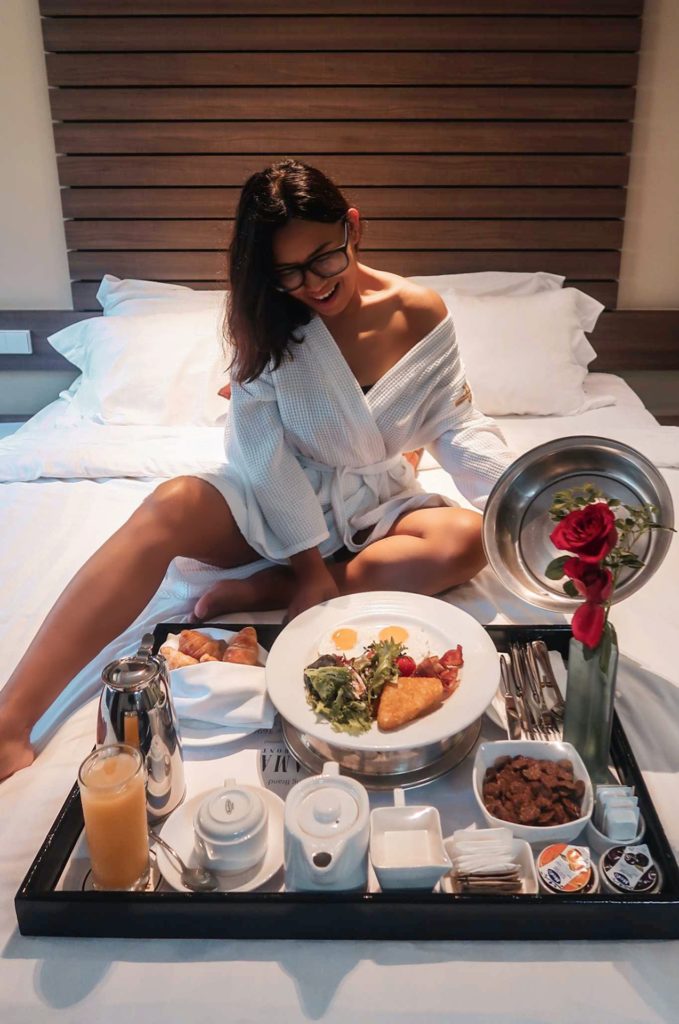 Breakfast/ Room service
The next morning, it was time for my favourite meal of the day. Breakfast! Furama Riverfront
 breakfast covers international buffet that includes Chinese and American cuisine.
 But this morning I ordered room service to see how fast and efficient it was. I am glad to report the service was smooth and the food came to my room within 20mins! Impressive how quick the service was and t
he breakfast was one of the best I've had in Singapore.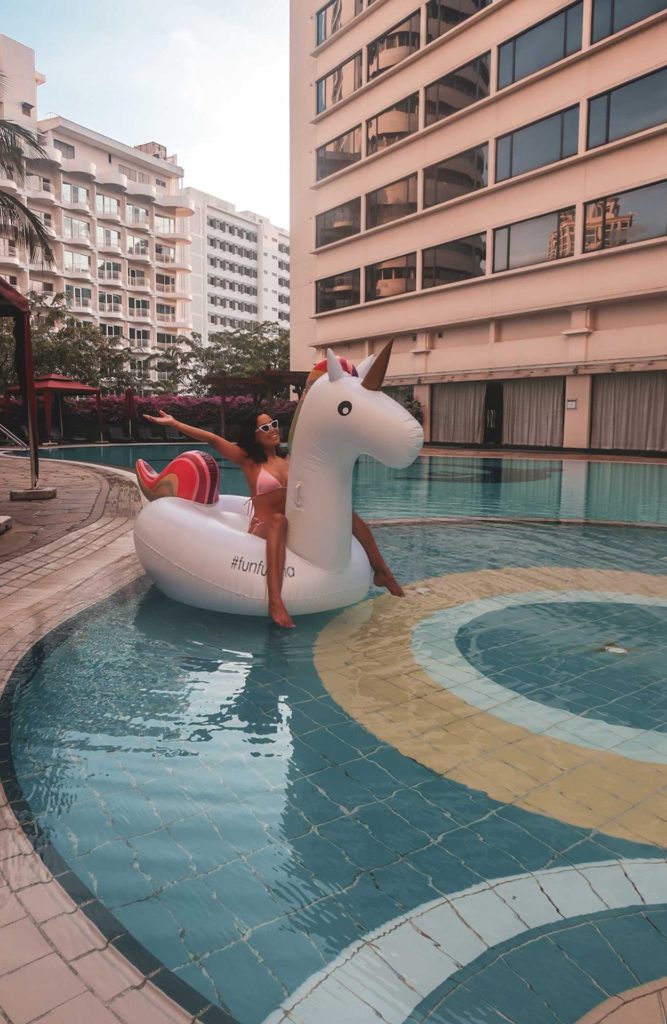 Swimming Pool and Amenities
After tummy full of goodness, it was time to utilize the outdoor swimming pool. The best thing about this pool was they had the floating unicorns and that it was only 3 steps away from my room!
The same level as the pool was the well-equipped gym open for guests. And if you needed Laundry and dry cleaning services, that were also available. Furama Riverfront also boasts the Kintamani Indonesian Restaurant that serves authentic Halal Indonesian cuisine. For international dishes, you can visit The Square@Furama. Then at the Waterfall Lounge, you can have drinks and enjoy the live entertainment.
Conclusion
I believe it's the people who make the company great and in my experience, it has been true in all instances. I could see that staffs at Furama were well looked after and they loved doing their work. They are the power behind the smooth operation of the hotel.
Thank you Furama City Center and Furama Riverfront especially each and every team member for your effort to make my stay an amazing one. I can't wait to be back! You can book your stay on their direct website
here.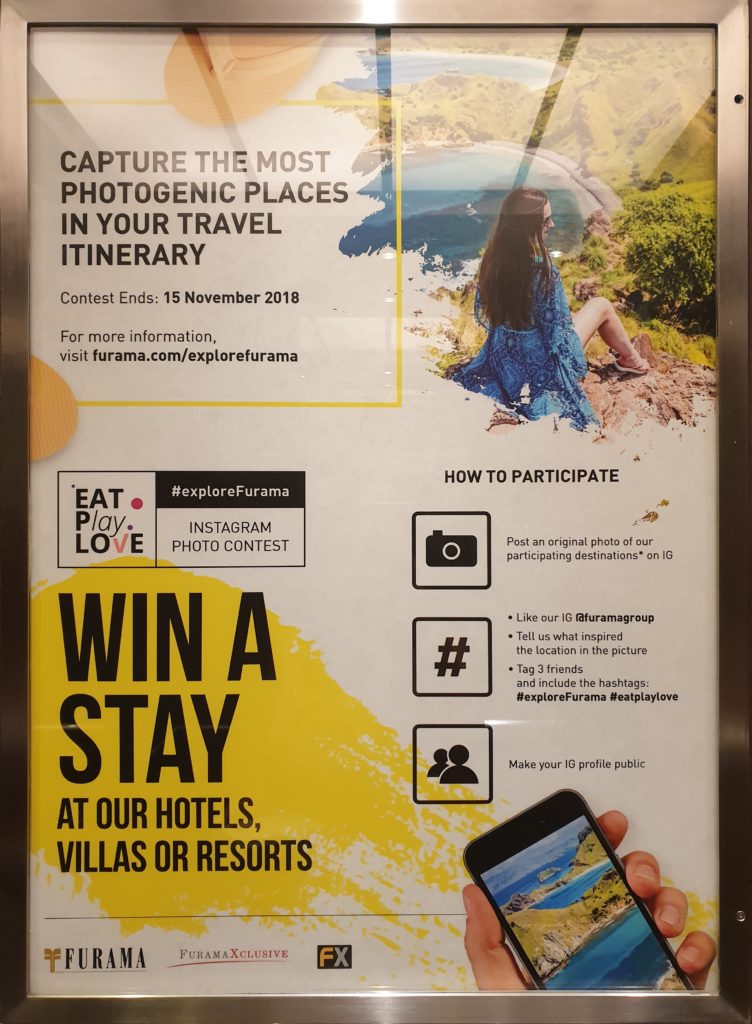 Win a stay at the FURAMA Hotels, Villas or Resorts
What I used to take these photos:
This has been my favourite Camera so far. I love how my pictures come out crisp and colourful. It also has a screen which is useful when vblogging. You can check out what I meant on my Instagram which is 
here
.
Accessories For Canon GX7 Mark ||
Check it out 
here
This is the good old Go pro that I take with me everywhere. I recommend it because it is small, lightweight and waterproof. I have had made many memories with this trusted item and looking forward to more.
Accessories For Go Pro Hero 4
Check it out 
here
I have been using SanDisk since my first camera which was back in 2009. They build quality memory cards. I recommend getting at least two, just in case something happens to one of them.
Do you think it's a hassle of plugging your camera into your computer? This memory card reader will fit cards of all sizes and make an easy transfer to your computer. The reader supports all popular SD memory card formats, including SD™/SDHC™/SDXC™ memory cards, UHS-I SDHC/SDXC memory cards, and microSDHC™/microSDXC™ memory cards. It is also compatible with the latest UDMA 7-enabled CompactFlash cards.
Let me know in comments- 
What did you think of the Furama city centre reviews and Furama riverfront?
Would like to stay in Furama City centre or Furama Riverfront?
Subscribe here for new blog posts.    
If you need to book accommodations for your next travels, get $70 discount with Airbnb.Alternatively, you can check hotel prices and book it through trusted Agoda

, or 

Booking.com
In case you are thinking about going to Sydney, Master Travel Guide to Sydney- everything from visa, wifi, food and all are covered here.
If you don't have your flights yet, check out ways to book the cheapest fares here

, or

here,

but if planning and booking your trip is a hassle, let me help!

 Contact me now.
Furama City Centre reviews and Furama Riverfront Hotel, Singapore Review