– The journey of thousand miles begins with a single step –
Hi & welcome 🙂
Life is hard. If anyone tells you otherwise don't listen to them! The only thing that makes it tiny bit easy is doing what you are passionate about and which gets you excited to jump off your bed and do it.
I am Anna, Nepali-Australian who, not too long ago, left my career in corporate Information Technology to become a world traveller. Since then, I've travelled to over 44 countries, lived in 4, and have ticked some big adventures off my bucket list. I enjoy travel writing, travel photography, and a minimalist lifestyle.
With travel being a huge part of my life for the last three years, it really is no wonder that it has somehow moulded me into the person that I am today. 4 years ago, I left for my first solo travel to Thailand and I knew I was hooked! If I hadn't been travelling since then, a hole size of Russia would exist in my heart!

The story goes way beyond that obviously. So, to give you an idea. It all started when I flew solo to Sydney for my further studies from Kathmandu, Nepal at the age of 19. Alongside my studies, I started working and saving every penny. I am curious by nature. So, I would spend all my savings (after paying the tuition fees) to explore different cities in Australia.
I finished my studies and was working in corporate Information Technology and Services. I had a steady salary, comfort of my place, parties, fancy dresses, high heels and designer bags. So far so good but around the same time I underwent life-threatening health issue, depression and internal struggles. Coming from a narrow-minded society where talking about the mental state isn't taken positively made me hard to open up. However, during that time, I met people from different walks of life.
I wouldn't have found clarity had I not gone through my deepest darkest times.

It was harder starting over than never to have changed.
Learning all that materialistic things were not making me happy or fulfilled was a true realisation. I wanted more from life than just paying bills and doing the same things over and over again. I needed change; a transformation. So it was then when I left for my first solo trip to Thailand.

After that, it took me another 6 months to wrap everything and finally start travelling the world non-stop. So, I understand when people tell me it's not easy to drop their life, pack and leave right away even if that's what they want. The solution here is to plan smart because Travel is worth it. It is life changing.
That's me taking a break after a record-breaking, highest trek of my life at Kala Patthar 5643m in Nepal. 
I started this blog in December 2016 with the goal to share my extensive travel and lifestyle experiences, and travel tips. All leading to show you how you can travel the world easily, safely, and adventurously on your own. I hope to inspire you to live the life you love.
Since then, many well-received articles, tips and tricks and travel photography have been added to this site, on my growing Instagram (@annasherchand), facebook, twitter and Pinterest. I love nothing more than to travel, shoot a great landscape or fantastic new places, write and share everything I learnt. I also enjoy reviewing new travel-related products, hotels, and destinations that will help you to make better travel choices. I have written for Ariana Huffington, Matador Network, and collaborated with the likes of InterContinetal hotel, Hyatt Regency Hotel, National Geographic Australia, Adobe- Lightroom, Skyscanner, Uber, Red Cross Australia, SilkAir-Singapore Airlines, Kerala Tourism Board, and loads more awesome brands. If you would like to know more see work with me here.
So far I have travelled to 5 continents, 44 countries and countless cities. I am grateful to have some understanding of this beautiful world, people, culture, lifestyle and more. Having done my share of fast travelling. I am now a fan of slow travel as I get to know the places and people more closely. I usually stay for 1-3 months in 1 place but have stayed up to 6 months also.
I want to roam around the world like it's my job. Update: It used to be my dream but things have changed now. I'm living my dream!
I'm forever grateful for the journey I'm on and it wouldn't have been possible if I hadn't risked my comfy life for adventures on the road.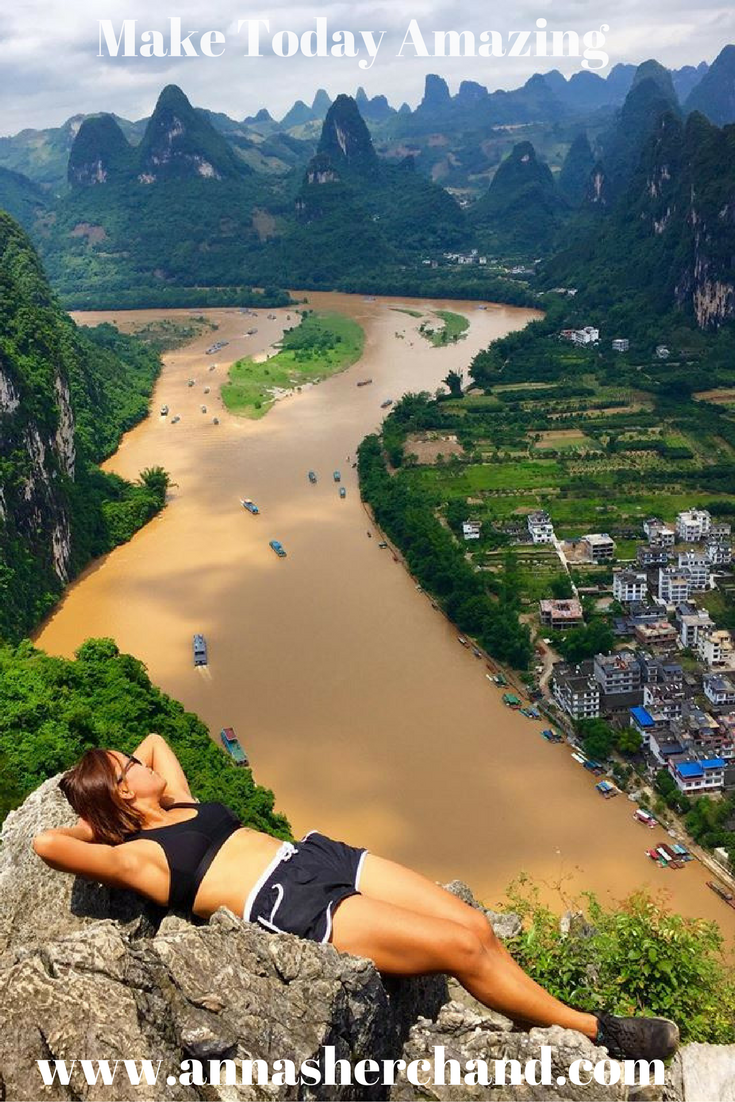 I love the view from the top. Chilling after an epic hike in beautiful China
Thank you for taking the time to read about my journey. Hope you got the kick out of it!
To understand more about me; you can follow my adventures on Instagram, Facebook, YouTube, Twitter and Pinterest, but most importantly like thousand others subscribe to receive my travel tips and tricks for FREE.
Happy Travels wherever you are!
Anna x
anna@annasherchand.com